Back to selection
ARRIVEDERCI, KIM'S VIDEO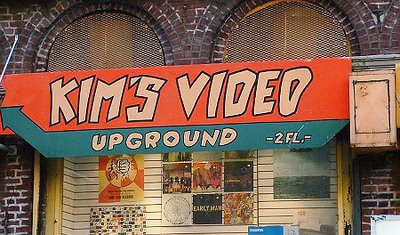 For a final post of '08, I'll note the closing of the Kim's Video rental store on St. Marks Place, that home of region-free art cinema, scuzzed-out sexploitation VHS, and the occasional bootleg. As noted in Jeremiah's Vanishing New York, the collection is being packed up and shipped… to Salemi, Italy.
From the blog post:
According to the extensive informational poster on display in Mondo Kim's on St. Marks, "The town of Salemi is planning to launch the Neverending Festival, a non-stop public projection of Kim's Video Collection DVDs in their new home."

Wow.

In addition, "For paid-up Kim's members, access to the collection will always be free of charge. Furthermore, Salemi will provide accommodations to both Kim's members and students who want to have access to the collection at minimum charge."

Hear that? Let's go to Sicily and watch Teenage Devil Dolls and Delinquent Daughters!
I didn't stop to think tonight whether I had any money left on account.
The Daily News is covering this as well. From Lauren Johnston's article:
For owner Yongman Kim, losing his video collection marks the end of an era. "I think my passion in loving film to share and introduce to New Yorkers is no longer valid,"he told the Daily News via e-mail.

Kim cited the "so-called Internet revolution"as one cause of the store's demise. Online rental services like Netflix hurt business, and Kim also blames digital distractions like e-mail and YouTube – activities he says occupy the time people once spent watching movies at home….

"I now do not want to fight against the new stream,"Kim said. "I just want to disappear calmly."
So, tonight, let's toast Mr. Kim and the end of a downtown cultural institution. He had a great run, and if I'm ever in Salemi I'll be sure to stop by.