Back to selection
Letter from Locarno, Week One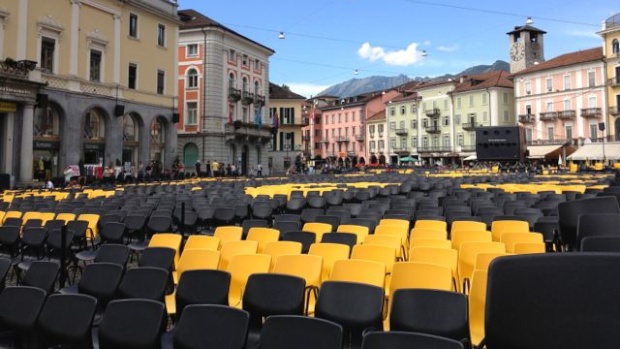 The Locarno Film Festival opened Wednesday with a bang — or two, to be exact. There was the bombastic Opening Night selection in the Piazza Grande, which was the Mark Wahlberg/Denzel Washington vehicle 2 Guns — what one fellow critic called Lethal Weapon for 2013 (and seemingly a bizarre choice incongruous with the rest of the programming) — and there was the massive summer storm that stole the film's thunder and literally dampened the affair.
The Piazza, one of the largest outdoor screening venues in Europe, is where Locarno the town and Locarno the international festival literally come together — and it's where you see the festival's concessions to local popular taste. However, Carlo Chatrian, the festival's new Artistic Director, and Mark Peranson, editor of Cinema Scope) and the new Head of Programming, are determined to stay true to its roots as a "frontier festival," privileging the discovery over the familiar and formal experimentation over conventional narrative. The festival makes no categorical distinction between fiction and non-fiction films.
The Concorso internatzionale (International Competition) includes 20 films, with 18 world premieres including new work by Romanian director Corneliu Porumboiu (Police, Adjective), the highly prolific Hong Sang-soo (In Another Country), and the first film in four years from Kiyoshi Kurosawa (Tokyo Sonata). The only U.S. director in competition is Destin Cretton with his SXSW favorite Short Term 12. This year's jury is headed by master Filipino filmmaker Lav Diaz and includes Juan de Dios Larraín, brother of Pablo and producer of No.
The Concorso Cineasti del presente features emerging and first-time feature filmmakers and remains the section that casts the widest net. The line-up includes four works by North American filmmakers: The Dirties, Canadian Matt Johnson's Slamdance winner; Forty Years From Yesterday by Robert Machoian and Rodrigo Ojeda Beck; The Unity Of All Things by first-timers Alex Carver and Daniel Schmidt; and Manakamana by Stephanie Spray and Pacho Velez, which, like last year's Leviathan, was developed in Harvard's Sensory Ethnography Lab. Many of these will screen next week.
The four competition films I saw this week include Porumboiu's Evening Falls on Bucharest, or Metabolism, What Now? Remind Me by Portuguese filmmaker Joaquim Pinto, Gare du Nord by well-established French filmmaker Claire Simon, and Exhibition, the third feature by British director Joanna Hogg.
Porumboiu's film perhaps describes a more narrow world than his previous work. This one follows a movie director who's having an affair with his actress and finding ways to avoid showing up on set, including one-on-one directing sessions with her, and faking illness. Evening Falls on Bucharest, or Metabolism has all the hallmarks of the Romanian New Wave —impeccable performances, exacting mis-en-scene and wry humor take on human foibles — but adds a meta layer in its lengthy conversations about film and filmmaking today. Significantly, the film is composed of 17 static shots, some lasting nearly 11 minutes.
Portuguese filmmaker Pinto's poignant and highly personal (if overlong) essay film is, in the director's words, "a notebook of clinical trials" he underwent for treatment related to HIV. It's also an affecting portrait of a marriage, with much of What Now? Remind Me set on a remote farm he owns with his husband and detailing their daily existence. Melding the confessional and experimental, Pinto's return to filmmaking has a palpable urgency. Simone's Gare du Nord, set almost entirely in the famous Parisian train station, attempts to take the pulse of modern multicultural Europe. Her Géographie Humaine, a kind of non-fiction B-side to Gare du Nord — is included in the Fuori concorso section.
A highlight was Hogg's film, which stars conceptual artist Liam Gillick and musician Viv Albertine (formerly of the band The Slits!) as a middle-aged artist couple living in a stark modernist house in London. On paper, the film has all the makings of an insider-y art-world satire, but Hogg has in fact crafted a wonderfully ambiguous film that's "about" many things including marriage, creativity, identity, and yes, architecture, with Albertine's fully embodied performance artist given to merging her body with parts of the house stealing the show.
The week concluded with the industry party on the lake in the nearby town of Ascona. Swiss restraint was put on hold as Aperol flowed freely and an enjoyably mixed group of professionals and personalities partied to remixes of Daft Punk. Even Peaches was there! The Canadian musician/performance artist is here serving on a on a jury (and also screening her appropriately titled Peaches Does Herself). We've been promised a performance in the Piazza Grande, which is the only thing missing at the festival thus far.