Back to selection
WEILER WINS CINEMART PRIZE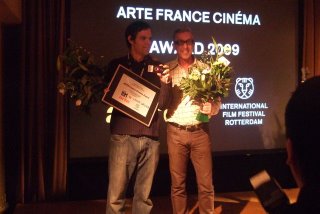 Congratulations to filmmaker, new media creator, and Filmmaker contributor Lance Weiler, who was awarded the Arte France Cinrma prize here at this year's Rotterdam Cinemart. In his remarks when presenting the award, Arte's Michel Reilhac said that the award acknowledged the visionary nature of Weiler's project and noted that it speaks towards the type of new thinking about audience and platforms that will be necessary if our world of specialty cinema is to survive in the coming years.
Weiler's project is described by him in the program book thusly:
HIM is my newest cross-media poject — a collision of film, gaming and interactive technology that continues with my horror 2.0 series, placing the viewer literally in the shoes of the protagonist. This is a new type of social entertainment experience that fuses storytelling and gaming in a way that enables audience members to become collaborators within the story world.
Congratulations also to Byamba Sakyaan who was awarded the Prince Claus Film Grant for the Cinemart project Birdie.