Back to selection
ROTTERDAM PHOTOS AND NOTES
For almost two decades I've been traveling to the International Film Festival Rotterdam immediately following Sundance, struggling to keep my jet lag at bay while I attend a few Cinemart meetings, hit the informal but productive Cinemart cocktail hours, and delve into the fest's always excellent and eclectic program. This year several fellower Sundancers made the trip as well, including sales agent Ryan Kampe, producer Adele Romanski, the IFP's Amy Dotson, the Sundance Institute's Anne Lai, and director Terrence Nance, whose An Oversimplification of Her Beauty was programmed here and was one of the Park City's true discoveries. Above is Nance, at right, pictured on the ground floor of the Doelen with Festival Director Rutger Wolfson.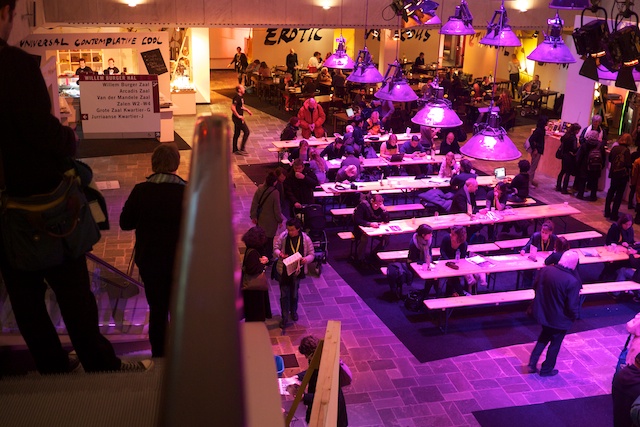 "Rotterdam is the only festival with a 24-hour deejay," Nance quipped to me. While I haven't stumbled into the Doelen at 5:00 AM, Nance is not far from the truth. Above is the floor of the festival's main facility, which is transformed each year into a chill-out club environment with food, music, and long benches at which to meet.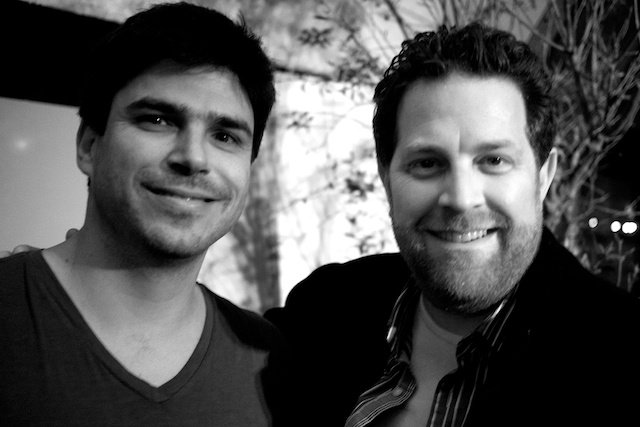 I try to keep track of folks who have appeared in our "25 New Faces," but after almost 15 years and 25 people a year, it's hard. In Rotterdam I was surprised to discover that a pair of filmmakers we profiled in our 2007 edition were attending the fest with the world premiere of the film we wrote about back then. Above are Richard Goldgewicht and Jeremy Goldscheider, whose "hybrid biopic" Pablo details the life of mysterious artist and filmmaker Pablo Ferro. Ferrer's imaginative opening title sequences have adorned films ranging from Dr. Strangelove to Napoleon Dynamite.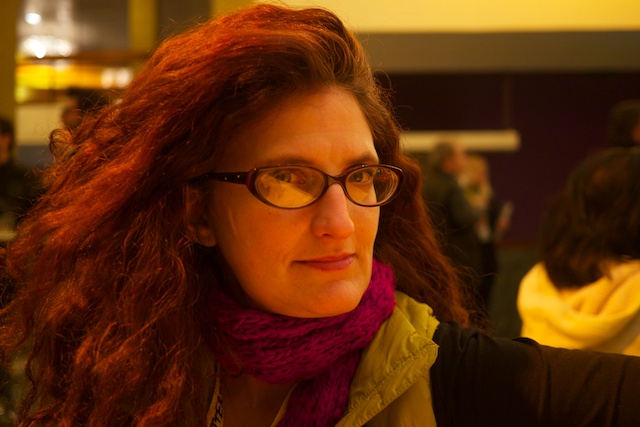 Producer, critic and curator Madeleine Molyneaux is a familiar face in Rotterdam, having traveled here for years to scope projects for herself and do Q&A's for the festival. She works regularly with directors Kevin Jerome Everson (another Rotterdam regular) and David Jacobson, whose new Boot Tracks is in post in L.A.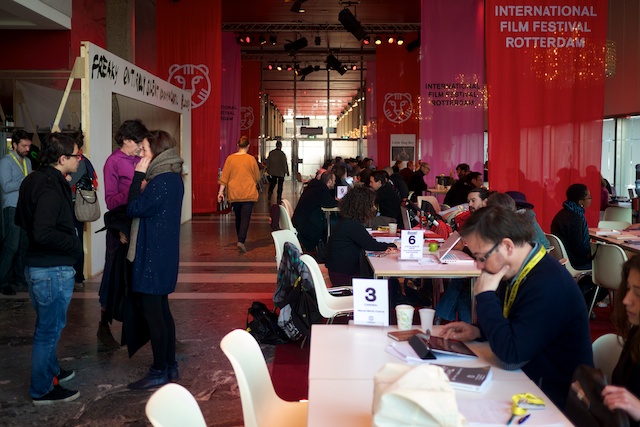 The model for the indie film financing conference, where buyers meet with reps of selected projects in a series of round-robin sessions — it started at Cinemart. Each year, the Cinemart, of which I'm on the advisory board, picks three dozen artistically striking and viable projects and arranges meetings with their reps and producers, sales agents, financiers and distributors from around the world. The meetings last half an hour and are held here, on the second floor of the Doelen. At lunch time, the Cinemart's hundreds of attendees all congregate in a giant lunch room where more impromptu meetings are held.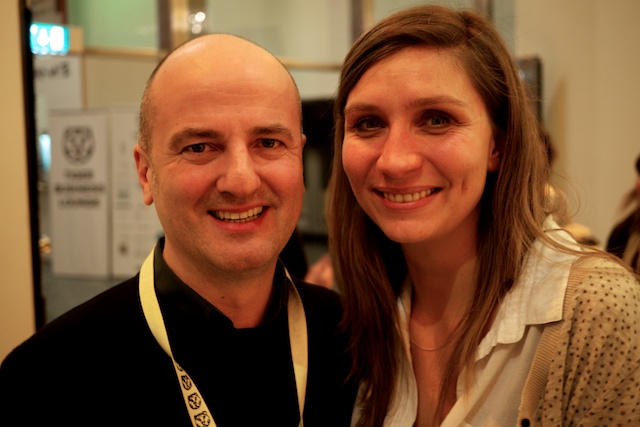 Above, at the Cinemart cocktail, are Cinemart Manager Jacobine van der Vloed, with Eurimages Executive Director Roberto Olla.
Representing U.S. independents at the Cinemart this year were two projects. Night Moves is the latest from Kelly Reichardt, an "eco-thriller" produced by Anish Savjani and Neil Kopp, both of whom were on hand to meet interested buyers. And, above are Filmmaker Magazine's own Brandon Harris (left) and writer/director Malcolm Murray. Harris wore his producer hat at the Cinemart, pitching with Murray Tokyo Cannonball Rising Sun, a Japan/New Mexico set drama.
Attending Cinemart was Backup Films, which, according to its website, has packaged the financing and distribution of over 100 films since 2002. Backup hosted a party during the Cinemart that was, as one industry figure said to me, "very Berlin." Held in a dark warehouse-like space with coin lockers instead of a coat check, it featured a speedy rock quartert covering LCD Soundsystem, dancing, and, probably, some deal making. Here in the Doelen is Backup Films' David Atlan-Jackson.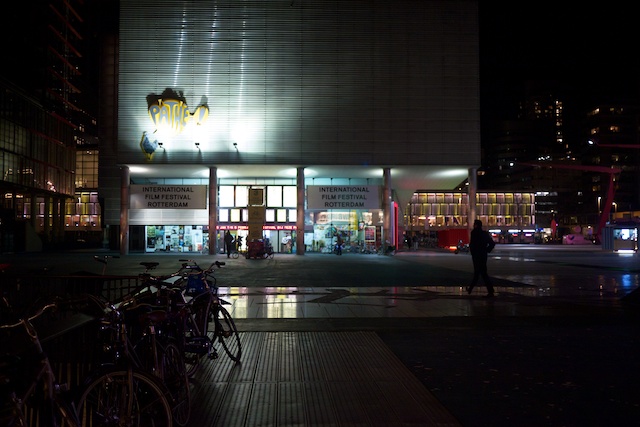 The Pathe cinemas are the largest exhibition venues at Rotterdam, and in front of the theater is an inexplicably slick metal plaza that turns downright slippery with the slightest hint of rain. I was told that each year several people slide and twist ankles or break arms. A Rotterdam memory: seeing, in the rain, the late Fortissimo Films head Wouter Barendrecht move towards me across this plaza at night, with Maggie Cheung on his arm. "Do you know Maggie?" he asked, making a very welcome introduction. Wouter, long associated with this festival, was missed greatly during Rotterdam this year.