Back to selection
A UNIQUE ENDEAVOR: JOSEPH CEDAR'S "FOOTNOTE"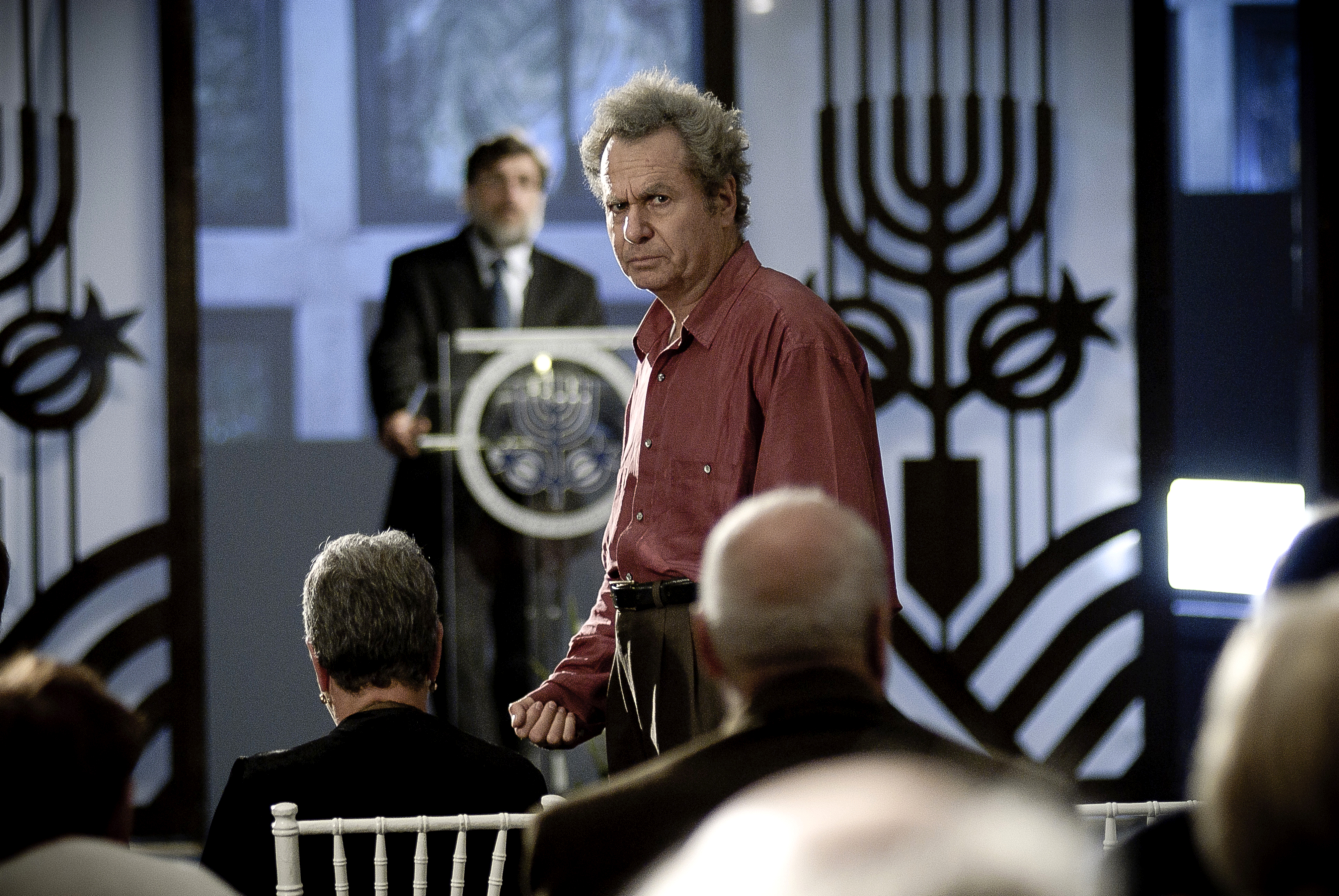 Shlomo Bar Aba (foreground), Lior Ashkenazi (background) in "Footnote"
At Hebrew University in Jerusalem, a small but obsessed group of mostly competitive men dedicate themselves to the study, deconstruction, and interpretation of ancient Talmudic texts. For the most part, individual achievement is measured in output: the number of books and articles that one has published. There are exceptions to this model of success. Take the case of Professor Eliezer Shkolnik in Footnote.
Something of an absent-minded professor, barely participating in the world around him save for the sifting through of relevant research material, the introverted, middle-aged scholar (the comic Shlomo Bar Aba, in an outstanding performance) looks and behaves like, well, a schlemiel. He has spent decades meticulously gathering bits and pieces of rare material to reassemble ancient texts, but unfortunately for him, he was scooped by an opportunistic colleague, Yehuda Grossman, who happened to come across a complete ancient Roman manuscript comprised of the same text. His discovery made Eliezer's years of labor superfluous; the pieces were already in place. Ungraciously, Grossman, whose career began to blossom, refused to wait for publication so that Shkolnik could get credit for his research. He rushed it to print and more or less deflated Eliezer's career.
Grossman built his professional standing on his find. He became head of the academy. Eliezer had little left, save for a relatively insignificant footnote in revered scholar Y.N. Feinstein's Introduction to Text Versions of Talmudic Literature. It merely acknowledged Eliezer's work in the field and his friendship with Feinstein (which is arguable). A voiceover informs us, "(Shkolnik's) life's pride is a footnote." An outsider since the publication of Grossman's manuscript, Shkolnik began to base his self-worth on this tiny reference. It's all he had.    
To complicate matters, Shkolnik's high-energy son, Uriel (the great Lior Ashkenazi, who put on many unflattering kilos and an large unkempt beard to play the part), followed in his father's footsteps and became a much better known expert in the field. But while Eliezer worked in an old, almost scientific style of orderly research, Uriel adapted to the times and the fads, studying and writing less esoteric, more accessible texts. Eliezer becomes envious of his son's rapid climb, and in fact tries to sabotage it.
Eliezer has been ostensibly banned from winning the coveted Israel Prize for research, thanks to Grossman's lingering contempt. Then chance enters the equation. Uriel is voted the winner by secret ballot, but a bureaucrat inadvertently calls Eliezer instead of Uriel and tells him he has won. The situation may not have great resonance in most places and in most fields, but in Israel the award is major, doled out every Independence Day in front of a live tv audience. After the selection panel tells Uriel what has transpired, the son is torn between paternal love and personal ambition. The dilemma lies somewhere between Shakespearean tragedy and Sophie's Choice.
The second half of the film focuses almost entirely on this untenable situation. Uriel sacrifices the prize. Eliezer, not knowing the full story, uses the occasion to denigrate in print his son and his research methods. Some dry humor in the script works well with the tragic component, as if Freud were cavorting with the Marx Brothers.
The American-born director Joseph Cedar (Beaufort) keeps the story about a subject that might seem boring on the surface from becoming predictable. Cedar will suddenly shift into formally inventive digressions, often relayed at top speed and accompanied by plucky guitar music. These sequences add rhythm, zest in fact, to what might have otherwise become a conventional, linear film. We learn about Eliezer's low-key past and the extent of Uriel's ambition. Josh, Uriel's teen-aged son and Eliezer's grandson, appears as yet another link in the irregular, sometimes nasty generational chain. Uriel badgers the boy for his lack of ambition, channeling the negative energy he gets from his father on to his son.
Without hitting the viewer over the head, Cedar makes clear that the characters' feuding and competing are microcosms of Israel itself. At the garish awards ceremony–the triteness of the entertainment horrifies Eliezer–he, suspicious but not certain of what really happened with the decision about the prize, stands waiting for the award with the son who has made the supreme sacrifice out of love for him. The scene ends with an announcement that the orchestra will play Hatikvah, the Israeli national anthem. The film concludes at that point: Hatikvah never plays. Cedar's decision successfully draws attention to the anthem and, more importantly, the nation it represents.
Jewish culture has a history of male egos butting up against one another, of excessive competition (the women in the film, mostly wives, are fairly passive). Occasional inserts of security heavies either embracing or rejecting Eliezer at various entry points to the theater are a subtle nod to the fickleness of Israeli culture and its leadership. That a Yehuda Grossman can claw his way to the top and bring down others in the process is emblematic of some of the negative issues that haunt this complex society.