Back to selection
BIGELOW TALKS ABOUT HURT LOCKER @ APPLE STORE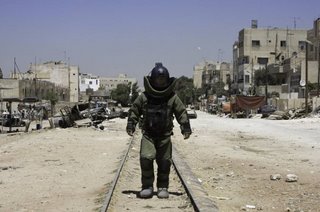 Tonight our first Filmmaker/Apple "Meet The Filmmaker" event takes place at the Apple Store in SoHo at 8pm (103 Prince St.). Nick Dawson will be interviewing our Spring cover director Kathryn Bigelow about her new film, The Hurt Locker, which opens this weekend.
The event is open to the public.
Following the first 38 days of army bomb expert Sgt. Will James (Jeremy Renner) in Iraq, The Hurt Locker (pictured) is a trademark Kathryn Bigelow film. Like Near Dark, Point Break or Strange Days the action is non-stop and includes a breakout performance by Renner. Check out what we mean below.