Back to selection
ROTTERDAM'S BLIND PIG WHO WANTS TO FLY @ROOFTOP FILMS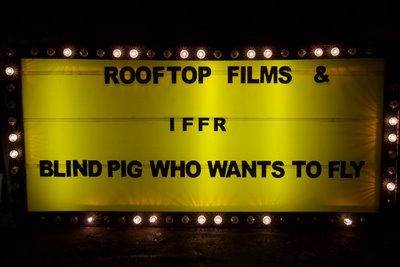 The International Film Festival Rotterdam and Rooftop Films has teamed up this weekend for two screenings highlighting titles from the fest. Last night at the American Can Factory in Brooklyn was Edwin's (yes, first name only) Blind Pig Wants to Fly, which took home the FIPRESCI Prize this year. (Pictured above, left to right: Rotterdam Film Festival topper Rutger Wolfson and directors Eugenio Polgovsky and Edwin.) It was great to see a sold-out house on a rainy night (the screening was moved indoors) for this sweetly unusual film. Brandon Harris was there seeing the film for the third time, and he summarizes it way better than I could:
Edwin's Blind Pig Who Wants to Fly, which screened in competition at Rotterdam earlier this year, is at times uproarious, at other times somewhat impenetrable, but it is certainly never less than a strange and fascinating meditation on the repression of a culture and a people that is hard to shake and even harder to pin down. A film that defies simple synopsis or explanation, it follows in a distinctly non-linear fashion a number of story threads, including a dentist obsessed with Steve Wonder songs, a former championship badminton player who retired because of her uncanny resemblance to her chief competitor and a young woman who eats firecrackers. And yes, there's even a blind pig who wants to fly.
Harris interviews Edwin over at Cinema Echo Chamber. Here's Edwin from the interview:
The film is a mozaic or sketches of feelings, of being a minority, in this case of being Chinese but living in Indonesia, nowadays. Of course there are also universal values, even if you don't have any background on Indonesian culture and political situation, you will feel them, but the sense of alienation, the sense of paranoia, the sense to sacrifice, the sense to survive, the sense of being minority are all ones I'm distinctly interested in.

The film also deals with how today's media, especially television, becomes closer to those in power. They have a significant role in documenting fake hopes, fake dreams. That said, I try to tackle many socio-political aspects in Indonesian today situation with subtlety and humor and shared emotions. I tried to document feelings, not informative data about Chinese Indonesian situations. That's why I decided to make it as a non-narrative. These issues are very personal to me. Its quite sensitive to talk about. I would rather not to say it loud, and not to be verbal. I don't want to exploit this kind of situation. I hate when people use these type of issues as commodities.

So yes, non-narrative and subtle humor were the perfect language for the film.
The Rooftop Films/Rotterdam series concludes tonight with Eugenio Polgovsky's Los Heredoros. Writes Rooftop:
Far from the tourist beaches and urban cultural centers, there's an aspect of Mexico experienced by millions but rarely seen or recorded by the outside world. There are tiny villages deep in wooded mountains, with people scratching a living from the difficult terrain, and vast plains of farmland tended by hard-working hands. In his striking debut feature-length film, Eugenio Polgovsky witnesses the daily experiences of many such inhabitants, and carves out a film that is both rigorous and playful, delicate and brutal, uplifting and tragic. In Los Herederos, Polgovsky demonstrates an impressive filmic poise, both on location and in the editing room, proving that he will surely bear many stunning films to come.

Striking an artful balance between pure observation and subtle editorial constructions, Polgovsky's Los Herederos captures minute details and broad themes to illuminate the lives of people who toil manually day in and day out. The film focuses mainly on children—the future, the inheritors of this life, this world. Shockingly young, the children demonstrate impressive strength, skill and savvy. Carrying loads of heavy logs through treacherous terrain, churning gravel into clay and crafting cinderblocks, hopping up to grab a needed extra fruit crate or to pickaxe stones for a building foundation, the kids exhibit a noble will to work.
The screening is tonight at the Museo del Barrio in East Harlem at 9:00pm.