Back to selection
"IT'S ALL ABOUT WAVES" — TORONTO'S WAVELENGTHS 1: TITANS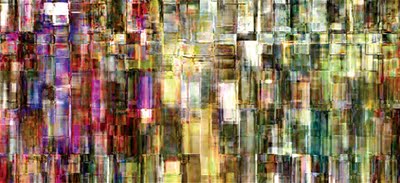 The first 2009 Wavelengths Program (or Programme, as the Canadians say) was held at the Art Gallery of Ontario (AGO). It's a sophisticated building, one that spent years shrouded in mystery and scaffolding, and has only just revealed its new Gehry glory.
Organized this year by talented film programmer Andréa Picard, Wavelengths is an annual extensive program of avant-garde cinema that is screened in six parts during the course of the Toronto International Film Festival.
The Festival's first installment, titled Titans, was an artful collection of films that that varied widely in technique, from an architectural piece by Heinz Emigholz to a personal family tableau by Josef Dabernig, and a series of sunsets by Ernie Gehr. One tiny, sparkling gem of a film by T. Marie, 010101 (2009, pictured above), offered its audience one minute, one second, and one frame of a shifting, digitally painted, binary code-inspired prism of color and light.
The program opened with its namesake, Titan (2008), a magical, layered 16mm film by Klaus Lutz, a Swiss artist who had also planned a mime performance for the evening's opening. Tragically, Lutz died the day before his trip to the Toronto to present the work in person. Reminiscent of the whimsical, playful early films of Georges Méliès, a tiny white silhouette of the artist inhabits the handcrafted, detailed world of the film. Titan's sophisticated abstraction astounds.
"The program substantially changed after Klaus passed away. It took on a different meaning," Picard explained to me. "I have to say that the works soothed me; particularly Ernie's. I relaxed into them, and they reminded me of why I do what I do; and of the power of what art can do.
The screening closed with perhaps its most highly anticipated film: Puccini Conservato (2008) by experimental film pioneer Michael Snow. Studied by film students around the world, the director's seminal movie Wavelength (1967) is the work for which the series was named. In his latest movie, which is shot on video, close-up pans explore the surfaces of a small consumer-grade stereo system as an opera blares on the soundtrack. At several instances during the movie, Snow cuts away to distinct images of a burning wood fire, a field of wild flowers, and lapping ocean tides.
After the show, the filmmakers took questions in the courtyard. (As Gehr quipped, "I'm not a boxer, but I'll see you outside.") Snow, who is nearly 80 years old, spoke with me about his film:
Filmmaker: How did you begin filmmaking? Do give me the long version.
Snow: My first exhibition of drawings was in the '50s—'54 or something like that. I got a phone call from somebody who said he had seen the show and liked the drawings very much. He thought that a person who was interested in the movies must have done the drawings, and he'd decided he would like to meet me. We met, and it turned out that he had an animation company in Toronto. I'd been in New York for almost a year and a half—I'd just come back—and I was confused, as usual. On the basis of the drawings, he offered me a job doing animation. Eventually, he turned out to be [George Dunning,] the director of the Beatles film, The Yellow Submarine (1968).
A side issue is that, in fact, I was not interested in the movies at all—they had had nothing to do with what I was doing in these drawings. (Laughs) I had gotten involved in painting and in the visual arts because I saw things that moved me, and I wanted to try to do that. I really studied that. I really looked at all kinds of stuff. But with film, it didn't come from that at all. I just learned how film was made, and started finding out that you could do some interesting things with film.
Filmmaker: What inspired the piece that we saw tonight, Puccini Conservato?
Michael Snow: It was a kind of a commission. Puccini is from Lucca, in Tuscany, and it was the 150th anniversary of his death, so the local film festival contacted about 30 filmmakers to make films in commemoration.
I thought my film would be part of a long thing that would have other segments by at least 20 other directors—that's the way it was first shown in Lucca. But then the Lucca people tried to sell it to the people at the Berlin Film Festival, and the Berlin people only wanted three of the 20 films, including mine—as well as one by a French filmmaker, and one by a director who's English. The other people from other places—like Toronto—saw it, and they wanted just mine, not the other ones. And so it's been invited to the New York Festival, and Seattle, Venice, Athens—all over the place. I never thought it would have a life of its own. I really thought it would be better if it was with other films about Puccini! (Laughs) But I never even saw it that like that—I never got to see the complete film of Puccini shorts in Lucca.
Filmmaker: Were you an opera fan to begin with?

Snow: No! I'm not interested in it at all.
Filmmaker: So how did you decide what film you would make about Puccini?
Snow: Well, I did a little bit of work on him, and La Bohème is one of his classics. It is beautiful, so I thought I would go for that. And then I shot it.
Filmmaker: You sure did–literally! (Laughter) It was one of the only films in the program where the audience was laughing.
Snow: The funny thing is that I didn't think it would be funny.
Filmmaker: Really? What were your expectations?
Snow: Hmm, my expectations. I think it raises—it should raise—questions in one's mind about the source of music. We listen to music so often on recordings that by now we don't think about that at all. So in this case, it seems to me that one would wonder whether the sound was coming from those pictured speakers or not.
As a matter of fact, I shot the playing and the image all together. But in the theater, here, the sound is coming out of other loudspeakers—the ones in the room. And then the music, because it's vocal, has so much humanity that it transcends technology. So there's an ebb and flow between the human part of it, and the fact that it is a representation that is distant from a real person. Blah, blah, blah… (Laughs)
Filmmaker: How did you decide which portion of La Bohème to use?
Snow: I just listened to a recording of it and chose. The themes are about the frugality of the bohemian artist's life. There is a mention of it being cold; there's not enough heat.
Filmmaker: Hence the image of the fire.
Snow: Yes. The heroine is a seamstress that embroiders flowers, which is where those come in. Those interjections are actually found in the lyrics.
Filmmaker: And the ocean?
Snow: Oh, that's about waves. Everything is waves.