Back to selection
Exclusive | OREN PELI TALKS PARANORMAL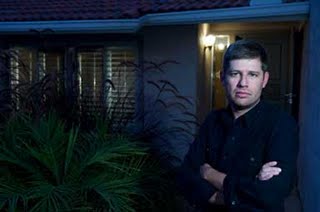 We've been keeping tabs on director Oren Peli (pictured) and his debut low-budget horror Paranormal Activity after seeing the film and instantly putting him on our 2008 25 New Faces on Independent Film list. Now Paramount Pictures has announced that the film — which the few who have seen it compare to The Blair Witch Project — will be doing a creative release of the film starting Sept. 24th when it screens at Austin's Fantastic Fest at midnight. In select theaters across the country on the same night the film will have free midnight screenings. The studio has also created a DEMAND IT widget where if the film isn't playing near you, you can sign up so it will. The film begins it's commercial run Sept. 25. (markets and details listed below)
"Having a premiere at Fantastic Fest is so incredibly cool, and having it happen simultaneously in other cities is like a weird dream come true," says Peli, speaking exclusively to Filmmaker.
Just to give you a recap. The film premiered at Screamfest in Oct. 2007 and then was picked up by DreamWorks at Slamdance in early 2008. After extremely positive reviews the film disappeared leaving to rumors that DreamWorks would shelve the film and have Peli do a Hollywood remake. Fortunately Paramount, who took on the film after DreamWorks left the studio, hasn't changed it (outside of a few CGI tweaks) and are hoping to capture the same fandum Blair Witch had ten years ago. (FYI: Peli and the film's fellow producers Steven Schneider and Jason Blum have hired veteran publicist Jeremy Walker, who was instrumental in the buzz Blair Witch had at its Sundance premiere and theatrical release).
"I learned a couple of weeks ago," says Peli, about the free midnight screenings. "What they are doing with the 'Demand It!' widget has never been done for a movie before." Schneider continues, "This is a very unique picture. Paramount has shown that they fully understand it, and more important, they are using a brilliant combination of muscle and nuance to build an audience."
And were those remake rumors for real? "The talks were serious," he says. "But deep inside I had a feeling that once the top-execs saw the movie with an audience it would be a game-changer. In a lot of ways the enthusiasm for the film has been simmering online for the last year or two."
As the new trailer implies, that online fan base is going to build.
Peli says up next he'll be writing, directing and producing the horror Area 51 (not the video game adaptation in development at Paramount). And in typical fashion he's not giving away much about what it's about, though he does give a hint on where his future lies. "Don't want to get into more details at this point, but definitely not turned off by [making more] indies."
Free midnight screenings on Sept. 24th:
Los Angeles (ArcLight Hollywood)
New York (Landmark Sunshine Theater)
San Francisco (The Castro)
Chicago (The Music Box)
Boston (The Coolidge)
Atlanta (The Plaza)
Seattle (Neptune).
Screenings on the 25th:
Austin (Alamo Draft House)
Seattle (Neptune)
Ann Arbor, Michigan (State)
Durham, North Carolina (Southpoint 16)
Baton Rouge, Louisiana (RAVE Mall of Louisiana 15)
Boulder, Colorado (Cinemark 16)
Columbus, Ohio (Studio 35)
Orlando, Florida (AMC Universal Cineplex)
Madison, Wisconsin (Marcus Eastgate 16)
Santa Cruz, California (Del Mar 3)
State College, Pennsylvania (Premiere College 9)
Tucson, Arizona (El Con)
Lincoln, Nebraska (Ross Media Center)
Learn more about the film at paranormalmovie.com
Photo By: Dale Robinette