Back to selection
Culture Hacker: Igniting the Imagination of Many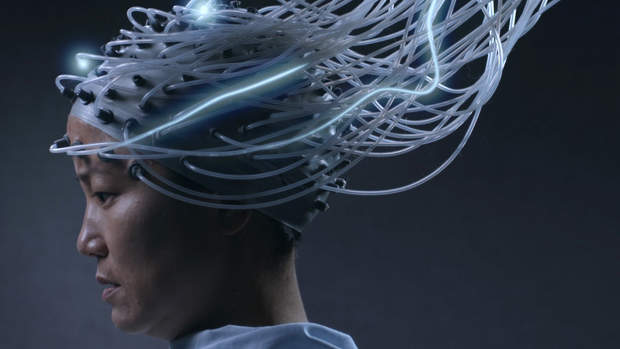 As I sit in the green room preparing for a special session at SXSW Interactive, I'm struck by the fact that I have no idea if what I'm planning will work. On paper it looks good, but in reality, attempting to squeeze three days of collaborative design into a single hour-long session may be impossible. For instance, when we stage our Wicked Solutions for a Wicked Problem sessions at the DIY Days conference, the goal is to embrace social innovation, collaborative problem solving and co-creation. We accomplish this by utilizing a mix of design science and storytelling. It usually takes an eclectic group of storytellers, game designers, interactive developers and hackers anywhere from one to three full days to effectively collaborate around a specific design question.
At DIY Days, the design question sometimes comes out of the session, but here at SXSW we've pre-selected our query: "How do we make the world work for 100 percent of humanity?" Our goal is to get people who don't know each other to quickly develop a wish for the future. Once the wish is agreed upon, the group will produce a prototype and a story providing context for the wish. The session, an official part of SXSW's new Digital Domain series, is entitled "Prototyping the Future," and it serves as the kickoff to the third season of ITVS' award-winning series FutureStates.
Finding the right inspiration
Wish for the Future is the second chapter of a participatory storytelling trilogy I started last fall. At its core is the design question cited above, which is a condensed version of a quote by visionary and architect Buckminster Fuller: "How do we make the world work for 100 percent of humanity in the shortest possible time through spontaneous cooperation without ecological damage or disadvantage to anyone?"
Wish for the Future mixes participatory storytelling and design science to envision a better world. After making a wish for the future, participants "grant" their wishes through creative acts like writing stories, making pieces of art, sharing songs or creating videos. These granted wishes are prototyped into tangible artifacts using 3D printers and software hacks. These wishes, creative expressions and prototypes are then placed in multiple time capsules and buried for 100 years.
Inspired by Fuller's work as well as the Voyager Golden Records that were sent into space in 1977, Wish for the Future is an effort to ignite the imagination of many through experiential learning, creative expression and collaboration.
The digital revolution has been commoditized
In 2006, I started the WorkBook Project in an effort to reveal the process of filmmaking — everything from how work is created and distributed to how long-term careers are sustained. Inspired by the democratization of production and distribution tools, and the increasing ability to reach audiences in scalable, cost-effective ways, a passionate community of doers powered the project. Democratization quickly gave way to the commoditization of these same tools, the services and solutions that connect creators with audiences. Filmmakers can now pay to place their films on VOD, can book screenings, sell tickets and merchandise through websites, and can raise financing through crowd-funding platforms.
So now that the world of independent filmmaking has been commoditized, a new wave of social innovation begins. DIY has evolved beyond active creators and passive audiences.  One only has to look at some of the amazing work being done around open government, education and health care. Groups of passionate people are collaborating in an effort to create change. Another quote by Buckminster Fuller sums it up: "You never change things by fighting the existing reality. To change something, build a new model that makes the existing model obsolete."
The next real challenge rests in an awakening that has taken hold of those formerly known as the audience. As I've written previously, I view the audience as a type of collaborator. It is within this space of collaboration that an opportunity for social innovation emerges. Harnessing the imagination of many can be messy. It requires a shift in thinking on where to place value, how to curate/filter contributions and how to leave room for discovery.
Setting the stage for collaboration
Back to SXSW. Our "Prototyping the Future" session is filled with a mix of storytellers, game designers, entrepreneurs, hackers, activists and educators. Diversity is an engine for collaboration fueled by a cross pollination of skills, backgrounds and opinions.  Harnessing the imagination of many requires one to set the stage. Creating a comfortable and fun environment that encourages experimentation and rewards divergent thinking provides the foundation. The following notes from our SXSW "Prototyping the Future" session highlight ways of using collaboration to build story worlds, strengthen experience design and fuel social innovation around difficult problems.
Start with clear objectives
Our session began with an introduction to the thinking that led to the Wish for the Future project.
What is the goal and why does it require everyone?
To focus the session we shared our design question: "How do we make the world work for 100 percent of humanity?"
Encourage experimentation.
Up front we stressed that it was all an experiment. We shared that we weren't sure what would happen. We set the stage for experimentation.
Fail fast and learn from it.
By allowing people to understand the value of failure we empowered participation.
Start with something fun and collaborative – the absurd is welcome.
In five minutes the group attempted to generate 100 wishes for the future.
Set time constraints. 
We broke the hour into sections and enforced a visible clock with verbal countdowns to stress urgency.
Break people into groups. Let diversity of skills determine the groups. Mix and match.
We asked our audience who dubs themselves a hacker, storyteller, educator, activist, game designer and entrepreneur. One of each was selected. This group then became our prototyping team. They acted as a filter to select the one wish that would be prototyped.
Bring everyone together for recaps and to set goals.
At different points we gathered everyone to help focus and determine what still needed to be accomplished.
Make it tactile – get people doing while they are talking.
Those who were prototyping were encouraged to write on the table where they sat and to use Play-Doh to express their ideas while talking.
Have fun.
Even though our wish for the future experiment was a serious one, we took a whimsical approach that encouraged creativity and experimentation.
Participatory Surprises
The wish that was selected to be prototyped was, "Open and equal health care for all." This wish focused the collective goal, and in less than one hour, 100 people who did not know each other produced a well-developed prototype for a cloud-based health care system. They built a model out of Play-Doh that detailed their thoughts and developed a narrative story that brought empathy to the prototype. The proposed cloud-based health care solution mixed stored data and real-time, human-contributed assets. Through micro tasks the solution space looked to bridge the digital divide by enabling important health data and resources to be shared regardless of technical infrastructure or medical skill. In the field, the group suggested the use of augmented reality and mobile sensor technologies for diagnosis and simple medical procedures.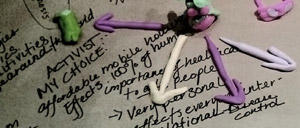 This was a truly interactive session that ignited the imagination, harnessed the value of collective intelligence and, for its participants, created a sense of surprise, similar to the thrill of receiving an unexpected present.
The social innovation of the sort found in our participatory health care experiment quickly builds social bonds. And the design principles utilized in this session can be applied to other problems, issues and creative endeavors in a variety of ways. They can serve as a foundation for engaging a community, improve interactive design or simply be used to enrich the stories you wish to tell.
In the end the only way to understand shifts in authorship, changes in consumption and the value of participatory culture is to roll up your sleeves and give it a try. The next wave of innovation within filmmaking doesn't rest in technology but instead resides in the analog. It is human-powered and ignited by the imagination of many.
(Top photo courtesy of FutureStates)