Back to selection
REMEMBERING ADAM YAUCH, 1964 – 2012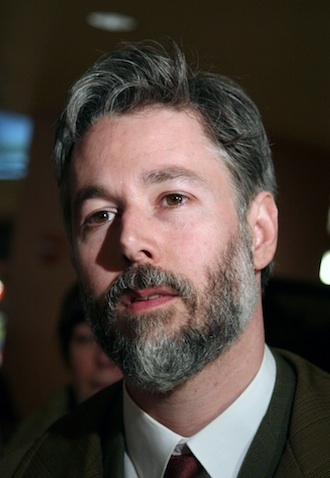 "Where is Cooky Puss at?!?" I still remember breaking up over that line from "Cooky Puss," the single from the Beastie Boy's second EP. A recorded prank phone call to Carvel Ice Cream about their inexplicable dessert treat set to sleazy electro-funk and streaming over my college dorm room speakers via WNYU's New Afternoon Show, it was my introduction to a group that swiftly went from novelty item to cultural force. "Cooky Puss" may not be the group's highest moment, but it made me laugh then and it makes me laugh now even as it throws me back in time. Writes Sasha Frere-Jones in The New Yorker today, "The single is about as commercial as a bag of dead spiders. It also represented the New York we grew up in, where a club like Danceteria would show loopy homemade videos on C.R.T. monitors and dance records were whatever records the d.j. decided to play while you were dancing."
While "Cooky Puss" and their anthemic early hit, "Fight for Your Right to Party!", were the essence of stoopid, the Beastie Boys, whose Adam Yauch, MCA, passed away yesterday from cancer, have always been very, very smart, a trait nailed by Bob Lefsetz in his newsletter obituary. He wrote:
And despite succeeding with a hedonistic party anthem, the Beastie Boys radiated intelligence. Stupid was an act, which was quickly cast aside. Entertainment has too often sold dumb, and too much of our country embraces ignorance, the Beastie Boys wanted no part of that.

And they took a stand. Musical stars have power. But those with stature have abdicated it. They're afraid of turning off potential audience members. Whereas the Beastie Boys didn't care. Furthermore, they led their audience, they educated fans on issues. There's a direct line from the Beatles to San Francisco to the Beastie Boys. And MCA was an integral part.
When remembering today Yauch and his role in the Beastie Boys, Frere-Jones's piece at The New Yorker, quoted from above, is essential reading. As simple as it seems, stoopid can be a complicated stance, and Frere-Jones recalls the group's recoil from the violence and misogyny that came to permeate much hip hop culture. After the Beasties asked the Prodigy not to play "Smack My Bitch Up" at Reading in 1987, Yauch answered charges of hypocrisy in an email to NME that read, in part, "We are in the process of learning from our mistakes, and feel that some of the things we did in the past that we thought were a joke ended up having lasting negative effects."
And this is the Yauch people remember: a man who could say he was sorry and not feel lessened by it; a man living within the principles of Buddhism and committed to broadening awareness of the political situation in Tibet; and a genuinely quiet person who had become more likely to make a joke at his own expense than anyone else's. Yauch's is one of the voices that can signify hip-hop within three syllables—rough, low, and strained. He got a lot done with that voice.
In recent years our film world has been the lucky beneficiary of Yauch's quiet, enlightened voice. His distribution company, Oscilloscope, has been a beacon of real hope and taste during an endangered time for independent film. When Yauch launched O-scope, as it's referred to by its filmmakers, in 2008, he explained its mission to New York Magazine: "In the film industry, you see a lot of people who are trying to pick up films they think are marketable and just figure out how to make them work. A lot of times you hear people say, 'That's a great film, I loved it, but it's not marketable.' That's the film Oscilloscope is picking up. So what if it's not marketable? If you feel good when you're watching it, there's got to be a way."
And what films! Among others they include Wendy and Lucy, Treeless Mountain, Scott Walker: 30 Century Man, Burma VJ, The Messenger, The Maid, The Exploding Girl, Exit Through the Gift Shop, Bellflower, We Need to Talk About Kevin, and, coming up, one of my favorite films of the year, Andrea Arnold's Wuthering Heights. Oscilloscope releases pictures with energy, vision, and, most significantly, a sense of importance, of curation. With an aura radiating from the company's imaginative and classy promotion and DVD packaging, Oscilloscope has become in its short history the wish-list distributor for many of our most talented filmmakers. "I believe that there is some middle ground," Yauch wrote in an email to Manohla Dargis and A.O. Scott of the New York Times. "That you can make interesting, creative, informative films that will appeal to a wide audience. Maybe I'm an idealist, but I don't think you need to feed people these lowest common denominator films to get them out of the house. There are people who are interested in going out to the movie theater to see Moon or Wendy and Lucy."
Yauch's support of independent film extended to his role as a board member of IFP, publisher of Filmmaker. Yesterday, IFP Executive Director Joana Vicente wrote:
On behalf of the IFP staff and board of directors, we are deeply saddened by the passing of former board member Adam Yauch. Adam was an incredibly talented and passionate individual who brought a special uniqueness to the IFP. Adam supported the work of different filmmakers with different perspectives, many of whose voices would not otherwise be heard. He wholly embraced IFP's mission and was an important champion not just to us, but also to the greater community of independent film. His music touched us, his passion inspired us, and he will be dearly missed. Our sympathies go out to Adam's family and his family at Oscilloscope, who are all in our thoughts today.
I and everyone at Filmmaker would also like to extend our condolences to Adam's family, Oscilloscope, their filmmakers, and to his many fans.