Back to selection
COMING OF AGE IN CANNES
Cannes No.64. Côte d'Azur. Film, film, film and more films. As a matter of fact, more films than you can even imagine are made. That was my first impression last year as I popped my cherry at the Palais, bringing my 30-minute short film, The Sea Is All I Know, starring Oscar winner Melissa Leo (above), to the festival. It was overwhelming. How could so many films be made? Where are they seen? Where does the funding come from? How does one sell them? Who were these people selling the films? What are pre-sells? How is that different than distribution? How are deals made? Where did the Weinsteins fit in all this madness or even Killer Films, my heroes, where were they… What did a film commission in a pavilion have to offer me?
Gorgeous gowns and smoking suits with papillon ties walking side by side with kids on skateboards tearing up the Croisette. Beautiful women in dresses and high heels racing down the streets on scooters. The Wild Bunch party. Le Petit Majestic, and rosé, rosé, rosé. Overstimulation underappreciates the magnitude of this festival for a Cannes virgin. I returned to New York City a changed woman.
Cut to:
Cannes No.65.  Twenty-two [22] films in competition [none by a woman director — bittersweet reality]. Primed to be a very different experience, this year I come to Cannes armed with my producing partner, Byron Habinsky of Delirium Picturehouse, and as part of the producing team on several feature projects, including my own feature script, Weight. This year there are very specific goals in mind. The difference in one year includes, but is not limited to, having drinks at the Majestic, a lovely conversation with Danny Glover at the Abu Dhabi pavilion, running into David Cronenberg at the Carlton, and having many friends on the Croisette due to the successful festival run of The Sea Is All I Know. Meira Blaustein, the co-founder and executive director of the maverick Woodstock Film Festival, and here writing for the über cool i-D magazine, and I made a pact to conquer the Croisette [although we sorely missed compatriot Thelma Adams] and we did, despite the monsoon that reminded me of when my film played at WFF this past year.  Byron and I met some terrific people and found the coproduction partner we wanted for Weight in Marrakesh, with an eye on location scouting in the next few months.
Impossible not to want to fulfill my creative content appetite, I decided to do a behind-the-scenes film on the young leading actor, Jacopo Olmo Antinori of Bernardo Bertolucci's first film in 10 years, Io e Te (Me and You). I grabbed my camera and shot the young actor in his first experience along the Croisette, as well as his Vanity Fair shoot with the incomparable Brigitte Lacombe, then his meeting with Benicio del Toro at the Cannes Movie Star Lounge. Heady stuff for a young man of 15 years, but he is very grounded, as Bertolucci says of him, "He was a kid but also a born actor, remarkably capable of comprehending direction. Only in the midst of his 14 years, but I've met few actors as professional as him." I followed up with an intimate interview with Jacopo on working with the legendary maestro and his feelings on playing one of Bertolucci's iconic roles of isolation and loneliness.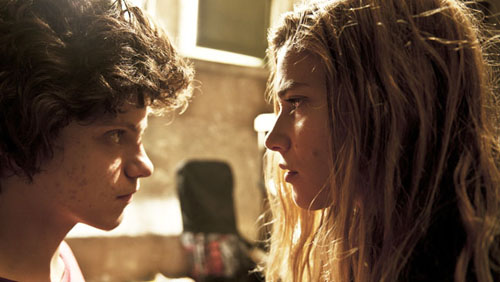 Then, for the first time, I walked the red carpet at Cannes…. for Bertolucci's film.
For those too young or too green to remember, Bertolucci's scandalous Last Tango in Paris, starring the epic Marlon Brando, was the beginning of his enormous success, which also included The Last Emperor, the winner of nine Academy Awards. I loved both of those films, as well as The Conformist, Stealing Beauty and even The Dreamers, which set Michael Pitt's career on fire.
I was moved and inspired with the film Me and You as I felt tremendous joy seeing at master craftsman tell a cinematically striking film with such beautiful subtlety and restraint. It's a reminder that in an era of documentary style, handheld indie films, that if a filmmaker is sensitive and knows how to tell a story, he does not have to hit an audience over the head but can seduce with cinematic poetry. Me and You sneaks up on you, and before you know it has grabbed your heartstrings and is playing mercilessly while the Italian cover version of David Bowie's "Space Oddity" — "Ragazzo solo, Ragazza sola" — is sung passionately by one of the characters, underscoring the pain of their longings, disappointments, struggles and dreams. Bertolucci, at 72, reminds us that connecting to our humanity is relevant, and films do
not need tricks and devices to send you on a journey. Examining our humanity is the journey itself. The standing ovation was 15 minutes.
At the after party, my friend Francesca Marciano [one of the co-writers on the film] was gracious enough to introduce me to the maestro as a director from New York City. I was introduced as a colleague! As a director, to one of the greatest directors to ever walk the face of the earth! Yes, this Cannes was turning out to be very different.
Winding down the trip was the satisfaction of seeing Adam Leon's film, Gimme the Loot, which I supported on Kickstarter, have its International Premiere in Un Certain Regard. I was pleased to be a part of making that film happen, and even more delighted for the filmmakers as their film is being so well received worldwide.
As the festival comes to a close, the sun is finally shining, and I am inspired. A glorious glass of burgundy in hand, I prepare for the prestigious 52nd Krakow International Film Festival next week where my film The Sea Is All I Know has its European Premiere and plays in competition.
Cut to:
Cannes No.66. The debut of my feature film Weight at the festival. Why not, my friends have done it. And aside from that woman issue [I don't get mired in all of that, although I don't like it], Cannes has proven to be a magical place for me, and much respect for how they put on the ultimate two-week party.