Back to selection
"BEASTS OF THE SOUTHERN WILD" — A HAMMER TO NAIL 'REVIEW'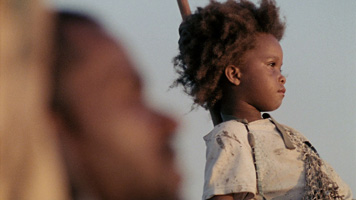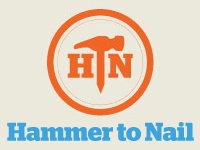 (Beasts of the Southern Wild world premiered at the 2012 Sundance Film Festival, where it won the Narrative Grand Jury Prize, as well as Best Cinematography for Ben Richardson. It also won the Camera d'Or at the 2012 Cannes Film Festival. It is being distributed by Fox Searchlight and opened theatrically on June 27, 2012. Visit the film's official website—as well as the virtual home base of the Court 13 collective—to learn more.)
I want to make this immediately, abundantly clear. Perhaps more than any other review I've ever written, this one is coming from the pained perspective of a filmmaker who is currently skull-deep in the mud, clawing to get an independent film made on an even somewhat legitimate scale (as in, barely seven figures). So if everything I say from this point forth sounds ridiculously biased and doesn't read like traditional "film criticism," there's a reason for that. This isn't a review. It's a call to arms.
The year is 2012. How does Beasts of the Southern Wild even exist on Earth right now? Making original, personal movies without proven talent—both in front of and behind the camera—has always been a difficult task. But lately, it's become a virtually impossible one. I recall a story I heard about Robert Altman being unable to cobble together eight million dollars in order to make A Prairie Home Companion with another of his star-laden casts. And that was several years ago. So how in the hell in this current climate could a collective of young 20-somethings who only had a handful of short films to their name receive seven-figure support to make a riskily ambitious feature starring unknown Louisianans who had never seriously acted before?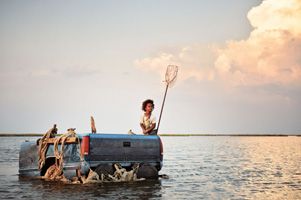 Well, therein lies part of the answer. One of those short films, the one that shares a direct spiritual kinship with Beasts, was called Glory at Sea, and it just so happened to have the sweep and scope and emotional impact of a full-fledged feature. When I first saw Glory at Sea at the 2008 SXSW Film Festival, it rocked my world so hard that I demanded the producers send me a DVD screener so that I could watch it again as soon as humanly possible (for context, read my gushing Hammer To Nail review). For at least a week after I received that screener, I pressed play on Glory at Sea every single morning before I officially began my day, and I was reduced to blubbering tears every single time. The go-for-broke approach to the film's production, the hopelessly, naively, boundlessly optimistic spirit contained within the film itself… absolutely everything about Glory at Sea was freakishly inspiring.
Clearly, I wasn't the only one who felt this way. Enter the Sundance Institute, who latched on to writer/director Benh Zeitlin's project early and ushered him and his Court 13 collaborators through the most intensive and high profile Sundance Labs (writing, directing, producing). However, as supportive as the Sundance Institute can be, they don't officially finance motion pictures. And, until Beasts, neither did Cinereach—at least on a scale such as this. Since its inception in 2006, Cinereach has provided indescribably valuable monetary grants to films at all stages of production. The painful reality is that aside from a few other stragglers, they are pretty much the only hope for American filmmakers who are looking to receive non-private fiscal support for their films. But they had never signed onto a project so early on in the creative process and committed to putting the whole film on their tab—especially on a seven-figure scale like this one. But apparently Glory at Sea and Zeitlin and co-writer Lucy Alibar's vision for this project convinced them to take the plunge. Without being too melodramatic about it—actually, this is simply a fact, melodrama has nothing to do with it—if Cinereach didn't join up with Court 13 to dive headfirst into the swamp that is this audacious creature, we wouldn't be talking about Beasts of the Southern Wild right now. We just wouldn't.
Before I continue, another, perhaps more eye-raising disclaimer: I am friends with the Court 13 collective. Yet though I visited the Beasts of the Southern Wild set just days before principal photography began, I never once read a draft of a script or watched any rough cuts. In keeping with a pact made between myself and producers Dan Janvey and Josh Penn, who sat in the front row at the world premiere of my film Septien at the 2011 Sundance Film Festival, I didn't want to know anything about this movie until I saw it at its world premiere. Which I did, on Friday, January 20th, at the Eccles theater.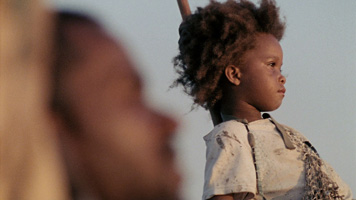 Bars of expectation are almost always unforgiving, savage weapons. As evidenced by my reaction to Glory at Sea, Beasts of the Southern Wild had a lot to live up to. A lot. Yet it delivered—albeit it in a much different way. A second viewing didn't reduce me to a puddle of tears the way Glory at Sea did, but that's because as similar in spirit as these two films are, they are also quite different, like siblings who look alike but have different blood types. Ultimately, the climax of Beasts is less overtly triumphant than Glory at Sea (you know what, if you haven't seen that film yet, stop reading this right now and ***watch it***). For all of the hurricanes and flooding and ancient creatures on display here, Beasts of the Southern Wild is at its core the sadly hopeful story of the maturation of one little girl (an astonishing Quvenzhané Wallis), an inventive expression of what it feels like to come to terms with the crushing reality of death at such a young age. In this case, Hushpuppy is forced to acknowledge the death of her most very loved one, the death of her hero, the death of her daddy.
Now is the time when I could—and probably should—go on to provide a set-up and synopsis of this film, and explain why it triumphs against all rational odds—but that feels irrelevant somehow. What I will say is that Beasts of the Southern Wild is a truly strange organism. It is the type of film that can, and will, likely be read in countless different ways: liberals will respond to its noble transcendence of racial dynamics; Tea Partiers will praise its rejection of the United States government sticking their greasy hands into our private lives; regular filmgoers will appreciate its narrative swell; and cinephiles will admire its bracingly seamless fusion of the fantastical and magical and mythical with an authentic, homegrown docu-reality. As for independent filmmakers like myself, who know just how hard it is to even conceive of making a motion picture like this, let alone realizing it in such an assured, exhilarating way, to experience it and bask in its bombastic, life-affirming glow is to be filled with a satisfaction and pleasure that knows no earthly bounds. Beasts of the Southern Wild is spirituality on celluloid.
Filmmaker has partnered with our friends at Hammer to Nail for a weekly "Pick of the Week" post that will be exclusive to our newsletter and blog for a long weekend, at which point it will go live over at Hammer to Nail as well. In the meantime, be sure to visit www.hammertonail.com for more reviews and lots of other great editorial.