Back to selection
The Blue Velvet Project, #144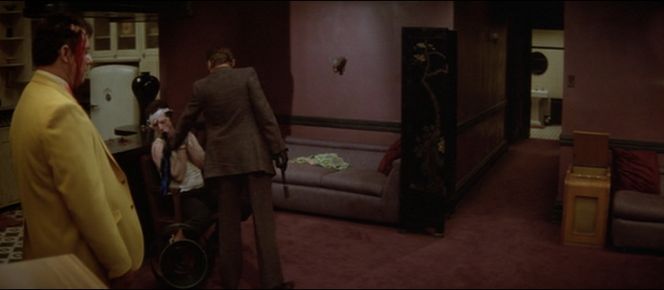 Second #6768, 112:48
Fragments:
1. Frank's back to the camera.
2. Dorothy's apartment stretched out in horizontal like a widescreen nightmare.
3. The vintage fridge, solid.
4. The black circle mirror above the bathroom pedestal sink. (If Roberto Bolaño had done the set design for Blue Velvet, the mirror would have been inscrutably evil.)
5. The silencer, attached.
6. The sconce on the wall above the couch, looking at first glance, in its isolated away, like the screaming mouth on Jeffrey's wall.
7. The sadness of Dorothy's husband's dead paunch.
8. Frank's death in under two minutes, uncertain at this point because Jeffrey, hiding in the closet, has not yet taken the loaded revolver from the Yellow Man's jacket pocket.
9. The virus is Frank. Jeffrey—the "bug man" as Dorothy calls him—will exterminate him.
10. From the play Bug, by Tracy Letts:
PETER: Think.
AGNES: You brought the bugs . . . you have the bugs in your body, the egg sacs in your body.
PETER: I brought the bugs.
AGNES: And R.C. brought you. You brought the bugs, and R.C. brought you. R.C. brought the bugs.
PETER: Right.
11. The film frame as a relative of the animation cel and the comics panel:

Frozen movement. In the frame at second #6768, there are implied quadrants suggested by vertical lines (strong shadows or angles created by the room's layout) that alternate—reading from frame left to right—between light and dark.
12. These moments of chiaroscuro hint at Blue Velvet's undercurrent of film noir's expressionistic roots: the femme fatale lures the boy with sex to murder the source of her unhappiness.
13. In other words, Frank has no chance, not against tradition.
Over the period of one full year — three days per week — The Blue Velvet Project will seize a frame every 47 seconds of David Lynch's classic to explore. These posts will run until second 7,200 in August 2012. For a complete archive of the project, click here. And here is the introduction to the project.