Back to selection
SYRIAN FILMMAKER ORWA NYRABIA ARRESTED AND MISSING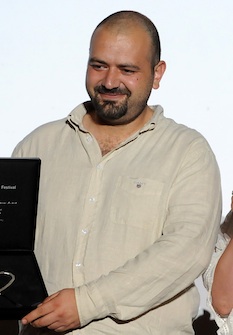 Last Thursday, August 23, Syrian filmmaker Orwa Nyrabia was arrested by Syrian security forces at the Damascus airport while on his way to Cairo. Since then, he has not been heard from.
Lawrence Wright of the New Yorker wrote about Nyrabia and his disappearance in a blog post last week.
I had the good fortune at the time to meet Orwa Nyrabia (also transcribed Nairabiya). He is a big, ironic, bold spirit, whose jolly nature seemed perversely at odds with the grimly repressive atmosphere inside that country. With another producer, Diana el-Jeiroudi, Orwa started Proaction Film, the only independent documentary-film company in Syria. The two of them also created Dox Box, the largest documentary-film festival in the Arab world.

Orwa was one man who quietly stood against the Syrian police state. He was not a revolutionary but he was an independent filmmaker, which inevitably placed him in jeopardy. In this brutalized society, he was also a person who still held onto joy and hope, qualities that are hunted down in Syria by forces dedicated to suffocating the best in human nature.

Last Thursday, Orwa was abducted before boarding a flight from Damascus to Cairo. His disappearance follows the death of another young Syrian filmmaker, Bassel Chehade, who was shot down in the city of Homs in May. Chehade had been studying film at Syracuse University before deciding to return to his country to document the conflict.
The Toronto Film Festival, which begins this week, has issued a statement: "Nyrabia belongs to the emerging generation of Syrian filmmakers passionate about world cinema and passionate about freedom. We are extremely concerned by his arrest — filmmakers must be allowed to express themselves through their films, without fear of reprisal."
As Wright notes in his piece, Nyrabia's disappearance occurs during a larger-scale repression of artists and intellectuals during the country's current civil war. For more on the situation, listen to Wright below as he discusses the filmmaker and his relation to both the Syrian and international film communities.