Back to selection
4K is Coming, Ready or Not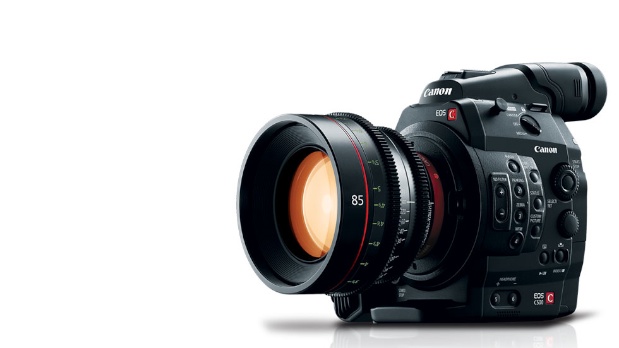 Canon C500
When 3D TVs were the rage, I was convinced it was just a cynical push by the electronics manufacturers to sell TVs and nothing else. To me, 3D was a fad that would be used for a few things, but was unlikely to become mainstream. I'd seen the future before; I saw Jaws 3D when it was first released.
So when the manufacturers started talking up 4K cameras, with promises of 4K TV sets, I was convinced that this too was a push to sell new TV sets that wouldn't amount to much. Sure filmmakers with a big budget will be shooting at 4,5 or 8K, but why shoot a TV documentary on 4K? Or a web series? No, 4K wouldn't be mainstream for a long while.
Now I'm not so sure.
The camera manufacturers are much more serious about 4K cameras than they seemed to be about 3D cameras. What started as a trickle with the Sony F65, the JVC 4K GY-HMQ10 $5,000 handheld, and the Sony NEX-FS700 has turned into a deluge with the Canon C500 and 1D C, and Sony's PMW-F5 and the PMW-F55. Even the new GoPro Hero is supporting 4K, even if it is only at 12 fps.
And don't forget that RED, who actually got to 5K a while ago, just slashed the prices on their cameras. 4K+ recording may not be at budget prices yet, but under $10,000 is looking possible.
The Camera's are a reality, let's talk workflow
With 4K becoming the new reality, the focus is turning to workflow.
Sony just came to town doing a road show on the F65. Interestingly, they spent no time on the operation of the camera itself; the session focused on the workflow for material from the camera. The message: Avid, Adobe, DaVinci Resolve – to name a few – all work with the camera. All you need to edit is a – comparatively – inexpensive RAID array and a good graphics card, and you're good to go. Of course, with a $65,000 camera, the definition of "inexpensive" is a bit fluid.
Or, you can work with proxy files.
The new update to Final Cut Pro X, version 10.0.6, added RED camera support with native REDCODE RAW editing up to 5K. It will optionally transcode to Apple ProRes 4444 or ProRes Proxy, though be careful; your "proxy" files can end up larger than the original files.
Just two weeks ago, Saturday Night Live DP Alex Buono used the Canon C500 to shoot the parody ad "New Claritin." He tweeted about the experience:
Thanks once again to my #SNL director/fearless leader, @RhysThom2, for entertaining these crazy workflow experiments on overnight deadlines.

Overall take-away: if you like the look of Alexa but need 4K rez, you might like the #C500. Gorgeous dynamic range.
The SNL Film Unit is using Adobe CS6 for editing.
Of course, some would question: Does SNL need 4K resolution? As exciting as the cameras are, it's still unlikely that broadcast will go to 4K in the near future. There's just not enough bandwidth – and 4K TV's are going to be very expensive. Sony has a consumer 4K projector, but it's $26K.
Many of us won't be distributing in 4K, but it's starting to feel inevitable that we'll be shooting in 4K very soon. If JVC can sell a 4K camera for $5K this year, how much will it cost in two years time? As they get "affordable," why not shoot in 4K?
The cameras are becoming more commonplace, the software is being updated, and people are figuring out how to work with the media. By the time you can afford a 4K camera all the problems will have been solved. Maybe it's just as well you can't afford a camera right now.
Now if there was just an inexpensive way to archive all that material…
UPDATE: Canon is now offering 24 month 0% interest financing on the C500.