Back to selection
THE VIEW FROM ACROSS THE ATLANTIC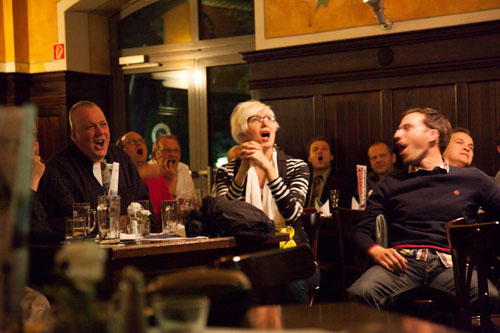 Have you ever sat talking to someone and half way through a sentence thought, "Have I said this to this person already? OMG, what was I talking about? I'm lost?"
I'm waking up in the middle of the night sweating with this fear rattling my head because I am preparing for two weeks of solid pitching. I need to be ready for about 10 a day, each one focused exactly the same as all the others, do the greatest pitch of your life! And that is just what's organized. I have a shadow agenda to seek out other people – the hustle, as I call it – and do the elevator pitch to get myself some more meetings. The last time I did a pitching market I had 78 pitches in 5 days. I'm not kidding, and that's what I'm sweating.
I've been working on my pitch for about a month now. I have a full-time researcher sourcing images and running through potential cast lists and comparative films. I know that I get one chance – 20 minutes at most – to make an impression, and if I blow it, that door is closed. The internal pressure for me is enormous.
I would have thought that after financing eight projects, it would get a little easier, but I think it's getting harder for me. I remember the blissful ignorance of pitching the first films, and the naïve hope that a white knight would swoop away this important film and make it all OK – and weirdly, that actually happened. Today I recognize how much luck was involved then, and how hard it has become to raise money.
The upshot of experience is simplicity.
It's a lot like dating. You have to kiss a lot of frogs to find Prince Charming, and I've become better at choosing frogs and my kissing has improved.
I'm pitching 2 films. (Will I keep the pitches straight in the meetings?) I'm not looking for 10 partners. I only need two, the right two. And, I sit with awareness that the big film I am setting up next has a partner I first met 6 years ago in a Rotterdam Coffee Shop (an elevator pitch at 3am – my favorite kind). We've bumped in to each other at festivals around the world for years and finally, this year, bam, we are natural partners on something! What's my point? Every meeting is also a meeting with a future partner on some new project I have not even dreamt about.
OK. I'm taking a deep breath and relaxing more now. That's a weirdly refreshing thought. I'm going to reframe what I want out of this Saturday morning work session. (Did I mention that I'm working on my pitch on the weekend because I am alone in the office, the phone is not ringing and the kids are at home?)
In a week, I am getting on a plane to spend two weeks away from my work and family meeting like-minded people (euphemism for crazy people who makes films). I will spend all day every day meeting strangers for the first time, and then, dinners, drinks and who knows what. It's all likely to end very late on the last night (which undoubtedly will be an all-nighter) with lots of gushing and "you are so great" moments – and that really excites me. (Advice I gave my junior producer when she went to her first market this year – "stay up late drinking too much – that's the best kind of networking")
I have been really privileged to be a participant of Trans-Atlantic Partners (TAP) this year. Module 1 in Berlin was just an extraordinary experience. To spend a week with a room full of successful and talented producers who all have careers and are making things happen not just in their countries, but globally is tremendous in itself, but, when that group of people is willing to open up, trust each other and share information and help each other along, that is unique and an experience to be treasured.
I am really lucky to be a part of this special madness. There is no other business in the world that is as uncertain as making films, and I don't think there is any other pursuit that is as rewarding.
Producing indie films is a lonely pursuit for most of the time. Briefly, a few times a year, we get to meet each other, share, commiserate and celebrate the insane family that we are – united by our love of story-telling and for our love of this transient and ever changing medium called film.
TAP module 2 is in Halifax, at Strategic Partners, and Module 3 is at IFP Film Week – both are life-changing experiences.
Now that I am enthused more than fearful, I shall return to the task of refining my pitch. As a parting shot – this is the view from my office in Cape Town looking northeast. Behind the mountain is the Atlantic Ocean and on the other side, Halifax and New York.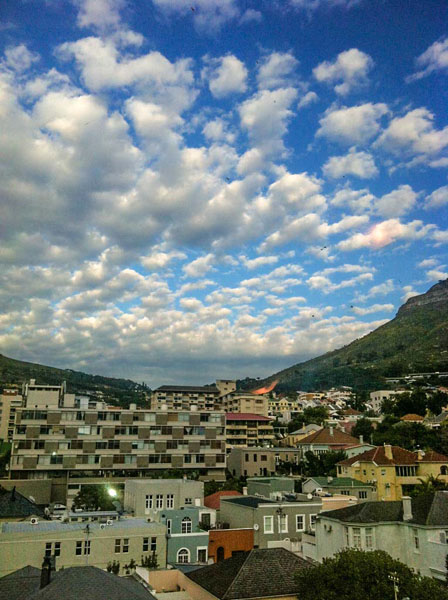 And this is my view from TAP – producers from around the world watching sport in a bar at the beginning of an epic all-nighter.