Back to selection
Filmmaker Magazine & IFP to Program reRun Theatre, To Play Girl Walk // All Day, Otelo Burning & Habibi in November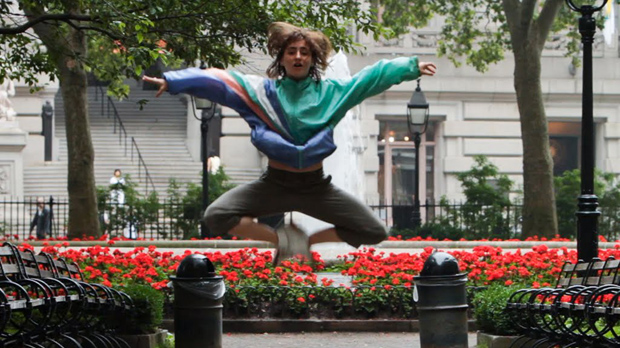 Following on from the "25 New Faces" screening series that we have been organizing around the country, I'm very happy today to announce that Filmmaker and IFP will be programming theatrical runs at the reRun Theatre in Brooklyn, starting on November 2. The first three films we will be showing at reRun are Jacob Krupnick's crowdpleasing NYC dance movie Girl Walk // All Day (above), Sara Blecher's South African drama Otelo Burning, and Susan Youssef's Gaza-set love story Habibi.
We're incredibly excited to be entering into this partnership with reRun and, through it, to continue what the magazine has been doing for 20 years, namely championing great — and often overlooked — cinema. In the very near future, we will launch an online form on the IFP site which will facilitate filmmakers submitting their films for consideration for a theatrical slot at reRun, as it is our intention to cast a wide net and bring previously undiscovered films to prominence.
Here's all the information on the partnership fro the press release:
New York, NY (October 22, 2012) – The Independent Filmmaker Project (IFP), the nation's oldest and largest organization for independent filmmakers, announced today a new partnership with DUMBO, Brooklyn's reRun Theater, which has been called "one of eight nationwide theaters redefining the moviegoing experience" (Entertainment Weekly).

IFP, in partnership with the editorial staff of its in-house publication Filmmaker Magazine, will program and mentor feature films to play at the reRun, allowing for filmmakers in the process of self-distribution to garner theatrical runs in New York City. The first three titles to receive week runs as part of this deal will be Jacob Krupnick's Girl Walk // All Day, Sara Blecher's Otelo Burning, and Susan Youssef's Habibi.

"In the reRun Theater, IFP has found a partner equally dedicated to our core belief in nurturing diverse voices on the independent scene," said IFP Executive Director Joana Vicente. "In today's climate, there are more ways than ever for filmmakers to get their work out into the world. But it's the reRun's emphasis on the communal moviegoing experience, and their drive to open New York City's highly competitive theatrical market to a new community of artists and storytellers, that sets the theater apart."

Filmmakers will be able to submit their films for consideration via an online form set to launch on www.ifp.org later this month. Alumni of IFP's core programs are strongly encouraged to apply, as are films that have been covered by Filmmaker Magazine.

All selected films will be provided with marketing and distribution support, as well as a portion of the theater's weekly ticket sales. IFP will assist with press outreach, and Filmmaker Magazine will cover each film preceding release.

"Our mission is to celebrate daring, vibrant works," said Vicente. "Our first three weeks of theatrical premieres represent a dedication to this ideal, and we couldn't be more excited to work with these emerging young talents."

Opening November 2nd, Jacob Krupnick's Girl Walk // All Day is a feature-length dance music video set to the latest album by mash-up artist Girl Talk. The film, which played at SXSW this past March, follows three dancers on a journey across New York City, as they turn the city's sidewalks, parks, and architecture into an evolving stage.

Opening November 9th, Susan Youssef's Habibi follows two students in the West Bank who are forced to return home to Gaza, where their forbidden love defies tradition. An alumnus of IFP's Narrative Filmmaker Labs, the film was also an official selection of the Toronto International Film Festival, the Venice International Film Festival, and the Human Rights Watch Film Festival.

Opening November 16th for a week of "Buzz Screenings," Otelo Burning tells the story of a group of South African township kids in 1989 who discover the joy of surfing against the backdrop of brewing political conflict. An alumnus of IFP's Narrative Filmmaker Labs, the film had its US premiere at this year's Seattle Film Festival and is being released by The Turner Group.

Further details, as well as tickets to all screenings, will be available via the reRun Theater website at http://reruntheater.com. To celebrate their new partnership, IFP and reRun will also throw a kickoff party on October 30th at 6PM at the theater (147 Front St) that is open to the public.