Back to selection
Going 360 with Zombies on Hallowe'en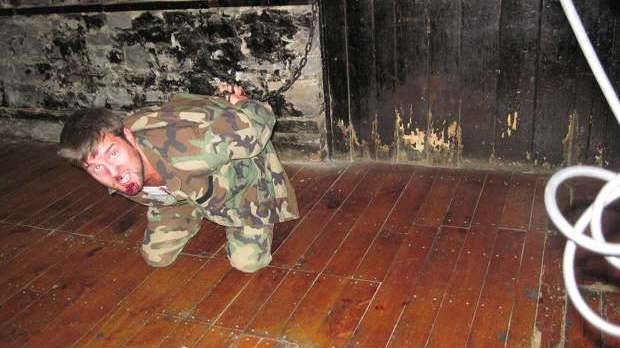 We file past a solemn priest down the stairs into the church basement. My friend and I excited."There are the infected. There are the survivors. Then there is you." That's what the e-mail boasted when it arrived 30 hours earlier, promising a mix of live theatre and film called a 360 Screening. We were part of a sold-out audience of 200 that paid $60 apiece to see a film without knowing the title until the last minute.
This was the third 360 Screening in Toronto and its first Hallowe'en edition. Tonight it was taking place in the old Berkeley Church across from a public housing tenement and around the corner from skid row. How appropriate, I thought.
When we reach the bottom of the stairs, a delirious soldier with a bloodied nose and chin is on his knees. His hands are tied behind his back and chained to a wall. "They're insane!" he shouts deliriously. "You have to stop them now!" The audience files past, snapping photos. We move into a dining room where a clean-shaven army officer is quarreling with an attractive black woman. "The answer to infection is here though it isn't quite what we imagined." As audience members eavesdrop, they nibble on cheese and crackers left on two platters.
We step into a narrow courtyard. Bloody white sheets sway in the autumn breeze. A woman screams. A zombie in army fatigues leaps out of the darkness. If he wasn't chained, the bloodied zombie would have grabbed her. Audience goad him into lashing out again.
Instead, we enter a neighboring building to discover a young blonde rising from a table. "Doug?" she says in a daze then wanders off. Behind us a hand leaps out of a cupboard. Two women jump in fright.
Signs point the way up a narrow staircase into a study. "Hello. I'm Frank," says a genial man, the sanest person I've met so far who shakes my hand. "We're running out of things," he says calmly. "What provisions do you have?" I ask. Before he answers, Frank offers me a shot of Crème de menthe in a thimble-sized cup. I wonder why.
Frank is too busy welcoming everybody, so I return downstairs. I've lost my friend so I follow a clamor coming down the hall. I enter a large, chaotic room. A large mirror greets me with a message written in red: "REPENT THE END IS EXTREMELY FUCKING NIGH." Across the room two women argue in front of a display declaring SAVE THE CHIMPS! "These chimps are different," a doctor in a white lab coat yells at an animal rights activist. "They are infected!" Again, the "i" word.
In the center of the room, a young man in a hospital gown rises from his slumber. He tears off the tubes and IV drips plugged into this body and mutters, "Where am I?" Looking scared, he stutters, "I was a bicycle courier delivering a package in Tottenham…" He confronts several audience members who look just as confused. Barefoot, the fellow picks up a baseball bat, but soon crumples onto the floor in despair. A lost soul.soldier
Past a bulletin board with messages like "Have you seen my mum?" and "Holloway Road ? NOT SAFE" a middle-aged couple swallow some pills then lie on a bed in a suicide pact. Next to the bed is a cash bar. At the other end of the room two make-up artists are busy adding blood and gashes to a crowd of moviegoers. Some are dressed in khaki. With the booze flowing, the event takes on a Hallowe'en party vibe.
I return to the church basement and scarf down a few tasty sliders and veggie quiche tarts. Two soldiers emerge from the kitchen, one bearing a platter of rotten egg omelet that they offer to the soldier chained to the wall. "He's not human anymore," declares the officer. "He's teaching us."
I return to the big room and discover my friend. A strange, silent boy with a bleeding nose is wandering among the moviegoers and holding up a stuffed raven. "Who are you?" asks my friend. The boy answers with an anguish scream that stops the room cold. Everybody turns. Someone else announces that the film will start in the church.
The crowd files past the fence in front of the church. Several zombies run up and reach through the black metal mars at us. We dash by. The zombies are truly creepy.
We step into the church and find seats before a large portable screen. My friend overheard someone say the name of the film, but I refuse to hear it. I like surprises, but suspect we're about to watch a Danny Boyle film. Before the screening begins, several ghouls appear in the balcony that rings the floor. They cackle and snort with abandon before running off.
I wish they had stayed to pop up unexpectedly during the screening of 28 Days Later. Many in the audience sigh in relief, having guessed the film. Then, the movie plays. A few people laugh when a character offers another some Crème de minthe. Basically, it's now another film screening. However, the chairs are too close to encourage the audience to walk freely to the bar, and the sound is tinny inside the church. What I really miss are the zombies, hoping they'd pop up during the film to scare us even more.
Still, it's a fun evening and offers a new twist in moviegoing. Now, I wonder how they'd mount Apocalypse Now…