Back to selection
Insider Tips for Surviving the Cannes Film Festival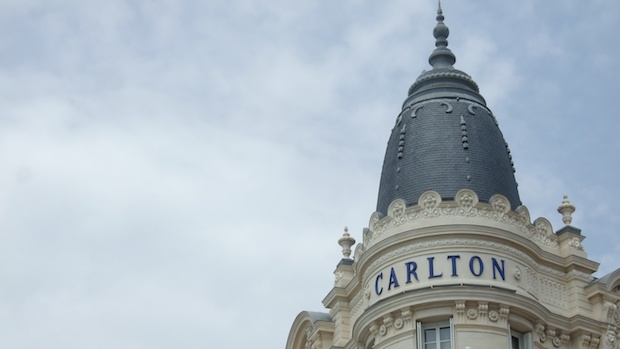 For those headed to the South of France this week, Filmmaker has polled our friends and colleagues for their advice on attending the Cannes Film Festival. Even if you are not a first-timer there's something here for you, ranging from day-trip suggestions to business etiquette to restaurant tips. If you are a first-time attendee, take these especially to heart, and if you're a returning veteran and have tips, feel free to post them below. See you on the Croisette.
Ben Gibson (director, London Film School, and producer): Been doing this advice for many years: Have a meal with someone you've actually known for more than a year every 24 hours; if you start feeling stressed and out of control, go to a beach restaurant on the Croisette, order a salad and a mattress on the beach, swim for half an hour and move your next meeting to the terrace there (which you should, if possible, conduct in your swimming trunks and a teeshirt, throwing your opposite number right off-balance and sealing the deal); never try too hard to get into a party — you weren't meant to be there — especially if your old friend is the publicist; never buy a drink for more than $10 a glass — it means you're drinking on the wrong street; breakfast is your most important (and affordable) meal, so don't skip it; remember that seeing films is not an extra, it's a fucking film festival; never drink Pastis/Ricard until after 10pm; make a big effort to see films in the morning — the afternoon will soon be swallowed up by the unexpected; don't have long meetings with people from your own country — you've been on a plane, for chrissakes!; and don't hang around in safe national industry tents for more than 20 mins at a time — travel the world; don't hang around with people who have money, boats in the harbour and no connection to the film industry — be a proper professional; don't look over people's shoulders while they're talking to you in case someone more important walks in the room; never ask, "Do you know who I am?" either to a guest-checker at the door or a new business acquaintance; don't be put off going to a film because someone else nixes it in a bar — there's someone like that for every film in the festival.
Deborah Twiss (actress, producer, screenwriter): Bring a box of protein bars — one bar in the morning lasts all the way until late afternoon plus saves tons of cash…and time! Go to Monoprix to stock up on bottled water. Pack sunblock and bandaids — no matter what the sun is always strong. Also, standing and walking 12-18 hours a day ALWAYS results in blisters on feet. Bring bandaids cushions. Whenever possible go stand in the water, ankle deep, and breathe in sea air. It instantly refocuses mind and relaxes.
John Penotti (producer, Greenestreet Films): Get a business card that is both in English and Chinese! As the opportunities in China become more bountiful for independent filmmakers, it is a good idea to be respectful of a the time honored tradition of proper business card etiquette.
Anne Hubbell (producer, Tangerine Entertainment): I am a fan of the MonoPrix (it's like the Target of France). It is just a short walk from the Palais. I usually end up there a few times for last minute supplies. I have bought everything from groceries to scarves to towels. And for the gentlemen, there is always a basket of cheap bow ties right at checkout.
Cabs are scarce and traffic is horrible, so plan on a lot of walking. I pack flip flops or folding flats for walking to and from a night out on the Croisette. I wear them into town, then switch to high heels and store them in my purse until the trip home.
If you attend a party off campus – meaning not on the Croisette or near Palais – be sure to arrange for transportation back. It is easy to get stuck up at a villa with no easy way of getting back to your lodging. Good to keep a number for a car service in your phone and make plans in advance.
Be patient and allow for more time than you might think to do pretty much anything.
Caroline Benjo (producer and distributor, Haut et Court): Marché Forville west of rue d'Antibes, south of the Suquet is THE place to go and buy food from the region. Don't miss on the northeast side when facing the entrance the ravioli and tortellini "faits maison"; there are the best. And for those with a kitchen the fish market is a gem.
And a few restaurants :
La Table du chef, 5, rue Jean-Daumas. Tél.: 04 93 68 27 40. 40€.
Les Canailles, 12, rue Jean-Daumas. Tél.: 04 93 68 12 10. 40€.
Da Laura, 8, rue 24-Août. Tél.: 04 93 38 40 51. "the" italien. 35€.
L'affable, 5, rue La Fontaine. Tél.: 04 93 68 02 09. 40€.
And the best beach to eat : L'Ondine
And for the food obsessed one of the best restaurants in France in the most beautiful place at Menton, at the border with Italy (one hour from Cannes, just after Nice). The chef, Mauro Colagreco, is a genius. His restaurant is Mirazur.
Carly Hugo (producer): If you can get away for a couple of hours, you should drive 20 minutes to Antibes and stroll through the food market in Old Town. The perfect produce, fresh baguettes and unlimited cheese will remind you that you're in the South of France – something that's easy to forget when you're in back-to-back meetings in a hotel room! The vendors are incredibly friendly and liberally pass out free samples. Make yourself a little picnic of the staples – meat, cheese, bread – and eat it on the waterfront wall, which is made up of old forts. Such a relaxing few hours away and it will really help recharge you from the craziness of the festival!
Noah Harlan (producer): For french food, Le Petit Lardon, 3, Rue du Batéguier
For Italian food, Da Laura, 8 Rue Du Vingt-Quatre Août.
For seafood, head across to the old port and along the Quai and avoid the crowds.
If you can afford the time, skip the expensive flight to Nice and fly into Paris. Spend a night, then take the TGV. It's a few hours but you arrive in a much more civilized state of mind and you will be travelling with the entire French film industry.
Make sure you see at least one black tie premiere and one midnight screening.
Choose a terrace and plant yourself. Schedule meetings for 30 minutes but not back to back as they'll stack up and you'll spend the day rescheduling. Think: 30 minutes on, 30 minutes buffer.
Only bother going to a villa if you have a way in and even then, be prepared to get stuck for a while. If you want in to a party, don't push and be nice to the bouncers. They generally will do you a solid if you're patient as opposed to those blustering their way in.
Remember the hierarchy of Cannes: Directors of films in the festival at the top, then buyers, then distributors & sales agents, then actors of films in major selections, then producers, then writers & directors of films being packaged, and lastly actors looking for work. If you're an actor or director "looking to make some connections" don't bother. It's not the right venue for you.
A modification to Ben's note above about pavilions: don't spend more than 20 minutes in the American Pavilion (note: it's the only one run as a commercial endeavor, not by the country). Other countries often have nice lunches or cocktails if you have a reason to meet there.
If you're a producer meeting a distributor or sales agent remember the following: 1) they are taking time away from buying and selling to meet so be efficient, 2) learn their editorial line and make sure to craft the story of why you and they are a good fit.
For Americans: don't believe that all that state money sloshing around Europe is easy. It's hard. And don't distort your film into some weird mish-mash of identities, nationalities, and ethnicities to thread the needle of a myriad of financing rules and regulations. You'll wind up with a financed film, but a shitty one (see: "Europudding").
Afterwards many people head to Monaco for the Grand Prix. Skip it, it's a mess. Head the other way. Marseille, Provence, rent a car and drive until you find a little town that's lovely and has good food. Then sit. Drink. Keep sitting. Rest.
Margarita Jimeno (director, producer): "If you're an actor or director 'looking to make some connections' don't bother. It's not the right venue for you." Really??? What?? I've made the best connections including meeting programers who the following year invited my film once it was finished. Plus I learned a lot about the business side of the industry…. I recommend the indie artsy crowd or the party rejects grab a drink at Le Petit Majestic. Eat oysters at the foot of the Old Town, and go to the food market in there. Great food, soaps etc. at a good price. And AVOID the American Pavilion. Oh, and HOT TIP. If you have sale agent friends most likely they will skip the parties and they will give their invites away to you when you see them like zombies….
Emma Griffiths (publicist): For the best burger and American coffee, it has to be the American Pavilion!
Jim Jermanok (writer, producer): Here's my two cents: Light on the packing, particularly if you're taking an inexpensive airline, (Easyjet, etc.) to or from another part of Europe. Their weight limits are 44 lbs.– or less than the major airlines. Avoid meetings before 10 am — they are simply not worth it. Beware of those braggarts without proper iMDb credits — they probably will never make a feature film. Be nice and conversational with assistants — they may be more successful than you within a year. Take delight in meeting those in a variety of occupations, not simply investors and producers. For example, sales agents, distributors, film festival heads, consultants, lawyers, government subsidy executives, etc. Make sure to turn off now and then — go to the back streets and check out France. For example, try my favorite Reblochan cheese, which is not available in the States. Make sure to have a good time — success will come on its own schedule.