Back to selection
The 6th Annual Thin Line Film Fest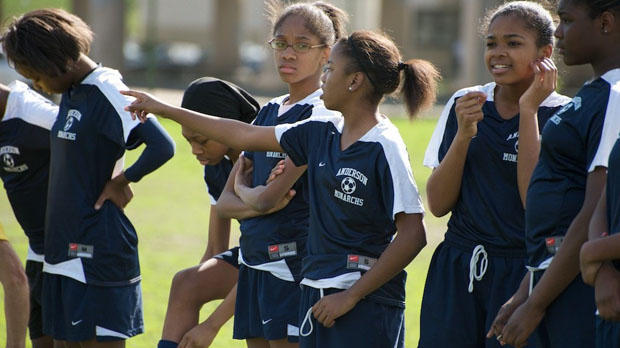 The Anderson Monarchs
First things first – Texas's Thin Line Film Fest does not take place in Austin, nor in March, nor does it accept indie narratives, nor any fiction films at all. In fact, this six-year-old event, which plays a month prior to SXSW, smartly doesn't define itself in relation to that cinematic elephant in the Lone Star State. Which is its strength. Texas's only fest devoted strictly to docs – from local to international – Thin Line (the name inspired by its founders' desire to explore that space between fact and fiction) does take over Denton, Texas, for 10 days in February. It screens nonfiction flicks mostly in two quaint yet roomy, appropriately named venues, the Campus Theatre and the Fine Arts Theater, conveniently located around a central square.
Boasting southern hospitality and a laidback vibe, the host city itself is known more for its thriving music scene, with hundreds of bands packing venues in this small university town. (Besides screening docs about those local musicians, this year's edition included a post-screening gig by Trebuchet following Patrick Flaherty's 4 Nights in December, about the recording of the ensemble's second album.) The main square also contains a record store that sells actual vinyl, a used bookstore (Recycled Books Records CDs has sections with such esoteric titles as "Maya" and "Megaliths"), and plenty of places to meet up for coffee and organic food – all of which gives Denton a throwback-to-the-90s, Seattle grunge feel.
And this DIY, outside-the-box spirit certainly infuses Thin Line. (Indeed, I think this is the first fest I've attended that personalizes advertising, which led to odd pairings such as First United Bank sponsoring Mike Weeks's Drawing Dead, a nonfiction flick that explores the superstar to pathological gambler extremes of online poker.) In addition, an All Access Pass allowed attendees to mosey over to A Creative Art Studio, a gallery/studio, and make their own, uh, art. Filmmakers who participated in the Docu-Denton 7K, a "video race" in which teams drew a local topic from out of a hat and had five days to craft a doc about it, could win $300 and the chance to nab another grand from the Denton Doc Award. There were also free ice cream socials at Beth Marie's in the square, a photo exhibit, and a multimedia exhibition by University of North Texas professor Eugene Martin, whose The Anderson Monarchs was one of my top picks of the fest. Unsurprisingly, numerous night owl activities – with no cover and two free drinks for pass holders at participating bistros and bars – rounded out this inventive nonfiction celebration.
But on to my real, rather pedestrian reason for attending – the chance to discover under-the-radar films otherwise overlooked by the bigger, more prestigious doc fests. (That said, Thin Line did screen quite a few notables, which for a traveling journo like me, felt like old news since I'd already caught Ai Weiwei: Never Sorry, Central Park Five, The House I Live In, Informant, etc. on the fest circuit throughout last year.) Though The Anderson Monarchs wasn't exactly off the critical radar, having premiered at DocuWeeks, Martin's sensitive portrait of an all girls, all African-American, South Philly soccer team, headed by an unsung everyday hero in the form of their white male coach, took me by pleasant surprise.
With visually strong filmmaking (right from the opening scene – panoramic views of street art, graffiti and murals, capturing the hopeful beauty at the heart of the inner city) and a touchingly humble lead character in Coach Walt, the doc slowly unfolds with striking subtlety. And Walter Stewart isn't just any coach – but one who led his hard knocks crew, nominated for Team of the Year by Sports Illustrated, all the way to a White House invitation. (Martin even manages to film the athletic First Lady doing drills with the girls.) The director sees no need to hit us over the head with the drugs, guns and violence that make up the adolescents' everyday lives when cop cars, lights flashing in the background of practice, presents a more powerful metaphor. The girls themselves, members of a team named after Philly's own black female pioneer Marian Anderson, stay solidly in the foreground of their story, as they should. And when Coach Walt shares his collection of old photos of past teams – not only does he know the names of every single girl, but also where each is now – what appears to be a quiet teacher and divorced father's passionate dedication touchingly transforms into no less than a higher calling.
Another quite different portrait of a humble man practicing a higher art could be found in Tomas Leach's In No Great Hurry – 13 Lessons in Life with Saul Leiter. The film whose titular octogenarian subject, a limelight-shy New Yorker, ushered in the use of color photography and has only recently been given his MoMA due, would actually make a great companion piece to one of my DOC NYC 2011 picks Beyond Iconic, Hanna Sawka's study of another legendary octogenarian photographer, Dennis Stock. With its soothing piano and string soundtrack and unobtrusive cinematography Leach's filmmaking simultaneously keeps a respectful distance while bringing us closer to the eccentric and curmudgeonly Leiter, who also possesses a wry sense of humor and is unexpectedly quick to laugh. Leach's garnering emotional access is the key, as he patiently gains the trust of his subject, allowing the wary Leiter, who announces right from the start that he doesn't want a doc made about him, to open up on his own terms.
In return the British director gets what truly is a baker's dozen in life's lessons, words of wisdom such as "The important thing in life is not what you get, but what you throw out." Leach films Leiter both at home in his cluttered apartment surrounded by boxes of his work, and on walks through his LES neighborhood that he's been photographing for 55 years. All the while this son of a Talmudic scholar (rarely without a camera round his neck) who proclaims, "I aspire to be unimportant," doles out photography advice and startling anecdotes. Like the time he happened upon de Kooning on a street corner and didn't take his photo because the abstract expressionist didn't want him to. (Leiter shrugs off the whole paparazzi mentality, saying he'd just as soon shoot pictures of raindrops as of famous artists.) Add to this the family photos and Leiter's large body of work, including the fashion photography that was his bread and butter ("I didn't consider it a bad thing to earn a living," he says when asked about that, "I thought it was permissible"), and In No Great Hurry becomes a paean not just to a groundbreaking photographer but to his chosen art form as well. Photography, explains this wise man who sees no need to apologize for the pursuit of beauty, "teaches you to look. It teaches you to appreciate all kinds of things." The director, it seems, has learned his lessons well.