Back to selection
The Act of Killing Takes Top Prize at CPH:DOX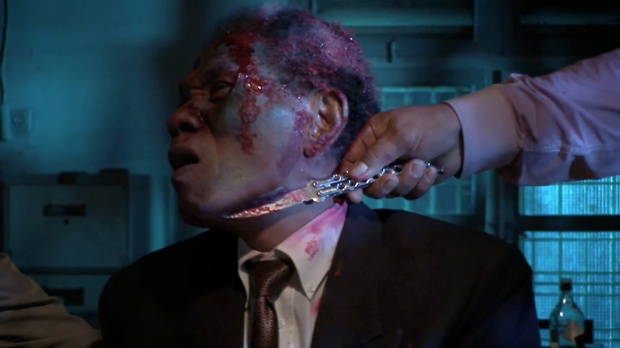 The Act of Killing, Joshua Oppenheimer, Christine Cynn and Anonymous's jaw-dropping tale of war crimes, guilt and moviemaking, took the top prize at CPH:DOX here in Copenhagen Friday night. The film, pictured above, boasts Werner Herzog and Errol Morris as executive producers and follows a group of former death squad leaders as they make Hollywood-style movies based on their murders of communists, ethnic Chinese and intellectuals following Indonesia's military coup in 1965. Director Edwin (Postcards from the Zoo) presented the award and read the jury's statement: "The Jury would like to award a film for its ability to show the construction of fear in a society and for its courageous re-enactment of the madness of the past, still echoing in the present." As an Indonesian, Edwin added a personal testament to the film's powerful confrontation of the country's history. Accepting the award, Oppenheimer thanked the country's community of survivors, noting the danger some of the placed themselves in by participating in the film. Indeed, the most prominent name in the final crawl was "Anonymous."
Celebrating its 10th Anniversary, CPH:DOX kicked off its award with a short speech by Festival Director Tine Fischer, who said that her "crazy dream" of the festival has been like "a dream unfolding in real time." She also hailed the festival's guest curator this year, artist Douglas Gordon, for his "rock and roll spirit." Director and local radio host Mads Brugger was the evening's co-host, and his sparsely translated Danish introductions drew big laughs from the crowd. With mock piety, Brugger said, "Documentary is not about 'winning,' it's about making the world a better place," and urged the filmmakers in the audience to "imagine Kierkegaard and Hans Christian Anderson walking these same streets!"
The jury gave a Special Award to American independent filmmakers Bill and Turner Ross's Tchoupitoulas, citing its "freedom and chaotic romanticism." The New Vision Award went to another pair of American indies, Lucien Castaing-Taylor & Véréna Paravel for their verite-style yet often nearly abstract portrait of a commercial fishing trawler, Leviathan. Filmmaker Marie Losier gave the award and read the jury statement: "Fully immersing the viewer in a powerful experience of the sea, this film renews the alchemical power of cinema, fusing sound, colour, darkness, light, and movement into a forceful document of the threshold between man and nature. The innovative camerawork feels liberating, offering radical and unique perspectives on the cruel realities of the fishing trade."
The Nordic:DOX Award went to Jonas Poher Rasmussen for his U.S.-shot Searching for Bill, a hybrid film set on the roadways to Detroit. The jury called it "an enigmatic road movie that shows the other side of the American dream in a peaceful but adventurous way. Its complex narrative structure links the film to the mythology of quests through the American landscapes searching for the right place to be."
The festival's Sound and Vision award went to Jay Bulger's Ginger Baker doc, Beware of Mr. Baker. The jury wrote: Beware of Mr Baker is an instant classic. It is a musically inspiring, multi-layered and well told biography of an impetuous brave musician and his lifelong battle with destiny. This story takes us from the eccentric habits to the deeply personal almost spiritual belief in music. From surprising and gripping animation sequences to archive material with "once-in-a-lifetime" musical performances. It's an overwhelming collage of material and interviews that never gets stale or boring." Director Bulger accepted by video statement shot on the streets of New York's East Village, forgiving the Danish man who stole his girlfriend years ago.
A jury Special Mention went to Andreas Johnsen's Kidd Life.
The festival's Amnesty Award went to Andrey Gryazev's Tomorrow. The Audience Award went to Mikala Krog's A Normal Life. The Sonic:DOX Award went to Camilla Magid's White Black Boy. Daniel Dencik was given the Reel Vision Award, and the evening concluded with a screening of his latest documentary, Expedition to the End of the World.
I'll have further reports from CPH:DOX on the blog this coming week.