Back to selection
Bryce Dallas Howard on Project Imaginat10n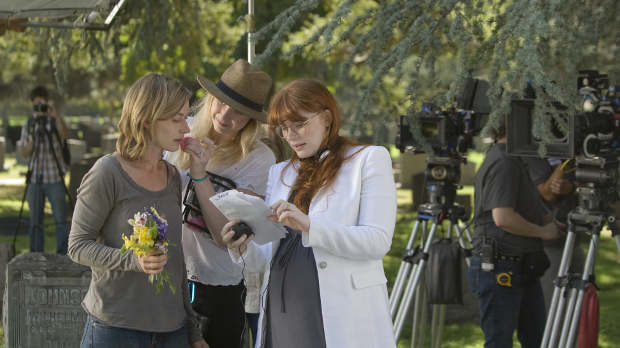 Bryce Dallas Howard on set
Back in 2011, Canon approached director Ron Howard about creating a short film inspired by a framework of eight photographs, which were culled from over 100,000 submissions through an online contest. Howard declined on account of his busy schedule, but offered to mentor a filmmaker through the process. His pupil in Project Imagin8ion was none other than his daughter, actress Bryce Dallas Howard. Through the exercise, Bryce crafted the 29-minute when you find me, a short film written by Dane Carbeneau about two sisters grappling with the death of their mother through space and time. A photograph of a dilapidated cockpit made its way into the film as a series of animations and escapist recollections while a heavily saturated landscape served as the protagonist's dreamscape.
The latest incarnation of the Canon project, deemed Project Imaginat10n, sees Bryce Dallas Howard as a creative consultant to five celebrity directors: Eva Longoria, Jamie Foxx, Biz Stone, Georgina Chapman, and James Murphy. The directors are in the process of shooting their own shorts, drawing from 10 winning photographs that fall into various thematic categories: Character, Mood, Goal, Backstory, Setting, Obstacle, Relationship, The Unknown, Time, and Discovery. Beginning June 4, Canon will open submissions to anyone who so chooses to embark upon the experiment. The five winners, as selected by Team Howard from a pot of 20 finalists, will be screened alongside the celebrities' films at Canon's Project Imaginat10n Film Festival in the fall. Bryce Dallas Howard spoke to Filmmaker about her experience working with Canon, and what kind of advice she can offer to participants.
Filmmaker: Let's start with Project Imagin8tion. How did that come together and what was your personal experience like?
Howard: Grey Alliance, the advertising company that works with Canon, developed this concept of having a contest where people would submit photographs in various categories. We would pick the photographs for four categories, and then the next week, we would pick them for the next four categories, and with those eight categories together, we would come up with a story. I know that everyone was very inspired and excited by the idea, but there was also some genuine concern — would something like this be possible? What kind of story would come out of this? It was a pretty short timeline — was it too short to really nurture an idea that would come out of this experimental concept?
But we [Dane Charbeneau, Ron Howard, and myself] were really pleased, because we did a couple of trial runs with different photographs submitted in these categories, and just found it to be a very fun, creative, energizing process. And so, when we were presented with the actual photographs, things came together very quickly. From there, it was just about developing the script and making the movie.
Filmmaker: And it was your writing partner, Dane Charbeneau, who actually penned the script from the final photographs?
Howard: Yes, and I have to give so much credit to Dane. He almost instantaneously came up with the story. He saw the photographs, took my dad and I into a room, and pitched it, and we thought it was remarkable. There were some things to work on, but it was a pretty complete concept.
Filmmaker: All of the photographs appear in the end credits of when you find me. It's impressive because there isn't much of a literal intersection among the photos themselves, but you can see exactly how you used them to string together the narrative.
Howard: Thank you. That was a high-wire act. Canon was incredibly open to whatever our interpretations might have been, and they were peaceful with it being loosely interpretive. But for Dane, my dad, and I, it was important that we were as literal as possible whenever we could be. We weren't seeing a picture of a girl on a swing and thinking, "Oh, it's the experience of flying through air." We wanted to have a shot of a girl on a swing.
Filmmaker: In approaching Project Imagina10n, was there anything from the outset that you felt the participating celebrity filmmakers should be aware of?
Howard: The main thing that I will share with any consumers who are going to be making their own films, and what I've already shared with the filmmakers, is to not be intimidated. Trust this process, and trust the inspiration that you feel when you see the photographs, and go on that journey. I think typically, with writing and developing ideas, it's such an internal process, so I can imagine that the limitations of having to base your story on an external object could seem scary. But I found it so freeing, and so helpful, that Dane and I never had to face a blank page. I found myself thinking, "Man, I should do this more often," [that I should] have a collaborator from the get-go, which, essentially, is what these photographers were. Enjoy the freedom of that, and the expansiveness of that. It took us in directions that we would have never gone in, and stretched our imaginations.
Filmmaker: How did you devise the 10 themes for the photographs, and in what way are these hallmarks of assured storytelling?
Howard: That's a good question, but I can't take credit for it at all. We had some brainstorming sessions, but ultimately it was Canon and Grey Alliance's decision. Having developed projects, though, I feel like they really nailed it. With [the categories] Discovery and Backstory, I think it will bring such a new dimension to the stories. Personally, The Unknown is my favorite category because I'm inclined [to explore] supernatural stories and conceits. I'm thrilled to see what everyone ultimately does, and how they interpret it. Things like Mood could mean a lot of different things to different people.
Filmmaker: The celebrity directors — Eva Longoria, Jamie Foxx, Biz Stone, Georgina Chapman, and James Murphy — make for an interesting collection because none are technically filmmakers by profession. Was that an intention in curating the group?
Howard: Again, I can't really take credit for that. I had some conversations with Canon and Grey Alliance, but what I love is how they've assembled a creative, and currently creative, group of individuals. Storytelling, in this capacity, is new for all of them, but certainly not in terms of their careers. These are people with vast amounts of experience in that area, but it is very exciting that this is their first time telling a story in this format. It represents the fun of the project. They all embody the courage needed to realize this experiment. It's going to be thrilling to watch, particularly because they all have the same group of photos to choose from.
Filmmaker: I assume that Canon's providing the cameras. What are they shooting on?
Howard: I shot on the C300, but I know that a lot [of them] are shooting on the C500. I just shot a music video with MTV for M83, and I begged them to let us shoot on the C500, because I had just seen Biz Stone's film which looks amazing.