Back to selection
The Oscars Honors Imagineer Systems' Mocha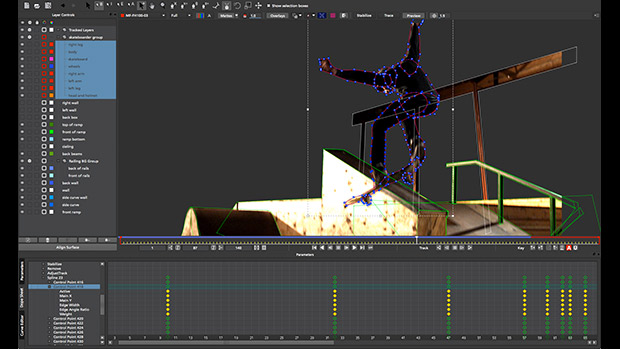 This Sunday is the Oscars, and as is tradition, the really interesting awards – for scientific and technical achievements – were made at an event on February 9. This year Imagineer Systems was presented with an award for their product Mocha, and its underlying Planar Tracking technology. The company was recognized for their "proven record of contributing significant value to the post-production process of making motion pictures."
As a planar tracker – rather than a point tracker – Mocha is able to motion track problematic things such as out of focus footage. Motion blur breaks point trackers, but in Mocha you can draw a shape around an object or group of pixels in the image, and Mocha will track them. Motion tracking makes it easier to composite effects and apply effects to moving regions. Mocha also includes rotoscoping capabilities.
Ross Shain, Chief Marketing Office of Imagineer Systems spoke this past week at a meeting of The Boston Creative Pro User Group and demoed Mocha Pro. Mocha, which is a standalone application and not a plug-in, is available in two versions: Mocha AE, which comes bundled with After Effects, and Mocha Pro. The Pro version adds several notable features including lens correction, a "remove" function and a 3D Camera solver. The Pro version also supports other systems including Flame, Shake and Nuke.
The lens correction feature can correct the distortion present in different lenses, and Shain demonstrated removing the distortion in GoPro footage. The software tries to find all the straight lines in the footage, and then you tell it which ones should be straight. You can then correct the image, or export the lens data to After Effects.
Editors might think they don't need to get their hands dirty with VFX, but Shain points out that increasingly editors have to do simple compositing, and one of the most common examples of that is replacing visuals on a computer or mobile device screen. "Everything has video in a screen these days," he said.
Remove Module
One of the most powerful features he demoed was the Remove Module, which can be used to remove unwanted objects and create clean plates. In the first part of the demo he removed a skier from a scene, and in the second he removed a belt from a model's dress.
The Remove feature looks at before and after frames in the sequence, and uses that to "clean" the area of the frame. But what if you don't have any clean frames? Said Shain, "There's times that the artist has to feed Mocha some clean frames. [Just go] into Photoshop and paint a couple of clean frames; frame 1, frame 60, frame 90, and Mocha Pro can interpolate those in."
Mocha even managed to handle frames in the sequence that were noticeably brighter due to camera flash. "Normally if you're doing a paint clone technique, you're going to have to animate the color correction; it's going to get messy. The Remove Module, analyses the luminance and tries to match the luminance on the remove." It does a pretty good job.
The 3D Camera Solve feature is similarly impressive. This attempts to figure out the position of the 3D camera relative to the 2D scene, and makes it possible to add 3D models to a scene that move and rotate correctly as the scene plays. Says Shain, "There's a lot of wonderful technologies out there [that do this], but they are difficult to learn. We came at it with a different approach and we're really just solving planes and using Mocha to do that."
In the demo he marked three different planes of pixels – two different walls of a building, and the street – and Mocha used that to create the 3D camera data. He was then able to take that to After Effects and drop 3D models into the scene.
Tips:
Computer screen compositing: It's really common that a director will put marks on a screen. But then you end up removing them anyway, If you're a Mocha user, I would recommend that the director uses a gray screen because then you can get more reflections in the footage.

The order of layers is important. Things that are further from the camera should be lower in the stack.

I'm not going to B/S anyone; this does take some time to learn how to do advanced things like this, but if you take the effort to learn it you can actually save yourself a lot of time.
At the end of Shain's presentation, Robin Hobart of Brickyard VFX demoed some of the work he has done and talked about working with Mocha. While demoing a commercial that involved a lot of mobile devices, he observed "The director doesn't really want to be inconvenienced by you telling them what they need on their screens and things like that, and Mocha has solved that for us. I can pretty much have anything on a screen and still know with confidence that we'll be able to track that scene."
50% off Sale through Sunday 24th
If you're interested in Mocha, this may be the weekend to buy the professional version. In celebration of the Oscars, Imagineer is offering a special 50% off sale through Sunday February 24th on all upgrades for node locked licenses (and if you have a recent copy of After Effects CS4 or greater, it includes Mocha AE, so you can upgrade to the Pro version for $397.50.)
Imagineer Systems: Oscars 2013