Back to selection
Sights and Sounds of the IFP Gotham Awards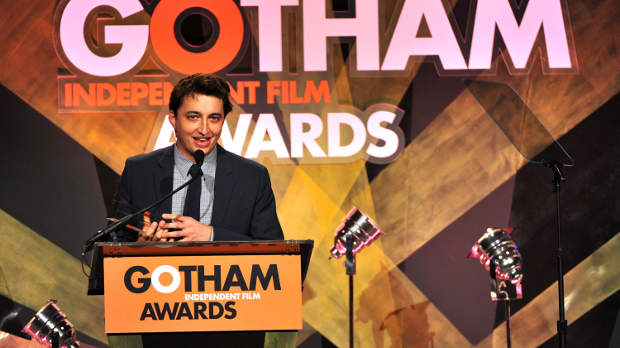 Disclaimer: I attended last night's Gotham Awards in various capacities: as a journalist, as a Best Film Not Playing at a Theatre Near You jury member, and as an IFP staff member involved in the behind-the-scenes running of the show. So my perspective on the event is somewhat fractured.
As the Gothams is the first award show of the season, people are always looking to it as a bellwether for the future. Last night, Beasts of the Southern Wild — although not nominated in the Best Feature category — came away with the headlines and further awards momentum, having won two statuettes for its director Benh Zeitlin: Breakthrough Director and the Bingham Ray Award, a new honor given to a visionary emerging filmmaker. Wes Anderson's Moonrise Kingdom, which was the (perhaps surprising) winner of Best Feature, now can make a stronger case for a Best Picture nod at the Academy Awards. But more important, arguably, were the wins in the Breakthrough Actor and Best Documentary slots for Emayatzy Corinealdi and How to Survive a Plague, respectively. The Middle of Nowhere star now should be seriously considered as a Best Actress contender, while David France's AIDS doc will also be helped greatly by the attention it received for winning this award.
The first award of the night went to Artifact, the 30 Seconds to Mars doc directed by Bartholomew Cubbins (AKA actor/30 Seconds frontman Jared Leto). Leto, on brief hiatus from shooting the drag queen movie The Dallas Buyers Club with Matthew McConaughey, accepted the award, and started by saying that Beasts of the Southern Wild (a fellow Audience Award nominee) should be up there with him. Leto seemed conscious that his film, which drew significant support from its online fanbase, had somewhat crashed the party, apologizing once more about Beasts, and ended his acceptance speech by saying, "Don't hate me because the other movie didn't win."
Zeitlin, when he won Breakthrough Director, made special mention of the unprecedented creative freedom he had received on the film, and expressed a hope that other directors would be given the same creative free reign he'd enjoyed from his funders Cinereach. Zeitlin was one of Filmmaker's 25 New Faces from 2008, and a 25 New Face from this year, Terence Nance, took the Best Film Not Playing prize — $15,000 from RBC, a theatrical run at Cinema Village, and New York Times ad support — for his audaciously original debut, An Oversimplification of Her Beauty. Another of new guard, writer/director Stacie Passon — like Nance, an alum of the IFP Narrative Labs — won the $25,000 euphoria Calvin Klein Spotlight on Women Filmmakers 'Live the Dream' grant for her film, Concussion.
Having now attended five of the last six Gotham Awards, I've come to realize that the show itself — the awards, the tributes, the presenter patter — is only half of the story. While the accolades handed out are highly significant — and indeed are often life-changing or career-defining — they are only part of the story. For all the memorable onstage moments — such as Matt Damon hilariously telling David O. Russell that they are definitely going to collaborate on a future project by saying, "You're a wolf and I'm Sarah Palin in a helicopter: it's only a matter of time, motherfucker!"; or Jared Gilman, the young star of Moonrise Kingdom charmingly lost for words during his acceptance speech — there are other equally memorable ones that happen away from the spotlight.
The Gothams is always a star-heavy spectacle, but last night I was most excited to spot Matthias Schoenaerts, who has enjoyed a breakthrough year with lead roles in both Bullhead and the upcoming Rust and Bone; the veteran actor Hal Holbrook, there as a cast member of Promised Land, co-written by and starring tributee Matt Damon; and Jack McBrayer from 30 Rock, who hovered for quite some time near my table in a understated black tux, smiling awkwardly like his alter ego Kenneth Parcell, almost giving the impression that he was working at the event!
The Gotham Awards, however, more than just an awards show, is a gathering of the independent film community in one room. So my Gothams experiences of last night also included discussing Sundance rumors with Killer Films' Christine Vachon, catching up with current indie "it" girl Kate Lyn Sheil (with whom I did a Q&A last weekend for the MoMA Best Film Not Playing series), and curiously noting photographer/filmmaker Timothy Greenfield-Sanders, a Gothams jury member this year, jumping up from his table to grab a word with Jack Black. (What were they talking about?) It was hearing from critic Glenn Kenny that Breakthrough Director nominees (and former 25 New Faces) Brian M. Cassidy and Melanie Shatzky were the official photographers at his wedding some years ago, and that en route to the wedding Cassidy hit a deer with his car, an incident that partly inspired the film Francine. It was chatting before the awards to Terence Nance, Tim Hobbs (producer of Aquí y Allá, up for Breakthrough Director) and writer/director/actor Frank V. Ross (of Best Film Not playing nominee Tiger Tail in Blue) about their abilities (or lack thereof) to grow facial hair. And then talking to Nance after the show about the odd coincidence of him winning a theatrical run for An Oversimplification at Cinema Village — the very same theatre where he shot scenes for his movie half a decade ago. It's the kind of unique space-time continuum that maybe only the Gothams could create.