Back to selection
Win A Royal Affair on Blu-Ray or DVD!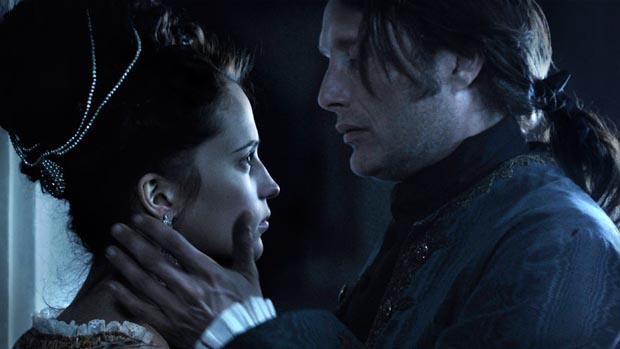 Called "suberb" by The Wall Street Journal and described as a 'ravishing, stunning epic…a must see," by Boxoffice Magazine, Nikolaj Arcel's A Royal Affair stars Mads Mikkelsen (The Hunt, Casino Royale) and Alicia Vikander (Anna Karenina, The Crown Jewels). Here's a synopsis of the film, courtesy of Magnolia Pictures:
A Royal Affair is the true story of an ordinary man who wins the queen's heart and starts a revolution. Centering on the intriguing love triangle between the ever more insane Danish King Christian VII (Mikkel Boe Følsgaard), the royal physician who is a man of enlightenment and idealism Struensee (Mads Mikkelsen) and the young but strong Queen Caroline Mathilda (Alicia Vikander), A Royal Affair is the gripping tale of brave idealists who risk everything in the pursuit of freedom for their people… and above all, it is the story of a passionate and forbidden romance that changed an entire nation.
A Royal Affair will be released on blu-ray and DVD on March 26th, but you can win a copy of the film, in the format of your choice, right now!
Be one of the first five respondents to correctly answer the question below, and you'll be a winner. Email responses to nick@filmmakermagazine.com.
What three films did Lars Mikkelsen (brother of A Royal Affair star Mads Mikkelsen) and director Nikolaj Arcel work on together?