Back to selection
The Bermuda International Film Festival Celebrates Sweet Sixteen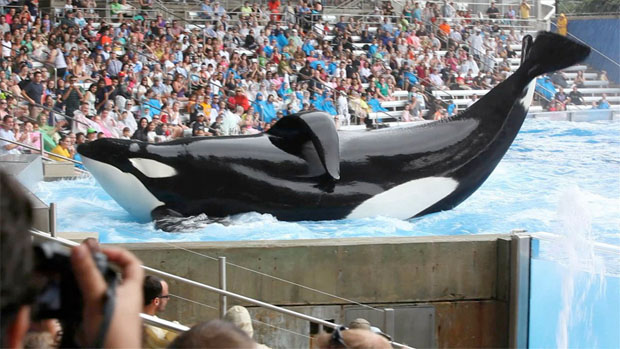 Blackfish
Sweet 16 was the theme of this year's Bermuda International Film Festival, though the vibe seemed more smooth continuation than a coming of age. Like its March 2012 edition, this April BIFF screened an international selection of prestige flicks (that those of us who don't live on an enchanted island in the middle of the Atlantic had mostly seen by Oscar time). In addition to opening night's Ginger & Rosa, Bermudians could catch everything from The Act of Killing and West of Memphis, to Rust and Bone and Amour. Not to mention Laurence Anyways, Beyond the Hills, Chicken with Plums, The Angels' Share – and, luckily, Vinterberg's The Hunt, my top pick at the Palm Springs International Film Festival in January, where many of these titles also had played.
Once again the main venue was the cozy Liberty Theatre, though the Bermuda Underwater Exploration Institute too served up screen time. Mostly I alternated between the feature-length films in the evening and the afternoon shorts programs. (Unfortunately, I missed Adam Townley and Simon Atkinson's Indoor, which is now eligible for the 2014 Oscar, BIFF being an Academy Award-qualifying fest in the live-action short category.) Yet I also found myself popping into the festival lounge at Margarita's for nearly all of the free and enlightening "Chats with…" lunchtime discussions.
This funky little bar and eatery not far from the scenic harbor proved the perfect place to reconnect with old friends like NYC publicist Susan Norget (who, full disclosure, served on this year's jury at my recommendation), and make new ones like Cannes-winning director Julia Loktev (who, in turn, served on this year's jury at Susan's suggestion). Interviewed by NPR's Peter Rainer, a longtime BIFF-icionado, Susan offered a quite fascinating glimpse into the fast-changing world of indie film publicity. Unlike the Hollywood press-relations machine, whose job it is to keep all but a select friendly few critics away from its films, Susan spoke of her role more as a facilitator, making it as easy as possible for all interested journalists to view the flicks she represents. (And the fact that she only reps films she truly feels passionate about gives her humble operation a built-in integrity missing in the corporate PR firms, at least to my mind.)
As for Julia, the fact that I myself got to interview the globetrotting Guggenheim fellow on the subject of location scouting allowed me to finally probe how a director can go from capturing the Times Square claustrophobia of Day Night Day Night to the endlessly vast vistas of The Loneliest Planet without a hitch. Answer: there was a hitch – and a hilarious (in hindsight) one at that. After nearly shooting in China with a bumbling ground crew that didn't seem to understand that, as Julia pleadingly put it, "I'm not pretending to make a movie, I'm actually making a movie!" The Loneliest Planet was bravely put on hold for a year.
The third interviewee to round out the all-female jury was Australian producer and director Eva Orner (who I'd also never met before) who won an Academy Award for Alex Gibney's Taxi to the Dark Side, and whose own The Network premiered at SXSW in March, and likewise screened during the fest. Eva was smartly paired with the Bermuda Documentary Film Festival founder Duncan Hall, whose knowledge of the current nonfiction scene made for an interesting and nuanced discussion (if not as memorable a Bermuda activity as, say, swimming with whales – something the intrepid filmmaker also managed to do before fest's end).
That would be humpback, of course, not killer. And while Marion Cotillard might have moved moviegoers with her portrayal of a maimed orca trainer in Jacques Audiard's surprisingly cheesy follow-up to A Prophet (starring Belgian sex bomb Matthias Schoenaerts in a variation on his character from the equally cheesy Bullhead, which screened at BIFF last year), Gabriela Cowperthwaite's Sundance-premiering Blackfish cuts through all the feel-good bullshit to give voice to the silent side. Not so much an antidote to Rust and Bone as a less powerful whale version of The Cove, the film's nevertheless a prime example of savvy island programming. (Seeing both films at the Tradewinds Auditorium at the Bermuda Underwater Exploration Institute rather than at the Liberty would have been a nice added touch, however.)
First Nations people call whales "blackfish," and consider them possessed with spiritual powers not to be meddled with, we learn in Cowperthwaite's eye-opening doc. Using the real-life tale of Tilikum, a Sealand- then SeaWorld-enslaved orca forced to perform tricks (and provide sperm) for corporate fun and profit – and who had a habit of killing his usually inadequately trained trainers – Cowperthwaite crafts a study in how fucked up humans can be for the sake of million dollar entertainment. Remorseful, often tearful, former trainers – one of whom says that he continued working even after realizing the immorality of whale captivity simply because he wanted to look out for the animal he'd become so attached to – and staid researchers give testimony; news footage, deftly alternated with uplifting SeaWorld promo videos, recounts the horrors enacted by orcas that have been driven to kill. A female neuroscientist discusses how whales and dolphins have complex emotions – more complex than those of even humans. (An individual whale's sense of self is actually distributed among his entire group!) "To this day there is no record of any orca doing any harm to any human – in the wild," another researcher emphasizes. Perhaps the only thing unsurprising about Blackfish is the credit roll, which includes the line, "SeaWorld repeatedly declined to be interviewed for this film."
Another striking doc on a much different subject also made good sense for Bermuda – an island with a majority black population that, unfortunately, makes up a sliver of its film festival audience. In the Shadow of the Sun was an Audience Favorite at (the also quite white) IDFA 2012, and it's a great example of sophisticated filmmaking that transcends cultural boundaries. For six years director Harry Freeland followed Josephat and Vedastus, two Africans who happen to be albinos – and are thus hunted like animals at the urging of witchdoctors who believe their limbs will bring wealth and good luck. As we watch activist Josephat, head of the Albino Society, traverse his country, attempting to educate his fellow Tanzanians and dispel the myths surrounding him and those who share the color of his skin, the doc transforms into more than your typical human rights flick. A bizarre portrait of racism at its most absurd In the Shadow of the Sun is most unsettling when it's at its quietest, when wise Josephat appears like a lone sheep calmly preaching to the wolves.
Yet perhaps my biggest BIFF discovery should have been expected, with Sarah Polley's genius striking yet again. From accomplished actress, to subtle narrative director, and now to visionary documentarian, the Canadian filmmaker may have finally found her form. The phenomenally edited Stories We Tell is beautiful and riveting, equal parts heartwarming and heartbreaking. Like with Capturing the Friedmans, a riveting family secret – in this case the identity of Ms. Polley's biological father – unfolds through the inventive use of time-warping, home movie-style Super 8. And oddly, like José Padilha's Secrets of the Tribe, Polley's yarn gets unbelievably weirder once the first string is pulled. It's a big fish tale come to life – even while techniques become less real. In the end, what matters is only personal truth and the artistry behind the lens.