Back to selection
Marc Fratello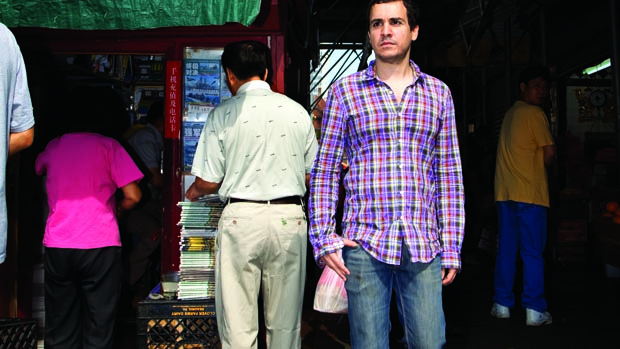 Winner of the Focus Features Best Film Award at the 2010 Columbia University Film Festival, the Student Choice Award, and an Audience Award, Babyland by Marc Fratello is one of the most devastating shorts you'll see all year. It starts off like a blue-collar version of a Nicole Holofcener film, or perhaps one by Todd Solondz. By day, a lonely young upstate New York woman (played beautifully by Marielena Logsdon) trolls baby boutiques and children's bookstores, connecting with fellow mothers-to-be. The only thing is, the slight bulge in her blouse is only padding. She's not pregnant. But such is her own lack of identity and the pull of her small town's mommy culture that the only way she knows how to fit in is by becoming an expectant mother as well. By night, her efforts to assimilate grow more serious as she cruises local bars, picks up guys and tries to get pregnant. One day, she wrangles an invitation to a friend's cookie swap where everyone seems to be with child. Breaking down, she calls it the happiest day of her life… I won't reveal what happens next, but the film seamlessly and unexpectedly moves from social satire to pure heartbreak.
"It was a long process [writing the script]," admits Fratello. "There were two sources of inspiration: a story about a woman who stalks pregnant women, and a website devoted to cookie swaps. With those two things I had a character within a world, and finally, after I put [the script] down for a while, the film became about identity. A lot of us grow up sort of nowhere, and it's easy to latch on to whatever happens to be around, whether it's religion or sports or mommy culture." Fratello, who grew up in Atlanta, Ga., says that of all the people in the film, he identifies most with his protagonist. "She reminded me of being young and forced to go on religious retreats. I would think, 'Why am I here?'"
Babyland shot for 10 days in Hudson, N.Y., and Fratello says the short's mixture of "humor, drama and tragedy was difficult to modulate." There was another problem: length. Babyland clocks in at 25 minutes. "That is frowned upon," he says. "It makes it difficult to be programmed [by festivals]. But I tried cutting it down and it became absurd. To pull off the ending you need to spend time with her."
Before embarking on film, Fratello worked in theater, graduating from NYU's Tisch School of the Arts and studying directing and acting at Playwrights Horizon's Theater School and the Royal Academy of Dramatic Arts in London. He directed plays by Mac Wellman and worked briefly in L.A. as a development assistant for Penny Marshall's Parkway Productions. Finally, though, he landed in film at Columbia University's School of the Arts. In terms of influences, Fratello says, "I've always been drawn to directors who love imperfect characters. I like John Schlesinger, Werner Herzog, Woody Allen, Robert Altman, Alexander Payne, Lynne Ramsay and Todd Solondz. But I've always been inspired by comedy, from Monty Python to Peter Sellers to Christopher Guest."
Fratello, who says he is developing a true-crime feature with a classmate, just graduated this year and had planned to "lay low for three or four months. But the wheels have suddenly started turning a lot faster than I was planning for." — S.M.
Contact: marcusfrat@gmail.com