Back to selection
The Opportunist on the Croisette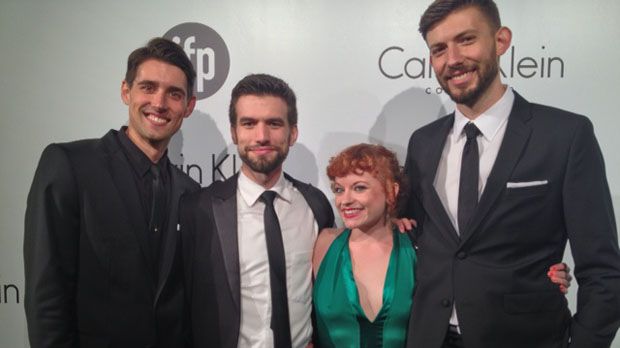 Director David Lassiter, whose short film The Opportunist is playing in the Critics' Fortnight, is blogging about his Cannes experiences. You can read his first dispatch here.
Day one at Cannes and we're already off to the races! After almost a full day of travel (L.A. -> Toronto -> Zurich -> Nice -> Cannes) we checked into an Airbnb apartment owned by a charming Frenchman named Olivier, dropped off our bags, and hit the Croisette. Our first stop was the Palais de Festival, where we were warmly greeted by Julie Marnay and her lovely team at Semaine de la Critique.
Afterward, we braved the rain and explored the Marché (the film market), Short Film Corner, and the American Pavilion, all great resources at the festival and convenient places to meet other filmmakers and industry folks.
After some much needed sleep, we ventured into the world on day two to pick up essential festival supplies like sticky notes (to organize our "office") a blow-dryer and hangers (for a fashionable fest) and chocolate croissants (no explanation needed). In the afternoon, we hit the Croisette and met with Julie again to go over the week's very busy schedule. We grabbed some delicious paninis on the Croisette took a quick break to devour them at this lovely fountain.
In the evening, we attended the Semaine de la Critique's opening night screening of Suzanne, a beautiful and melancholy portrait of a young woman plagued by an inability to get her life on track. Afterwards, we made a mad dash for the apartment (a brisk 15-minute walk from the theater) and did a theater-style quick costume change into formal attire for IFP's "Women in Film" party sponsored by Calvin Klein. Once there, we were very excited to bump into Filmmaker magazine's editor-in-chief Scott Macaulay and IFP's Joana Vicente. It was a killer party and we were very honored to be invited! Up on the red carpet, Bureau of Ships, looking sharp!
As day two winds down with some late-night bread and cheese and wine, we prepare for a full day of meetings on day three, with rumors of a yacht party swirling around in the offing… Check back with us soon for more updates, our world premiere is less just over 24 hours away!