Back to selection
Second-Time Director: Jane Weinstock and The Moment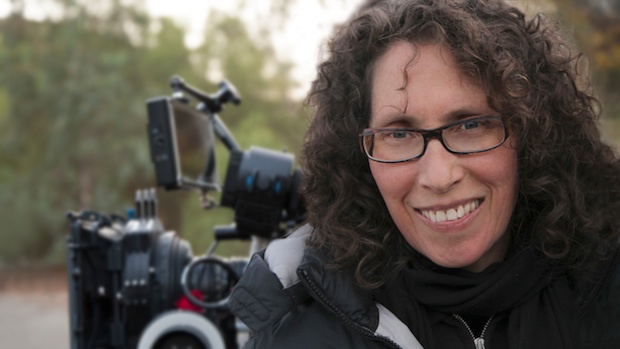 "Complexity" is a word that Jane Weinstock likes to use when describing her ideal movie, and it's certainly an attribute that could be applied to her own work. "I crave it as an audience member. I think people are contradictory, and I like that kind of psychological realism," she says. The same word is an apt description for her own pathway into the director's chair, especially for her most recent film, The Moment. It was a fulfilling journey for the filmmaker, but one she also calls "a really long struggle."
Weinstock has had a varied career, having gotten her start in academia. After earning a BA from Princeton, she set out to earn her PhD in film studies from NYU, focusing on psychoanalytic theory and semiotics. Weinstock's film theory studies were immersive, but academia didn't prove to be enough for her. After doing "everything but the dissertation," Weinstock realized that she needed a career shift. "I made a short film while I was not writing my dissertation, and it just felt so right. I realized I wanted to make films, not study them."
Her first feature, Easy, focuses on a woman (played by Marguerite Moreau) who, after encountering a string of bad relationships, must figure out how to find intimacy when two eligible bachelors come her way. The character's job — providing names for peculiar original products — stemmed from Weinstock's academic background. "That was one of the first things I looked for when writing her character — what does she do? How is she defined by it? I had studied linguistics within film theory, so it tied in." But the plot was also partly inspired from her personal romantic life as well. "I didn't have great relationships before I met my husband," she says. "I wanted to make a movie about relationships, about women who didn't have very good ones." Weinstock says she doesn't like most romantic comedies because the characters usually aren't psychologically complicated — she was determined that Easy, which is better described as a dramedy — didn't suffer from that problem.
Weinstock set out to raise money for Easy (which had an initial budget of $500,000) but didn't succeed in doing so. "It was impossible," she says of finding money. A female-focused film also made for a harder pitch. When she approached different financiers and companies (this was a little over 10 years ago) many were befuddled by the story's protagonist. "I often heard that companies didn't identify with the main character, and these were companies made up mostly of men," says Weinstock. She ended up selling her NYC apartment in order to finance the film. "The only real pro of self-financing is creative control," she says. "It's a big financial risk."
Easy had a "good life", as Weinstock puts it, with a 2004 festival circuit that included Sundance, Toronto, and several other fests. After a small theatrical release it was sold to Showtime, where Easy enjoyed some heavy play on TV. And although the film was pegged during development as "female-focused," audience reaction to the film proved the movie had broader appeal. "One thing that was unexpected was how many men identified with the main character — they identified with someone who struggled with commitment. And I did think it would be that women would identify more with that." Unexpected it might have been, but as Weinstock herself says, "there are stories that both men and women are interested by — I certainly don't want to just write for women."
Easy opened up doors for Weinstock's second feature. During the festival run, two separate investors approached her and voiced their support of the emerging director. They liked what they had seen, wanted to know what her next movie was, and were interested in helping finance it. Weinstock says she was "extremely fortunate in that both investors were very respectful, and allowed me creative freedom." When Weinstock approached lauded indie producer Mary Jane Skalski to help produce her next feature, it was Easy that made Skalski intrigued to do so. Skalski had seen Easy at Sundance and loved it. "I thought the performances were natural and it all felt so real. So I was anxious to read the script."
The second feature is called The Moment, which as of this writing is in post-production. It is an "extremely complicated" movie and "very different" from Easy. It mixes genres — Weinstock describes it both as a drama and as a psychological thriller — which made it hard to raise money for. Despite the initial financial support, raising the budget they had in mind was extremely difficult, and because of the recession, raising money became even harder. "We hoped to make the film slightly larger and we were looking for money that we could pair with the initial equity — that took a long time," says Skalski. "We spent a lot of time jumping through a lot of hoops on our end, only to find no pot of money at the other side." The content also didn't make things easier in the pitch. "I had plenty of rejections. It's not a movie that's easy to understand. I think people wanted it to just be a psychological thriller, but I didn't want to do that," Weinstock says, stating that she was keenly interested in exploring the drama aspect of it as well. Eventually, they reconfigured the budget and moved the story to California to take advantage of the tax incentive, and the money fell into place.
The Moment stars Jennifer Jason Leigh who plays a war photographer returning from Somalia after nearly being killed by a suicide bomber. Once home in LA, she tries to start a new life and reconcile with her daughter (played by Alia Shawkat.) This, as Weinstock puts it, is the more "dramatic" part of the plot. The story also explores a relationship Leigh's character has with a man (Martin Henderson) who has been wrongly accused of murder. When he disappears, she becomes convinced she's murdered him. The movie, says Weinstock, "is really about how these two story threads are interwoven."
We discussed whether making The Moment felt easier, production-wise at least, than Easy, being that she had one feature under her belt. 'It felt much easier — I was much more confident, even though it was a harder story to tell," she said. The budget, like her first feature, still felt tight — there was a period where they were trying to shoot seven pages in a day. She rehearsed extensively with her cast for a week before shooting began, which was crucial for Weinstock. Jennifer Jason Leigh had a lot of notes that Weinstock says were "excellent — Jennifer was a great collaborator."
Both Easy and The Moment touch on the complexities of a mother-daughter relationship; it's a topic of great interest to her. "I'm interested in characters that struggle with the image of femininity — women who don't want to be like their own mother, but at the same time need their mother, want so much from her." The career vs. child conflict is another rich source material for the director. In The Moment, Leigh's character wants to be a war photographer, but must also grapple with her daughter whom she's neglected. "The work I did as an academic was all about psychoanalytic theory and these sorts of issues — issues around women, and women psychology. It's something so many women wrestle with."
Weinstock herself doesn't have any children, and understands the benefits this has for her career. "I don't see how — it'd be impossible — to have young children and direct movies, unless you have a strong at-home support system. Directing is all-consuming. I don't have children, so it's not an issue for me." Weinstock's husband, James Welling, was involved as a producer on both of her films, and she called him an "enormous help."
It was difficult to find a female subject for this series, and so I found myself asking Weinstock about career sustainability for female directors. There are of course fewer female filmmakers to begin with, but why is it so hard to find repeat women directors? Having kids provides a physical burden that make things harder, but Weinstock believes other factors are at play as well. "Most films are written, produced, directed and distributed by men. If more women controlled the financing it might change the story. Men run this business." Skalski spoke of the hardships of second features in general. "For all directors, the second feature can be tough…the first film often gestates for years in a relative vacuum before getting made. For the second film, everyone is waiting and anticipating and expecting things from you. It can be daunting and paralyzing and distracting." But Skalski referenced a recent study from USC (commissioned by Sundance) on this very issue. "One could extrapolate from the research that the higher the budget, the less likely there may be a woman behind the camera. Since most directors want their second film to be larger than their first, the research seems to suggest that it's harder for women to accomplish that. As they seek a higher budget, the industry is more closed to them."
With her director credibility more and more secure, does Weinstock feel a duty to show women in a certain way? "I wouldn't say I feel responsible for portraying women, but I certainly feel that it's important to me to continue to write strong roles for women." It may have taken seven years to get The Moment off the ground, but that doesn't change her outlook. "I feel like it's really, really hard to make movies. It's hard if you have a female main character, and harder still if it has a lot of complexity. But I'm not willing to give those elements up."
Kishori Rajan is a NY-based producer and the Development Executive at Durga Entertainment. Read the other pieces in this "Second-Time Director" series at her author page. For more, follow her on Twitter.