Back to selection
The Opportunist on the Road to Cannes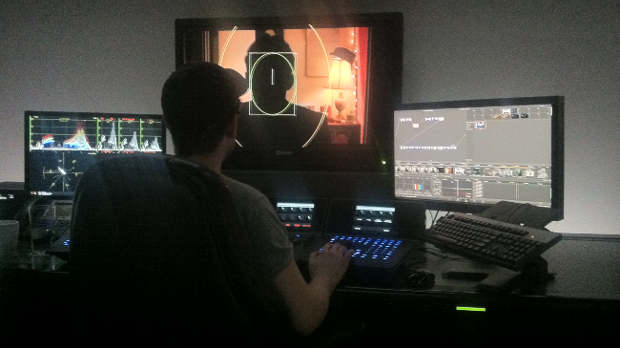 My name is David Lassiter, I'm the writer and director of a short film called The Opportunist, and over the next few weeks, my team and I will be documenting our adventures on the road to Critics Week at Cannes where our film will have its world premiere. We are big fans of Filmmaker so we're super excited to share our experiences.
To begin! It's only been two weeks since the Critics' Week line-up was announced and already it feels like we've lived a lifetime. First things first: the film's not even finished! We submitted a work in progress to Critics' Week back in March – we shot at the beginning of February – and so what was originally a tight post-production schedule has turned into an dead sprint to the finish. In the last week alone, we've locked picture, recorded ADR, gotten a first sound mix, found a visual effects artist, and colored the film with our dear friend Tyler Roth at Company 3 in Chicago.
This week, we're completing final sound edit and mix, conforming the film in After Effects, getting the film translated into French, and striking a DCP… so if anyone thinks you need ages to make all of this happen, never underestimate what a deadline will do!
A little background on the film: The Opportunist is the first film I've written and directed, as well as the first collaboration between producers Alberto Roldan and Cate Smierciak and myself. Together, we make up Bureau of Ships, a filmmaking collaborative based in Silverlake, Los Angeles. The three of us met at Northwestern University, where we all studied film.
I originally wrote the script as a way to work with my good friend, actor Nick Clifford, the star of the film. I've always been fascinated by character-driven dramas that focus on one central figure and I was really excited about writing a role specifically tailored to Nick. Once we had a blue-print for the story, I started talking to producers and fellow Bureau of Ships members Alberto and Cate about how to bring it to life. We're a scrappy outfit and made the film on a shoe-string budget, raising production funds on Kickstarter to help us on our way. Since the Critics' Week announcement, we've been working hard to raise money to help finish post on the film and get the team out to Cannes, all of which will cost us nearly twice the budget of principal photography…
While I work to finish the film, Cate and Alberto have been working long hours reaching out and responding to press and industry folks, building and maintaining our web presence, creating and printing posters, postcards, and other festival-required publicity materials, spreading the world about Bureau of Ships and trying to find new ways to mitigate the not insignificant costs of getting ourselves and the film to the festival. While it's an incredible amount of work, we're deeply grateful to have this opportunity – we've been calling it festival bootcamp.
You can follow what we're up to in real-time by following us on twitter @OpportunistFilm, #theopportunist, liking our page on Facebook, or checking out our site:  www.opportunistfilm.com
We'll check back in with filmmaker again soon, too. For now – we should probably go finish this movie!