Back to selection
5 Recommendations for the Northside Film Festival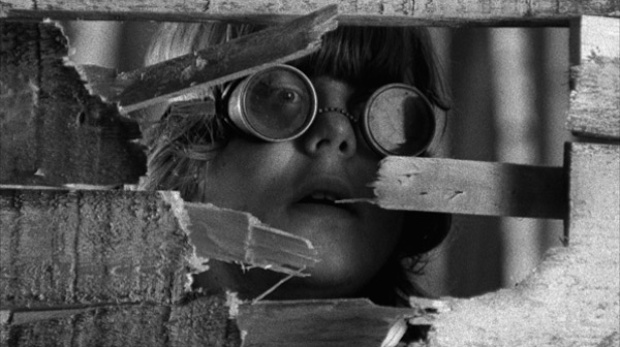 Go Down Death
Kicking off this week in Williamsburg, Brooklyn, the Northside Film Festival once again has invited a number of community partners, including Filmmaker, to curate programs of new independent, foreign and retrospective titles. Filmmaker's pick is Nicolas Provost's bracing The Invader, a kind of African immigrant on Taxi Driver, which is receiving its New York premiere. Provost is a Belgian visual artist and filmmaker who recently moved to Bushwick, and he'll be attending the Q&A. Below are five picks — including The Invader — you can plan your calendar around this week.
Go Down Death. Amidst all the cookie-cutter indies, Aaron Schimberg's Go Down Death casts a mysterious spell. The feature debut of this Brooklyn-based filmmaker is a dreamy, highly stylized affair recalling early David Lynch or Guy Maddin. An alumni of the IFP Narrative Lab, it is an astonishing, out-of-nowhere film, world-premiering here at Northside and highly recommended. It screens tonight at 7:00PM and Thursday at 7:30. The film is curated by IFP and NoBudge, and it is paired with Kat Candler's excellent short, Black Metal. For more, here's the catalog blurb:
Go Down Death is a wry, sinister realization of a strange new universe, a cross-episodic melange of macabre folktales supposedly penned by the fictitious writer Jonathan Mallory Sinus. An abandoned warehouse in Greenpoint, Brooklyn, stands in for a decrepit village haunted by ghosts, superstition, and disease, while threatening to buckle under rumblings of the apocalypse. Soldiers are lost and found in endless woods; a child gravedigger is menaced by a shape-shifting physician, a syphilitic john bares all to a young prostitute, and a disfigured outcast yearns for the affections of a tone-deaf cabaret singer. Highlighted by offbeat narrative construction, stunning black-and-white 16mm cinematography and immaculately detailed production design, Go Down Death is a distinctively original film informed by American Gothic, folk culture and outsider art.
Joy de V. Receiving its New York-premiere via the curation of Hammer to Nail is Nadia Szold's Slamdance-winning Joy de V., a boldly stylized New York romantic noir dealing with love, madness and the pulse of the city. Evan Louison stars alongside Iva Gocheva, Joséphine de La Baume and the Italian icon Claudia Cardinale. Here's what I wrote when the film premiered at Slamdance:
Writer/director Nadia Szold dubs her debut feature Joy de V. "a dark Bildungsroman," compressing as it does into a few short days a maelstrom of yearning, confusion and ultimately acceptance. As the film opens, Joy (Josephine de la Baume) abruptly walks out on her young marriage to Roman (Evan Louison), who has been living on government mental disability payments. Roman's got another problem too, when he learns these checks are being cut off. So, while searching for his wife, Roman decides to perform "a public act of lunacy" that will demonstrate to the world his craziness. Roman crisscrosses the five boroughs as these storylines converge in a freewheeling and beautifully shot picture inflected with both a European art-film Romanticism as well as the impulsive energy of the downtown New York indies of the 1980s.
Paired with Joy de V. is Jillian Mayer and Lucas Leyva's fantastic pop riff on the Singularity, Post-Modem. This is a fantastic double bill.
All the Light in the Sky. As his Drinking Buddies prepares to open in theaters nationwide from Magnolia, his more minor-key All the Light in the Sky, programmed by BAMcinemafest, screens here at Northside. Starring Jane Adams as a middle-aged, Malibu-dwelling actress at a professional and romantic crossroads, the film is a piquant slice-of-life of Angeleno life co-starring Sophia Takal, Larry Fessenden and Kent Osborne.
Maniac. I remember when the original Maniac opened. Today a film like this would go straight to VOD, perhaps after a few midnight screenings. Back then it was, at least in New York City, something of a big deal. I was in a college, and a friend of mine, someone I'd eat lunch with, had a mohawk. Most people stayed away from him. I just remember the day he rushed out the lunchroom because he had to skip class and see the first showing of this movie. Now it's remade and stars Elijah Wood. I want to check it out. Presented by IFC Films, it screens Wednesday at 7:00PM.
The Invader. After an altercation with a local crime boss, an African immigrant finds himself thrown out on the streets of Brussels, armed with only his fists and a considerable amount of charm. He ingratiates himself into the life of a beautiful Italian executive (the stunning Stefania Rocca), but the clash of their worlds soon sends him on a destructive spiral. "Provocative in its socio, sexual and racial politics, The Invader makes us watch as an initially honorable African man gradually implodes when the shiny images of Western culture are dangled before him, I wrote when I interviewed Provost last year. "The film plays with our sympathies, and our stereotypes, and it does so with a sleekly absorbing visual style." Indeed, the film pushes buttons, but, for Provost, it is not meant for shock:
I wanted to create a feeling where this story is not just an anti-hero story. It's also about our projection on immigrants. It becomes the monster that we project on immigrants, sometimes. I'm not trying to judge anyone. That's what I hope is clear with the film, that I'm not taking parts. I'm not trying to come up with a voice for the immigrants, and I'm not blaming the Western world. It's a tragic situation.
The Invader plays Thursday at 7:00PM along with one of the best shorts I saw at SXSW this year, Brandon LaGanke's Play House.