Back to selection
Five Questions for Joy de V. Writer/Director Nadia Szold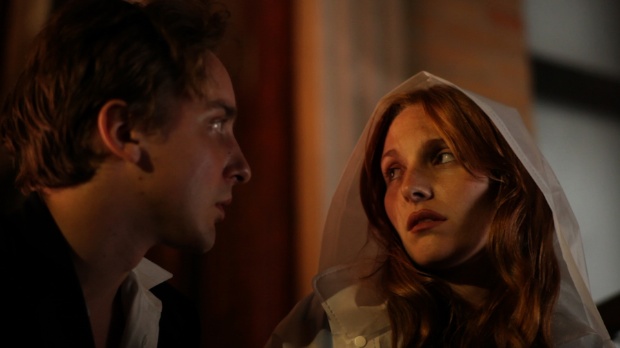 Writer/director Nadia Szold dubs her debut feature Joy de V. "a dark Bildungsroman," compressing as it does into a few short days a maelstrom of yearning, confusion and ultimately acceptance. As the film opens, Joy (Josephine de la Baume) abruptly walks out on her young marriage to Roman (Evan Louison), who has been living on government mental disability payments. Roman's got another problem too, when he learns these checks are being cut off. So, while searching for his wife, Roman decides to perform "a public act of lunacy" that will demonstrate to the world his craziness. Roman crisscrosses the five boroughs as these storylines converge in a freewheeling and beautifully shot picture inflected with both a European art-film Romanticism as well as the impulsive energy of the downtown New York indies of the 1980s. Joy de V. premieres today in Competition at Slamdance, and Szold is already onto her next film, a Mexico-set romance starring Louison and Dakota Goldhor.
1. You've developed other projects before making Joy de V. as your first feature. What was it about this one that caused it to go into production?
I'm a writer and I love film. I made the decision to produce Joy de V. myself out of a modicum of impatience and the correct alignment of the stars.
2. How do you describe the film, and could you discuss how the film melds both American independent and European art film influences?
It's a New York noir. The relationship between American noir film and European arthouse has always been a healthy one full of cross-pollination, reverence for "the other" across the drink, and I feel that link is still strong.
3. How do you collaborate with your lead actor, Evan Louison. What's your relationship like?

That's between me and my actors.
4. How did Claudia Cardinale become involved with the movie, and why was it important to cast someone of her stature in that part?

Claudia Cardinale was my neighbor in Paris, so I sent her the script. She responded immediately, said she loved it, let's do it. She has a great sense of humor and immediately understood all the black humor of the film. Working with someone of her professionalism? Her attitude was always that of, "just pass it on."
5. Going forward, how do you see yourself developing as a filmmaker? What paths would you like to take?
Making the films that I want to make, and that I feel people will be interested and entertained by. I have to agree to Howard Hawks — "a good movie has three great scenes, no bad ones." That's my goal.