Back to selection
Gotham Awards to Honor Commisioner Katherine Oliver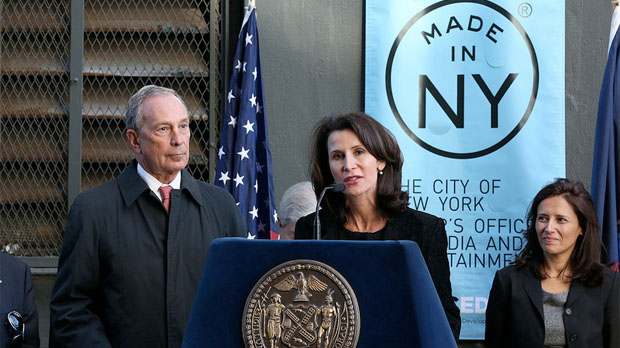 IFP announced today that the Gotham Awards will honor this December the Commissioner of the New York City Mayor's Office of Media and Entertainment, Katherine Oliver. Every year, the Gothams honors four individuals who have made a considerable contribution, in one capacity or another, to the world of independent film; in 2012, the honorees were actors Matt Damon and Marion Cotillard, writer/director David O. Russell and Participant Media's Jeff Skoll.
IFP's Executive Director Joana Vicente said of the announcement, "We are honored to dedicate our 2013 Gotham Industry Tribute to Katherine Oliver, who has made an indelible impact in the entertainment industry in New York City and beyond. Through her work, she has supported the production of thousands of film, TV, and digital projects, furthermore bolstering the community of filmmakers and digital content creators in New York City. A true Gotham native, Katherine embodies an impressive breadth of work and a long list of achievements that we are proud to celebrate."
Appointed Commisioner of the Mayor's Office of Film, Theatre and Broadcasting in 2002, Oliver has overseen considerable growth in film production in New York City and has helped bolster local productions through her work with NYC Media, which she has run since 2009 and which merged with the Office of Film, Theatre and Broadcasting in 2010 to create the Mayor's Office of Media and Entertainment (MOME). Per today's Gothams press release, "MOME has made New York the only city anywhere to provide free advertising in subway cards, spots in Taxi-TV and on bus shelters to qualified productions through the "Made in NY" Marketing Credit. Commissioner Oliver has further developed an array of workforce development and educational programs so that the City's entertainment industry more accurately reflects its diverse population, including the "Made in NY" Production Assistant Training Program." Oliver has also overseen NYC Digital, created in 2011, with initiatives including "We are Made in NY" (aiding tech companies in the city) and the "Made in NY" Media Center, run by IFP, which opens in DUMBO this fall.