Back to selection
Ian Hendrie and Jyson McLean at the Sundance Creative Producing Summit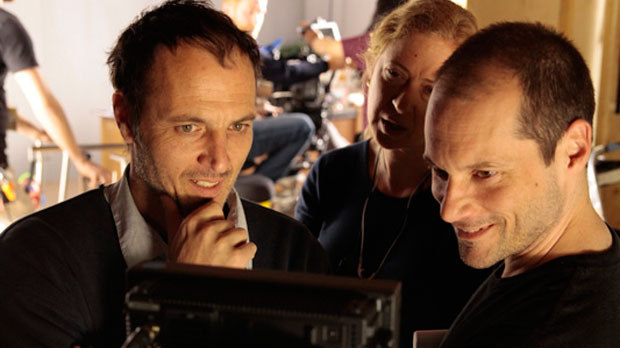 Ian Hendrie and Jyson McLean
Co-writer/directors Ian Hendrie and Jyson McLean were recently at the Sundance Creative Producing Summit with Mercy Road, a feature based on real-life events that "traces the spiritual odyssey of a small town housewife and mother, as she becomes willing to commit violence and murder in the name of God." The following is what the pair wrote about their experiences at the summit.
We are making our third and final climb up "The Mountain." As the shuttle from the airport snakes up the winding forest-crested road, we anticipate spending a few last days in this special place. There's a feeling of coming home when we arrive. We embrace staff and volunteers as if they were family. They are family.
It has been a year of discovery on this mountain, starting in January, at the Screenwriters Lab. Back then the resort was a white winter postcard, everything new, crisp and dazzling. Here we met the other lucky travelers who would take their journeys right along with ours, our fellow storytellers who, through this shared odyssey, have become our brothers and sisters. Under the guidance of brilliant and generous advisors, we began to crack open our scripts and, through the process, ourselves.
We spent a month here between May and June, easily the best month of our lives. The Directors Lab is the most uplifting, emotional, creative, transformational, and exhilarating summer camp in the world. We grew closer to our material and each other over the course of that month. This was a safe place for discoveries, and they came at a rate so quick that we are still unpacking them.
We are back now for Sundance Creative Producing Summit, a weekend gathering of industry professionals in documentary and narrative film finance, production, and distribution. Although the word "creative" is in the title, all we're anticipating is a few days of panels, meetings and networking. But the mountain has other plans for us, as usual. Somehow, through every facet of this gathering, we will always be learning about our film and ourselves.
The first evening begins with a panel discussion: "State of the Union: Has Anything Really Changed?" It was an informative, and at times, volatile look at where we are in the ever shifting landscape of independent film exhibition and finance. There are no easy answers and the only consensus is that no one is sure where we're heading.
The SOTU was followed with a keynote presentation: Fracturing the Norm, by multimedia artist Doug Aitken. This sets the tone for the weekend ahead. His work explores our perception of what film art can be, "Expanding the image and breaking the narrative." as the tag of his piece Broken Screen states. This felt like a symbolic tee-up to the summit, expanding our idea of what is possible as we move forward.
The main day of the summit is a whirlwind of information, meetings and panels with topics ranging from branding yourself to exploring the producer/director relationship. We begin with one-on-one meetings, rapid fire 15-minute speed-dating sessions with producers, agents and financiers. Yet another stroke of brilliance on Sundance's part. You will recognize within minutes those you feel connected to and those you don't. An extremely important lesson to be learned: your choice of collaborators in getting the film produced is just as important as your choice of collaborators in actually creating the film itself.  Everyone needs to share a vision and a destination.
There are more lessons to be learned as the summit continues. How preparing a pitch for your film can teach you about the film you want to make. How finding the right words to express your vision for the film, and getting others to see the project the way you see it, can remind you what the most important elements are to you. Knowing exactly why you want to make your film is the first step in convincing others to help. These are all lessons that will affect the way we tackle the material moving forward.
It's a lot to absorb in just a couple of days, a lot of names to learn, facts and figures to process. We are trying to learn the rules of a game just as that game is changing and no one can say with certainty what the new rules will be. All of us, producers, distributors, financiers, writers, and directors alike, are feeling in the dark for the best path forward. There is fear that comes with this, and the word "risk" was spoken in just about every panel. But with this uncertainty comes opportunity.
If there is anything we've learned over the course of this year, so much of it spent on this magic mountain, it's that you can convert your fear into creativity. With risk comes revelation. We've leaned on our new film family, this safe space created by like-minded people working toward the same goal, to give us the courage to dive into these fears. And we are still facing them down, one by one.
It's that same sense of community that will give all of us the space to take risks, to find the way forward in an uncertain time. To innovate, create, and bring a little of the spirit found on this mountaintop to the rest of the world.
Photo by Ryan Johnson.