Back to selection
What New Film Has the Most 25 New Faces of All Time?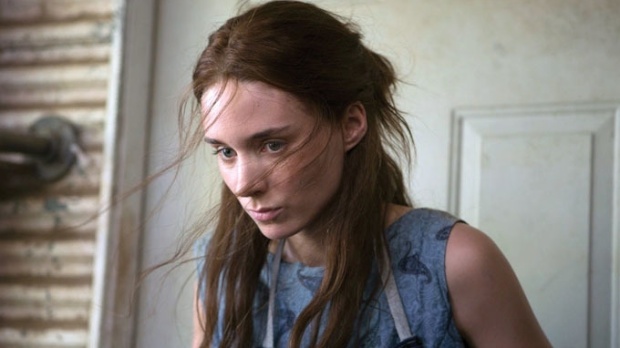 Rooney Mara in Ain't Them Bodies Saints
There are many good reasons to see David Lowery's Ain't Them Bodies Saints, opening today. Many of those are articulated in David Barker's interview with Lowery and Anthony Kaufman's interview with its D.P., Bradford Young, but here's another: this single film displays the work of more of our 25 New Faces than any other picture. Here's that list:
Jay Van Hoy & Lars Knudson. Now mainstays of the independent scene, New York-based Jay Van Hoy and Lars Knudsen were, in 2006, the first producers to appear on the "25 New Faces" list. At the time the Parts and Labor team was coming off three 2005 pictures which they either produced or executive produced (Cam Archer's Wild Tigers I Have Known, Kelly Reichardt's Old Joy and Steve Collins's Gretchen) and said they had nine more in the pipeline. Commented Knudson to Matt Ross, "We've spent two years working with really talented filmmakers and putting good films together and getting some critical acclaim. Now we want to be able to step up our budgets and find new talent while also continuing existing relationships with the directors we've already worked with. We're just taking small steps and growing and trying to make more and more films every year." Seven years later, they have their biggest picture yet with Ain't Them Bodies Saints.
Bradford Young. We selected Saints D.P. Bradford Young for our list in 2009 following striking work on three projects: Dee Rees's short film version of Pariah, Tina Mabry's Southern family drama Mississippi Damned and Paola Mendoza's autobiographical immigrant tale, Entre nos. (All three female directors were also selected for our list.) In the four years since, Young has been busy, shooting, in addition to Saints, Rees's feature version of Pariah and the films of Andrew Donsumnu. "I'm always concerned about not getting enough practice as a cinematographer," he told Jason Guerrasio at the time. "I always want to practice how to lens situations but also interactions — getting to know new people and discovering things in them.
Rooney Mara. Also selected for our list in 2009 was Saints star Rooney Mara. This was pre-Dragon Tattoo. At the time, her most notable credits included two Sundance pictures, The Winning Season and Dare. But we saw something in her work that made us think she'd be a presence in the years ahead. When it comes to our actor and actress selections, we look for people who we think will become notable but also who will continue to do independent films. Mara seemed committed. She told me in her interview, "I am just mesmerized and inspired by [Gena Rowlands[. I've been watching A Woman Under the Influence and Opening Night over and over. That would be a dream — to work with a filmmaker like [John Cassavetes]."
Jade Healy. Saints production designer Jade Healy made our list in 2010 on the basis of quite a few films, including Ti West's House of the Devil. But, as you will know if you've followed our list closely, we like hyphenates, and Healy is one of those. She has worked in various art department positions and as a producer. And she and Kris Swanberg co-directed It Was Great, But I Was Ready to Come Home, which was co-shot by… Saints director David Lowery. ""I once had a director cry when she walked through the main character's set because she was so moved," she told Alicia Van Couvering in our interview. "That was definitely one of the most rewarding moments for me as a designer."
David Lowery. Saints writer/director David Lowery is a 25 New Face straggler, appearing on our list in 2011. I remember him being one of the last ones picked for that year. When putting together the list, I always try to pick people who are, for most of our readers, real discoveries. And I accept that we will miss people. Sometimes we're late in discovering someone, and that's okay. We'll cover them in other ways. After I saw Lowery's wonderful short film Pioneer, I thought about considering him for the list, but I remember saying to myself, "Everybody already knows David Lowery." After all, his first feature, St. Nick, had made the festival rounds. Then I started talking to people, and I found out that everybody didn't already know David Lowery — and that's despite him being an increasingly indispensable editor and D.P. to many other filmmakers. (There's that hyphenate thing again.) And Pioneer was the best short of 2011. In the end, that has to trump everything, so I added Lowery, and I'm proud to say that it introduced him to several key people involved in the making of his feature.
Daniel Hart. Only one of Saints' seven 25s was chosen due to his work on that film, and that's composer Daniel Hart. In fact, he was the first person chosen for this year's list. Both Nick Dawson and I saw Lowery's film at Sundance, and we both came out raving, among many other things, about its score. When we had our first meeting about the 2013 25 New Faces, he was an obvious choice. In fact, he had scored Pioneer, which I loved so much, as well. "When we worked on Pioneer together, we started to develop a musical language that corresponded to David's aesthetic as a filmmaker," he told Dawson, and when it came time to do Saints, he carried over the sonic element of handclaps, which he used in the short film, into the feature. Of his vibrant score, Hart said he wrote music that felt like it "was coming from the film itself."