Back to selection
Introducing Screen X, Cinema in 270 Degrees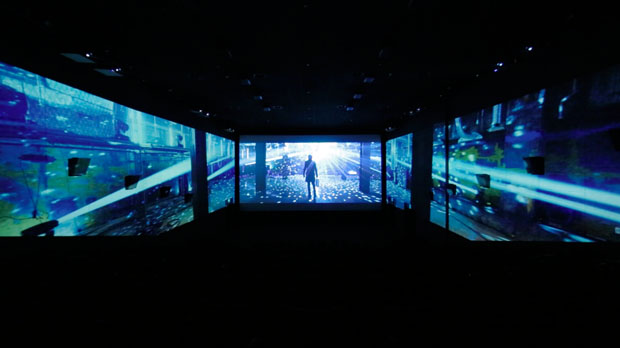 The X
Filmmaker: Did you purposely ask the director to contrast the elements and have the image be front screen 2D with Screen X only being active for specific scenes because of the experimental nature of the project?
Kim: That is something we said to the director at the beginning: "This is not going to be 30 minutes of Screen X, it can't be, because if we are thinking long term and feature films, you have 120 minute film, can you imagine sitting in 120 minutes of immersive content?" You can't, and it takes away from the effect, it really jades it and muddles the effect we want to show. The timing has got to be perfect, it comes out when you really want to emphasize an emotion, emphasize an event and a particular character, and it kind of takes that moment to the next level. We don't want to detract from the story, we we want to be part of the story.
Filmmaker: Can you show it on any size screen?
Kim: What we would like to eventually be able to do is show it on any size screen, however, we do at this moment have an ideal size of screen. That doesn't mean that it doesn't work for every size — it can work, it's just that we have a specific criteria. We like it not to be wider than this, we like it not to be longer than this, we like it not to be on an IMAX screen.
Filmmaker: So you can install it on any screen?
Kim: Almost. We have certain cinemas at CGV where on the walls there are decorative pieces and that wouldn't work. We want a flat surface. We want a certain color. We did a lot of research. The color you saw on the wall in Busan is for us at the moment the ideal color, a very cool dark grey.
Filmmaker: Not white?
Kim: Everybody asks, "Why not go with white and have screens at the side?" First of all, to use screens you have to retrofit the theater, it costs a lot of money and it takes a lot of time; we can outfit a theater with our system in 3 days. If we were projecting onto screens, we probably need about two weeks. That's two weeks of business we have to shut down. The reason white screens don't work is that you are now projecting onto the walls itself, that is still a light source and it reflects off the main screen and washes off on the main screen.  This is a color we came upon because it absorbs light and it doesn't reflect onto the main screen and at the same time it retrains most of the contrast and the colors. We are still experimenting with different colors.
Filmmaker: Can you convert any 2D film to make use of this technology?
Kim: I wouldn't say any 2D [film]. For the most part, we haven't had any issues with the adverts that we have had coming in — I think up till now there has been 11 or 12 — except for Kia Motors. It doesn't have to perfectly match what is on the front screen and extend from that. You can have a red car on the front and a blue car on the side. It can be almost an extra screen. For now we have no problems, for a movie it might be different.
Filmmaker: How many projectors do you need?
Kim: Depends on size of theaters. Our smallest theaters have three on each side, the one you saw today was seven on each side. We can have more but we have never done so and we would like to minimize the amount of projectors in the future. We are not trying to sell projectors. The main thing is content plays.
Filmmaker: In terms of your roll-out plan, when will you commission a film?
Kim: CGV is part of CJ Group, so already, lucky for us, we have a partnership with Korea's largest filmmaker and distributor, so for us it would make most sense to start with CJ Entertainment, work with them, see what there line up is for 2014/15 and try to choose a film to make in Screen X. This is something that is happening now. It will probably be local Korean productions first, films from the CJ Entertainment roster and we would then also like to open up channels to Hollywood. Admittedly right now the technology isn't fully there, it isn't fully ready for a full-feature length film, however by the time the film rolls out, which might be realistically speaking 2015 [or], ambitiously speaking, the end of 2014, the technology will be ready.
Filmmaker: In press conference, Kim Jee-Woon said that it was cumbersome to shoot Screen X?
Kim: It's cumbersome in the sense that when you are shooting 3D it's cumbersome when compared to film; with 3D you have two cameras, with [Screen X] you have three cameras, a center camera and two peripheral cameras. The cameras – we used three RED Epics – are hooked up onto a rig that allows you to shoot simultaneously in three directions at the same time. When director Kim was making The X, it was early, prototype stuff. We had so much trial and error, but that is why we made this film, why we commissioned this director. We could have got a student from film school and said, "Try this." Not that they are not capable of telling a good story, but we wanted someone who had years of experience behind the camera, operating with a crew, so they would be able to tell instantly the difference between this and a more traditional film shoot. We now know what our limitations are, we now know exactly where we need to step up the game.
Filmmaker: He said one of the problems he had was that there was no guidebook on how to make a Screen X film, no one has done it before.
Kim: Exactly, no one has done it before.
Filmmaker: Are you now developing a guidebook?
Kim: Yes we are, the guidebook is actually being developed in tandem with The X. Everything is similar yet slightly different, from the data transfer you now have more data to transfer, from the monitoring area, you now have three monitors, so it's based on the same technology as every film, the same basic concept, it's just a little bit extra.