Back to selection
East of Eden: In the Name of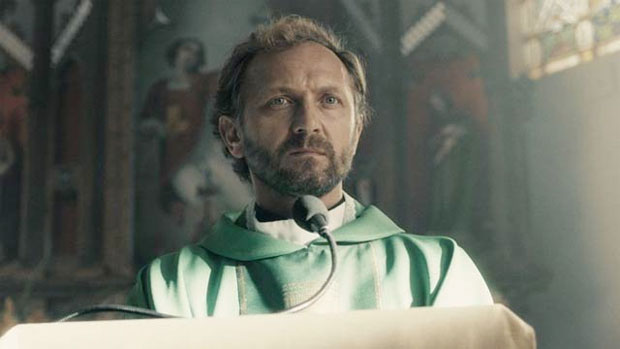 In The Name Of
Toward the end of the potent In the Name of by Polish director Malgoska Szumowska (Elles, 33 Scenes From Life), about a country priest's desperate efforts to repress the love that dare not speak its name, a glorious procession snakes through an empty meadow. All the residents of a nearby isolated provincial community participate, many holding icons in their hands or tall embroidered banners aloft, the pageantry proudly announcing the devout Catholicism that is their passion. Accompanied by what sounds like mellow English folk music, the lengthy sequence is more a holy entr'acte than a chunk of in-progress narrative.
In the middle of the throng is outspoken Father Adam (Andrzej Chyra, above), a handsome, athletic man's man approaching middle age, who bears the piece de resistance, a splendid gold sculpture with spokes radiating from the center and a cross at the peak. Among the others is long-haired townie Lukasz (Mateusz Kosciukiewicz, now the director's husband), more physically expressive than verbal, a slightly feral lad with the beatific face of a young Christ. In more than one scene, he lies with his arms outstretched in a cruciate pose, and, in a reversal, Adam washes his bloody feet following a fight with other boys, just as Christ had done to each of the apostles the night before the crucifixion. Lukasz, aka Humpty, is himself deeply troubled, discovering in pyromania cathartic therapy.
The primary conflict in this Teddy Award-winning film is the burgeoning emotional and sexual tension between the two opposites in a milieu so nasty and bigoted that fag and Jew are right down there with cunt as slurs of choice. The plot hinges on whether or not Adam will be able to channel at least some of his adoration for Jesus into physical love for a flesh-and-blood simulacrum.
The languorous communal march is a welcome relief. Up to that point, the controlled but jerky camera of d.p. Michal Englert (Szumowska's former spouse and co-screenwriter of the film), when not coolly engaged in graceful traveling and impressive overhead shots, captures rambunctious, bullying delinquent teenaged boys who live together in a social rehab center run by the affable but domineering cleric, and who earn their keep smashing enormous rocks in the grueling summer sun; locals in this impoverished milieu either engaged in backbreaking labor or altogether disengaged; and a pair of miserable, enervated affiliates of the small, underattended church that the priest has successfully overseen since his reassignment from what most would consider a more desirable diocese in Warsaw—a move to "this shithole" that the wife, Eve (Maja Ostaszewska), of priest's assistant/second teacher Michal (Lukasz Simlat) assumes is "punishment." The saintly procession puts the brakes on much of the vulgar negative energy and sets the stage for a relatively gentle build-up to a potentially hopeful future away from all this dysfunction and a cleverly surprising resolution.
The names Adam and Eve are, of course, deliberate, and this Eve does try to tempt, actually shock, Adam into breaking his vow of celibacy. ("I'm taken," he tells her impishly, relieved to have a plausible excuse for rejecting the half-naked aggressor.) After all, Michal, who wears regret like a mask, had given up seminary for her. That's a macguffin, really. Desire for men, particularly younger ones, is Adam's, well, apple. A dalliance with an altar boy is rumored to have precipitated his transfer. Now he tries to sublimate it with endless jogging, booze, cold baths, and wild dancing to American pop in his living room. (In one amusing but slightly heavy-handed scene, he does a duet with a framed portrait of the pope.)
Keeping his urges under wraps is difficult enough, especially surrounded all day by shirtless teens, but the goading of new, shameless, and barely closeted "inmate" Adrian (Tomasz Schuchardt), who is on to him, and a blossoming bond with Lukasz — the only young fellow in town who shows any evidence of a moral compass — compel him to so overcompensate that he begins to unconsciously reveal himself. The point of no return is an irrational insistence on the removal of an old couch on which he had caught a glimpse of butch Adrian banging a skinny boy after lights out. In the words of Szumowska, "A priest who is only a human being suddenly becomes a victim of his own faith."
In a Sunday sermon, Adam confesses to the few congregants that he did not find religion until the age of 21, when he wanted "to be rid of the selfish I." As good a priest and social worker as he has proven himself to be, and as divorced from the material world as one can be in this century, he has failed to feed the increasingly demanding amorous and sexual needs of his ego. Even if In the Name of contains a host of clichés about coming out and engaging in same-sex relationships, and even if the late Antonia Bird's well-received Linus Roache-starrer Priest dealt with related dilemmas back in 1994, Adam is less in pursuit of the carnal than something dogma can not fully snuff: reciprocated unconditional love.