Back to selection
Desert Storm: the 7th Abu Dhabi Film Festival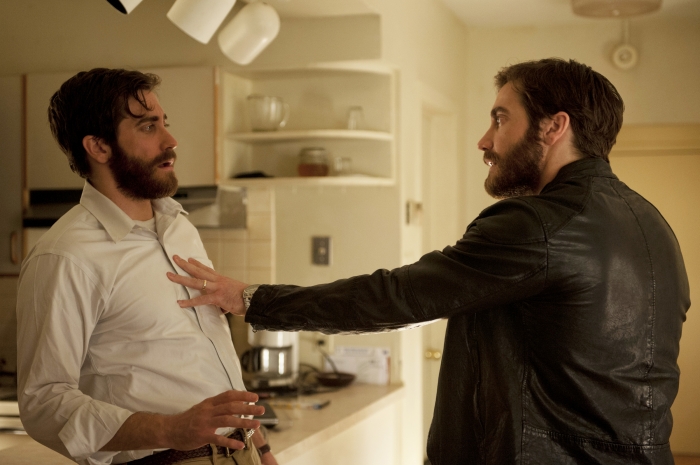 Enemy
Poor Tobe Hooper. It's got to be tough to be best known for movies made over 40 years ago and desperate enough for a paycheck to make something like Djinn, the first movie I saw at this year's Abu Dhabi Film Festival and perhaps the most astoundingly inane motion picture I'll see all year. "Rosemary's Baby meets The Shining in an ominously empty residential tower halfway between Dubai and Abu Dhabi" is apparently a pitch that gets you $9 million from ImageNation, the Abu Dhabi-based film finance outfit to make a rote and clumsy and predictable horror movie, with waves of cheesy cliches and annoyingly clinical HD lensing and jittery, stilted acting. One wonders whether Mr. Hooper was too busy playing Angry Birds on his Android phone to actually direct this picture — he certainly couldn't be bothered to show up at its Friday night world premiere. So one was left with the spectacle of a well-known western director world-premiering his new film, which apparently took over two years to edit, to a room full of women in hijabs where it was introduced by his sheik gear-rocking financiers and his remarkably gorgeous if dubiously unconvincing lead, Razane Jammal. Again, poor guy. But I digress.
What to make of a place like Abu Dhabi? I've been three times and I know not. Chock full of gaudy architecture and oil-rich sheiks and sheikhas who happily wear Rolexes and eat Fuddruckers at the mall and "employ" desperate poor people from throughout the region as more or less indentured servants to do all the real work (so much so that less than 15% of the population in the UAE is Emirati), it is the Emirate that most elegantly sidestepped the fallout of both the financial crisis and the Arab Spring; when the people this authoritarian union of fiefdoms is repressing are all needy foreigners, there is no constituency for national or ethnic or religious sectarian pride and unity to bubble over into activism.
Is it content to simply remain a staggeringly opulent playground for the rich? In the hotel lobby of the Emirates Palace, the world's most expensive hotel, a vending machine that's labeled "gold to go" sits inconspicuously in the massive atrium. You know, in case you have $5,000 to burn and a hankering for a bar of gold. Catty-corner to that, you can buy Apple products, that religion every bit as devotional as Islam, made of gold too. It all leaves you a bit dizzy and, at least if you're coming from the west, remarkably jet lagged, so much so that one can be forgiven for thinking they've stepped into a William Gibson novel upon entering this strange world of shiny, vulgar post-modernity.
Construction on massive tower after massive tower has slowed since the boom days of the mid-aughts, but it still goes on, the once silent and abandoned cranes that dotted the vertiginous skyline several years ago back in action. From the window of my hotel at the Khalidiya Palace, an alcohol-free five-star joint sitting in a tower across the street from the Emirates Palace, new construction was visible almost to the vanishing point. Extreme wealth for its own sake seems to be the overriding ethos behind much of the building. Whatever culture that existed here before this has been so overrun by fist-pumping displays of affluence that it's hard to find any inkling of national identity or shared meaning amongst the Emirati people. In response, they get real busy importing culture from other places.
Which brings us back to the seventh Abu Dhabi Film Festival. Opening with Daniel Schechter's Toronto closer Life of Crime (which, unseen by me, apparently inspired a mass exodus from the Sheik crowd uncomfortably with its female nudity), the festival came to a close on Sunday, although the curtain on this most recent edition really dropped on Thursday when the festival handed out its annual Black Pearl Awards. Three films that have recently opened Stateside, all unseen by this critic, were big winners. Jia Zhangke's Cannes holdover A Touch of Sin took the top jury prize for narratives while Omar Mullick and Bassam Tariq's Sundancer These Birds Walk took the top prize for documentaries, being awarded $100,000 and $80,000 respectively. Nicole Holofcener's Enough Said took home the audience award and $40,000. Meanwhile the New Horizons competition, for first and second-time directors and also bearing a prize worth $100,000, went to Uberto Pasolini's Still Life, a surreal drama starring the underrated British character actor Eddie Marsan that was in Venice, Toronto and Zurich before finding its way to the gulf. Mohamed Jabarah Al-daradji's docudrama In The Sands of Babylon, a world premiere about a soldier in Saddam's army who just wants to get home to his family in the aftermath of the first Gulf War, won the prize for best narrative film from the Arab World and the $50,000 that went with it.
The program here, despite the utter lack of film culture in the town, is always solid. Peter Scarlet, the ex-Tribeca and San Francisco fest topper, helped bring the fest to legitimacy in his four years here before he was deposed; current festival director Ali Al Jabri has wisely left much of Scarlett's programming team intact, including director of programming Teresa Cavina, who assembled a renown group of films from most of the world's top line fests for regional premieres while maintaining a commitment to stout, thoughtfully culled films from the gulf. Strong docs from the region were especially plentiful. These included My Stolen Revolution, about a leftist Persian woman, exiled to Europe since the revolution, still coming to terms with her grief and guilt at the outcome more than 30 years later, and Arab World doc prize-winner Cairo Drive, a partly comedic look at how absurd driving conditions in Egypt may have helped spurred the now stalled revolution, and Whispers in the Cities, which in pure "slow cinema" observational style details street life in the West Bank, Iraqi and a remote Kurdistani outpost during the years or war and tumult. They are all honorable and involving in their unique ways, as is Canadian-Indian filmmaker Richie Mehta's Siddharth, an engrossing, deceptively complex missing child story set in Delhi. Meanwhile, Hala Matar's fever dream of a short Streetcar, which somewhat inexplicably finds Chloe Sevigny and Nash Edgerton in some kind eight minute of noir-y drive-in movie fantasia, was on many people's lips.
Among the regional narratives, my favorite was Ahmad Abdalla's affecting Egyptian narrative competition entry Rags and Tatters, a remarkably sad look at one man who escaped from prison during the revolt at Tahrir Square, only to find an unforgiving country rife with poverty, corruption and new rounds of sectarian violence (much of it directed at Coptic Christians) even as throngs of demonstrators were across town demanding their own 1848. Formally dense, with a lead who is more or less silent during the entire film, Rags and Tatters is a tough sell for regional audiences explained Abdalla later on, not just because of its mute protagonist, but also its modernist aesthetics, narrative flatness and stridently downer tone – no one is interested in watching yet another movie about the tragedy of the unfinished revolution, even one as artfully made as this one.
Among these was Philomena, veteran British helmer Stephen Frears' best film since at least High Fidelity, an expertly handled drama, based on a true story, about how shamed ex-Blair administration spin doctor and BBC News correspondant Martin Sixsmith helped the title character, an elderly Irish working-class woman whose three-year-old son was taken from her by the nuns who she sought help and solace from, uncover just what happened to her child 50 years later. I'll avoid plot spoilers but know that Frears gets magnificent work from both Steve Coogan, a co-writer on the project, as well as Sixsmith and Dame Judi Dench, winner of the festival's Best Actress prize. Most of you will laugh, some of you will cry and the wheel won't be reinvented, but Frears never tries too; he's become the U.K.'s answer to the late Sidney Lumet, a solid craftsman who never gets your blood pressure high with excitement. Regardless, you'll likely enjoy yourself in the company of this odd couple. The Weinsteins have a legit Oscar horse on their hands with this one.
Quebecer Denis Velleneuve made quite a splash at Toronto this year, world premiering two new films starring Jake Gyllenhaal: the sizably budgeted, American-financed, star-studded, Roger Deakins-shot Oscar candidate Prisoners and Enemy, a smaller, Canadian production starring Gyllenhaal and Inglorious Bastards star Melanie Laurent. I've yet to see the former despite it's Stateside release but I can report that the latter is a stunner, a "get up out of your seat and shout what zit," insidiously intelligent and remarkably troubling movie that gives lesser men nightmares and makes you guilty all over again for ever cheating on your girlfriend. Based loosely on Jose Saramago's novel The Double and shot largely in brooding yellow-and-off black chiaroscuro by War Witch DP Nicolas Balduc, it's the story of a Canadian history professor who leads a ho-hum existence of lectures and grading papers and fucking his blonde girlfriend missionary style who one day pops in a DVD of some movie he rented on a whim following a recommendation by a co-worker he was barely listening to only to find his doppleganger hiding out as a bell hop in one of the earliest scenes. Soon he tracks down all this bit player's movie appearences and is struck by their uncanny resemblance. When he begins to play amateur detective and hunt down his spitting image, we already know from the movie's odd, eerie cadences, heavy with dread sound design and an oddly disturbing opening dream sequence involving a beautiful woman and a tarantula that this isn't gonna end pretty. Nevertheless Velleneuve and Gyllenhaal, playing both the professor and the actor, keep us guessing as questions and complications and unforseen cruelties mount once the two men come face to face. This movie will be played on double bills with Dead Ringers at Toronto house parties forever, but for my money this picture by Canada's most exciting contemporary auteur is the more unsettling and deeply resonant picture.