Back to selection
Announcing the Filmmaker 2013 Holiday Sale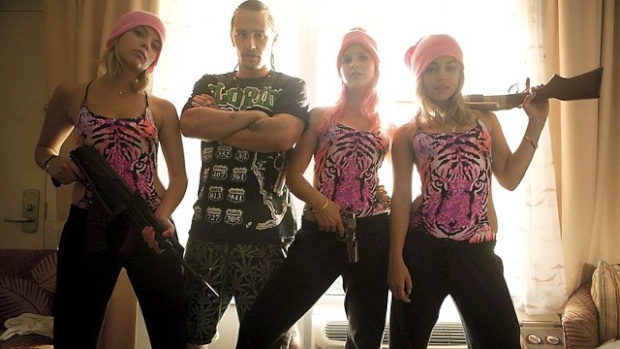 Spring Breakers
Filmmaker's popular once-a-year holiday sale is now live, with 40% discounts on subscriptions to our print, digital and iPad editions, as well as bonus gifts — some of our favorite books and DVDS of the year — given away to randomly selected new and returning subscribers. Our regular subscription, which includes the quarterly print and digital editions plus our iPad edition — is discounted from $18 to $10. If you'd just like to buy our flip-book style digital edition, which includes all back issues to 2007 and allows for PDF downloading, that's only $6 during the sale. And, if you'd just like to get the iPad edition, that's only $5.99 — down from $9.99 — at the App Store. Our sale ends December 25.
And what about the gifts? This year they include DVDs of Spring Breakers, The Spectacular Now, the Paradise Trilogy, Our Nixon, Nashville and many others. Books include the latest round from Focal Press as well as copies of Jessica Edwards' Tell Me Something — a "creative idea generator" for doc filmmakers featuring advice from 60 top names. We have signed copies by Barbara Kopple and Morgan Spurlock to give away. And we have signed posters from the cast and crews of Under the Skin and A Teacher. And, once more, we have a membership to Oscilloscope's Circle of Trust, which gets the lucky winner the next ten O-scope releases delivered to their door. Check out the entire array of gifts here.
Of course, you can continue to read Filmmaker free here on the web, or through your RSS reader. But, these days, 90% of the print magazine is print only, and this includes most of our longer, in-depth pieces, like my "How to Find a Producer" in the current issue. (By the way, if you subscribe, you get that current issue immediately in the form of our digital and iPad editions — plus the next four print issues.) By subscribing you get all of our content while you help us across our entire platform. Our subscriber base is what allows us to grow, focus on long-form, in-depth content and pay our writers. In the past month you may have noticed some subscriber bonuses we've offered in the newsletter — discounts to events and such. We hope to do more of this in the next year, as well as create online subscriber events around each issue. So, if you enjoy Filmmaker, please consider subscribing, renewing or gifting a subscription for yourself, a friend or loved one.
Special thanks to the distributors, filmmakers and publishers who contributed to our sale this year: A24, Strand, Zeitgeist, Focal Press, Magnolia, Oscilloscope, Cinedigm, Film First, and The Criterion Collection.