Back to selection
Sundance Institute Announces 12 Projects for Screenwriters Lab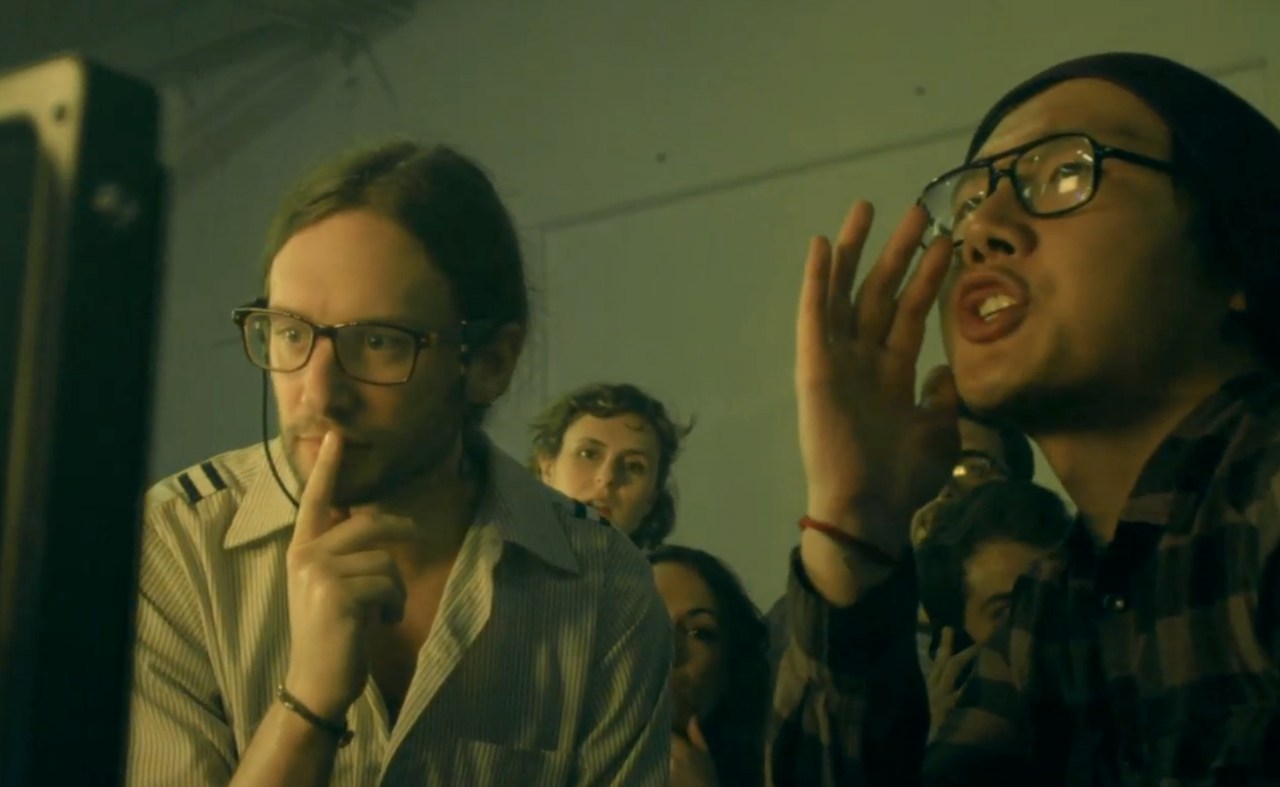 This afternoon the Sundance Institute unveiled the 12 projects that will be participating next month in its Screenwriters Lab. Among the filmmakers whose scripts were chosen are documentarian Jeremiah Zagar (In a Dream), whose first narrative script We the Animals
(based on a book by Justin Torres) was also in IFP's Emerging Storytellers, while another alum of that program (from 2011) selected here is Ryan Koo, with his project Manchild. Other notable participants this year imclude Jordana Spiro, the former TV actress whose short Skin played at Sundance 2012; uber inventive and wacky pop promo directors Daniel Kwan and Daniel Scheinert (above), who are better known as DANIELS; Oorlagh George, the daughter of veteran Irish director Terry George, who won an Academy Award for Best Live Action Short last year for producing The Shore, helmed by her father; and Marcella Said, the Chilean writer/director whose debut feature The Summer of Flying Fish premiered in the Directors' Fortnight at Cannes this year.
From the press release, here is the full list of participants:
The Buried Life (U.S.A.)
Joan Stein Schimke and Averie Storck (co-writers/co-directors)
An archaeologist risks her reputation for the dig of her career, but when her rock 'n' roll sister and overbearing father follow her to the excavation, she discovers her biggest challenge is facing what's above ground. Recipient of the Alfred P. Sloan Fellowship, given to a project that explores science and technology themes and characters.
Joan Stein Schimke was nominated for an Academy Award® for her short film One Day Crossing, which won several other awards including the Directors Guild of America (DGA) Best Woman Student Filmmaker, Best Director, National Board of Review and the Student Academy Award® Gold Medal. Other directing credits include Law and Order and the short film Solidarity, which screened at over a dozen festivals including the New York Film Festival. Stein Schimke is an MFA graduate of Columbia University's Film Program and is currently an Associate Professor at Adelphi University in New York.
Averie Storck is an MFA graduate of Columbia University's Film Program. Her award-winning short films include Live at Five , which won the New Line Cinema Development Award and screened at more than 30 international film festivals. Prior to filmmaking, Storck worked for People and Vogue magazines, was a writer for Who Wants to Be a Millionaire, and studied improv at the Upright Citizens Brigade Theatre in NYC. She currently teaches and directs at the Savannah College of Art and Design.
The Father's Shadow (Brazil)
Gabriela Amaral Almeida (writer/director)
A nine year-old girl with strange powers and an obsession with horror films attempts to bring her mother back from the dead as a means of connecting with her sick father.
Gabriela Amaral Almeida is a Brazilian screenwriter and director. She is the writer/director of six short films, including The Comforting Hand and A Springtime. Almeida holds an M.A. in literature and horror cinema and majored in screenwriting at EICTV, Cuba. She has written for the directors Walter Salles and Cao Hamburger.
Lynch (U.S.A.)
Nicole Riegel (writer)
Following her rescue as an American P.O.W. in the Iraq war, Jessica Lynch embarks on a quest to uncover the truth of her captivity; in her fight to reclaim her personal narrative, she discovers a deeper identity.
Nicole Riegel is originally from Ohio and is now based in Los Angeles. Prior to writing, she served as a soldier in the United States Army. Last year she adapted Robert Boswell's short story Smoke for James Franco's company, Rabbit Bandini. She is a 2013 graduate of the UCLA MFA Graduate Film Program.
Manchild (U.S.A.)
Ryan Koo (writer/director)
A talented basketball player gets nationally ranked and must choose between schools, coaches, and belief systems—all at the age of 13. Recipient of the A3 Foundation Fellowship, given to a filmmaker or project that furthers the Asian American voice in independent film.
Ryan Koo's latest short film Amateur can be viewed free online at manchildfilm.com. Amateur is the prequel to the forthcoming feature Manchild, which has been supported by the Tribeca Film Institute, IFP, and the Film Society of Lincoln Center. For his "urban western" web series The West Side, Koo and co-director Zack Lieberman won the Webby Award for Best Drama Series and were named two of Filmmaker Magazine's 25 New Faces of Film. Koo is also the founder of the website No Film School, which won Total Film's Best Creative Blog award.
Night Comes On (U.S.A.)
Jordana Spiro (co-writer/director) and Angelica Nwandu (co-writer)
Angel is released from juvenile hall on her 18th birthday with a single focus: shoot the man who killed her mother. As her rebellious past and empty future confront her at every turn, her plans derail and Angel becomes what she wanted and feared.
Jordana Spiro is a writer, director, and actress currently finishing her MFA in Film at Columbia University. Her short film Skin won the Women in Film Grant at the 2013 Sundance Film Festival, an Honorable Mention Award at SXSW, and was shown at Telluride, Palm Springs, and AFI among others. As an actress, she has starred in numerous films and television shows.
Originally from Nigeria, Angelica Nwandu has traveled around the world as an advocate for foster youth after her own 12 years experience living in foster care. A recent graduate of Loyola Marymount University, she developed a passion for writing with the hope of being a clear voice for children in the system. She currently tours nationwide to perform her Spoken Word Poetry.
Park (Greece)
Sofia Exarchou (writer/director)
Nine years have passed, and the Olympic Village in Athens, Greece is in decay. Among the abandoned athletic facilities and new-money tourist resorts nearby, 16-year-old Dimitris and his friends traverse Greece's "glorious" past with the decadence of today, creating a portrait of a society unprepared for the brutal fall.
Sofia Exarchou is the writer-director of the short films Mesecina and Distance. She pursued post-graduate studies in Toulouse and at the Stella Adler Studio in New York. Exarchou is based in Athens, where she received degrees in Electrical Engineering and Film Studies. Park, whichhas been developed with the support of the Centre Nationale de la Cinematographie (CNC, France) & the Eurimages Council of Europe, is her first feature film.
Patti Cake$ (U.S.A.)
Geremy Jasper (writer/director)
Patricia Baccio, aka Patti Cake$, is a big girl with a big mouth and big dreams of rap superstardom. Stuck in Lodi, New Jersey, Patti battles an army of haters as she strives to break the mold and take over the game.
Geremy Jasper is a music video and commercial director, composer, and co-founder of the progressive New York production studio LEGS. With his wife and creative partner Georgie Greville, he has directed VMA nominated videos for Florence + The Machine, Selena Gomez and others, and his direction for the "Target Kaleidoscopic Fashion Spectacular" won a Cannes Gold Lion, TED Prize and was inducted into the MOMA's permanent collection. A New Jersey native, he was a recording artist for Kemado/Hollywood records. Patti Cake$ is his first feature film.
Stranger with a Camera (U.S.A./Northern Ireland)
Oorlagh George (writer/director)
In this dramatic thriller, an American girl is stranded in a remote village in Northern Ireland after her father is arrested on a 20-year-old murder charge tied to the IRA. Compelled by her father's secrecy, she sets out to uncover the mysterious family history that he has kept hidden from her
Oorlagh George is an award-winning filmmaker and artist from Northern Ireland. In 2012, she won the Academy Award for Best Live Action Short for producing The Shore, which won over 40 awards in festivals and was released in cinemas worldwide. George worked as a creative executive and in production on films such as Beginners and Hotel Rwanda. Her new video installation, OFF SIDES, opens at The Golden Thread Gallery in February.
Swiss Army Man (U.S.A.)
Daniel Kwan and Daniel Scheinert (co-writers/co-directors)
In this absurdist comedy, a hopeless man stranded in the wilderness befriends a dead body and together they go on a journey to get home.
To some Daniel Kwan & Daniel Scheinert are better known as DANIELS, a directing duo who have made uniquely strange, occasionally award winning music videos over the past four years for bands like Foster the People, The Shins, and Battles. They've also dabbled in television work for Adult Swim, directing commercials, and a slew of internet friendly short films about sweating to death, skateboarding on dogs, and the dangers of having pockets on your clothes and stuff. They both currently live and work in Los Angeles. But to be honest, Daniel does most of the work.
Ten Thousand Happiness (U.S.A./China)
Johnny Ma (writer/director)
The sudden divorce of their 80-year-old grandfather causes three generations of a Chinese family to each re-evaluate their relationships in love, life and happiness in modern Beijing.
Johnny Ma was born in Shanghai China and immigrated to Toronto at age 10, where he learned his first English sentence "Can I play?" He is a DGA and National Board of Review student-award winning director and a recent graduate from the Columbia University MFA program. His most recent short film A Grand Canal screened at the 2013 Toronto International Film Festival. Other than filmmaking, Ma enjoys teaching cats how to play fetch like dogs.
We the Animals (U.S.A.)
Jeremiah Zagar (co-writer/director) and Dan Kitrosser (co-writer)
Based on the bestselling novel by Justin Torres, We the Animals is about the brutal love of a multi-racial working class family, seen through the eyes of the youngest son, as he discovers his heritage, his sexuality and his madness.
Jeremiah Zagar is the co-founder of Public Record, a production company in Brooklyn. His documentary, In A Dream, screened theatrically across the US and was broadcast on HBO. His newest film CAPTIVATED: The Trials of Pamela Smart, will premiere in competition at the Sundance Film Festival and air on HBO in 2014.
Dan Kitrosser is an award-winning writer and storyteller living in Manhattan. His plays include The Mumblings (published on IndieTheaterNow.com), Tar Baby, which will go on a national tour in 2014, and the upcoming Dead Special Crabs.
Weather Talk (Chile)
Marcella Said (writer/director)
Weather Talk tells the story of a 40-year-old married woman who realizes the extreme violence surrounding her once she befriends her horse riding teacher, a former army colonel who was involved in human rights violations in Chile.
Marcela Said was born in Santiago, Chile. She graduated from the Catholic University of Santiago with a degree in Aesthetics, and received her master's degree in Media & Language at La Sorbonne University. After four documentary films, including El Mocito, which screened at the Berlinale Forum in 2011, she directed her first fiction feature The Summer of Flying Fish, which premiered in Directors' Fortnight at the Cannes Film Festival in 2013.