Back to selection
The Sundance Queer Preview — 2014 Edition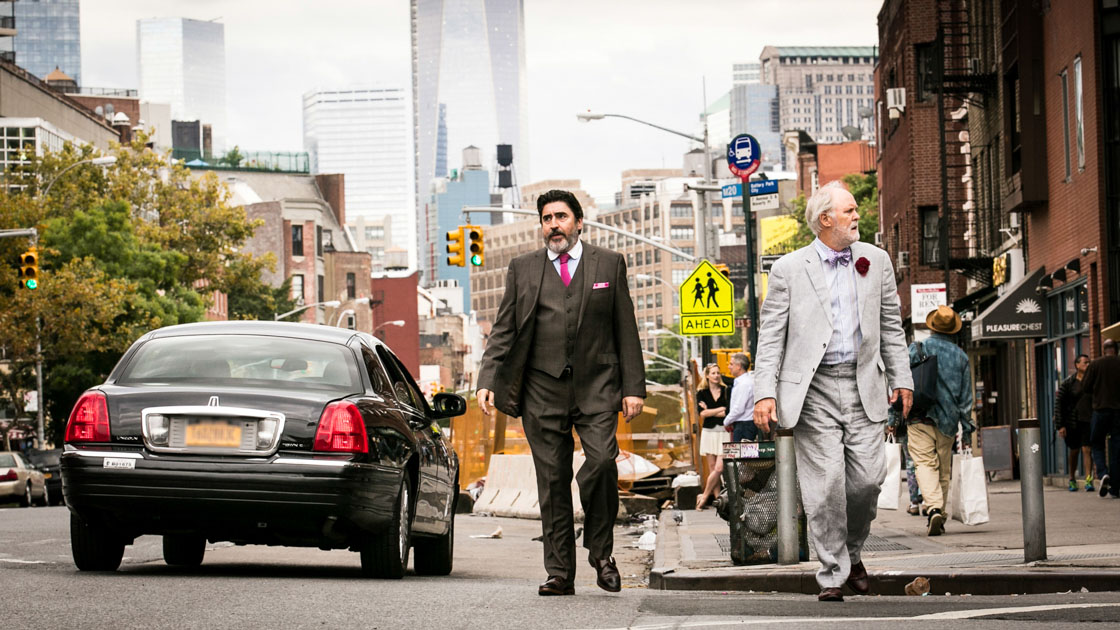 Love Is Strange
The most exciting film festival in America gets underway next week. The prestigious Sundance Film Festival will unspool more than 120 new features, shorts, documentaries and innovative media projects in Park City, Utah from January 16th to 26th — showcasing, as always, a hefty slate of LGBT films for the edification of the citizens of Utah and the visiting masses. With the Sundance stamp of approval chances are good that you'll be seeing many of these have some kind of release in 2014 (whether at your own local LGBT film fest, art house theater, digital platform or else on DVD). Here's a quick overview of some of the most-anticipated films on view at Sundance. And one little tip if you're actually attending the festival — do not miss the Outfest Queer Brunch (sponsored by HBO) on Sunday, January 19th at the Grubsteak Restaurant.
Love Is Strange
The prolific Ira Sachs (Keep The Lights On) returns to Sundance for the fourth time with what promises to be one of the biggest gay features of the year ahead. Love Is Strange is a timely NYC marriage equality drama of longtime partners Ben and George (John Lithgow and Alfred Molina) whose marriage results in George losing his job. Co-starring Marisa Tomei and Cheyenne Jackson.
Stranger By The Lake
Winner of the Un Certain Regard Best Director Award and the Queer Palm at Cannes, Alain Guiraudie's darkly provocative (and legendarily sexy) gay murder mystery co-stars Pierre Deladonchamps and Christophe Paou as two newly hooked-up lovers who become suspects in a lakeside murder at a popular gay cruising spot.
To Be Takei
His inspiring activism as a Japanese American internment camp survivor and his work for LGBT equality are just a few of the facets of George Takei. Featuring abundant archival footage from his decades in Hollywood (including his most famous role as Star Trek's Sulu), To Be Takei affectionately illuminates the life of this cult icon and his husband Brad.
Lilting
Ben Whishaw (Cloud Atlas, Bright Star) stars as a gay man trying to connect with his late partner's non-English speaking Chinese-Cambodian mother at the old-age home where she lives. Written and directed by British gay filmmaker Hong Khaou, Lilting co-stars prolific Chinese actress Pei-Pei Cheng.
52 Tuesdays
With her mother transitioning from female to male and now going by the name of James, sixteen-year-old Billie moves in with her father and arranges to visit James every Tuesday for the coming year. Over the course of this time Billie also begins to explore her own identity and sexuality with her two friends. Written and directed by Sophie Hyde (Shut Up, Little Man), 52 Tuesdays stars Del Herbert-Jane as James.
Appropriate Behavior
Iranian-American writer-director-actress Desiree Akhavan stars in her feature film debut Appropriate Behavior, about a young Persian bisexual woman navigating hipster Brooklyn.
The Foxy Merkins
With one of the quirkiest queer sensibilities ever, the fabulous Madeleine Olnek (whose feature Codependent Lesbian Space Alien Seeks Same charmed Sundance audiences in 2011) returns with her new lesbian prostitute buddy comedy, The Foxy Merkins. Needless to say, we can't wait to see it!
The Internet's Own Boy: The Story of Aaron Swartz
Best known as a leading figure in the world of internet activism (including pioneering involvement in the creation of RSS format, Creative Commons and Reddit), Aaron Swartz was also the author of a simple but provocative 2009 blog post "Why I Am Not Gay" (in which he reflected on his own sexuality "I hook up with people. I enjoy it. Sometimes they're men, sometimes they're women. I don't see why it needs to be any more complicated than that."). Brian Knappenberg's documentary profile looks at the life and achievements of the man whose life ended tragically in suicide, just one year ago (on January 11, 2013).
Jamie Marks is Dead
From out gay writer-director Carter Smith (whose gay short Bugcrush wowed audiences in 2006), this dark homoerotic drama tells the tale of the lonely young ghost of Jamie Marks. As Jamie revisits his former classmate Adam and Adam's girlfriend Gracie, the two boys develop an eerie connection.
The Skeleton Twins
Kristen Wiig stars as Maggie, and Bill Hader co-stars as her gay twin brother Milo in this tale of sibling reconnection in a small New York town written and directed by Craig Johnson.
Dear White People
This much anticipated satire from out gay writer-director Justin Simien tells the story of four black students at an Ivy League college.
Drunktown's Finest
Three Native American teens — including a promiscuous transsexual named Felixia (Carmen Moore) — struggle to find balance in their lives on an Indian reservation as they learn they might be the next generation of medicine people for their tribe. The debut feature from writer-director Sydney Freeland, Drunktown's Finest is executive produced by Robert Redford.
My Prairie Home
Transgender singer/songwriter Rae Spoon is reflects on gender identity, faith and the challenges of their religious upbringing in this unconventional portrait .
The Case Against 8
This highly-anticipated documentary goes behind-the-scenes following the legal team that took California's Prop 8 case all the way to the Supreme Court.
Lambert & Stamp
A late addition to the festival, this feature documentary profiles the legendary duo of Kit Lambert (who was gay) and Chris Stamp, the high-flying music management team who brought The Who to America and caroused like rock stars themselves.
Lastly, the festival's groundbreaking New Frontier section claims two new works of LGBT interest this year. From veteran gay filmmaker Thomas Allen Harris comes the poetic documentary exploring African American photographers Through a Lens Darkly; and from artist Jonathan Harris, the interactive documentary I Love Your Work depicts the private lives of nine women who make lesbian porn via a series of more than two thousand 10-second video clips. Also, in the shorts programs keep an eye out for four gay-interest shorts: MeTube: August Sings Carmen, Rat Pack Rat, Burger and Best.
For more information about the festival including info about tickets and how to attend, go to Sundance.org.
Jenni Olson (@JenniOlsonSF) is VP of e-commerce at WolfeVideo.com and has been writing about LGBT film since 1986. She is also a filmmaker and proud to have had her work shown at Sundance several times: her short 575 Castro St. in 2009; the experimental feature, The Joy of Life in 2005; and her movie preview extravaganza, Trailer Camp in 1996. With a bit of luck she'll be there next year with her current film project The Royal Road. This piece is cross-posted on FilmmakerMagazine.com, Queerty.com and AfterEllen.com — whichever of these you're NOT currently reading warrants your attention as well.