Back to selection
Damien Chazelle's Whiplash Wins Two Top Prizes at the 30th Sundance Film Festival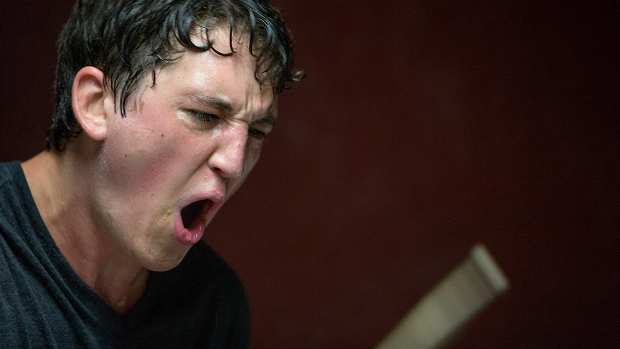 Whiplash
Damien Chazelle's Whiplash soared to victory in the major awards categories in the U.S. Dramatic Competition at the 30th Sundance Film Festival Saturday night. The picture, which was picked up for distribution by Sony Pictures Classics during the festival, took home both the U.S. Dramatic Competition Grand Jury Prize and Audience Award. Starring Miles Teller and J.K. Simmons, Chazelle's second feature tells the story of an ambitious young jazz drummer and his unrelenting instructor in a no-holds-barred conservatory environment. The 28-year-old Chazelle first gained attention in 2009 when his feature directorial debut Guy and Madeleine on a Park Bench surfaced at that year's Tribeca Film Festival and was nominated for the Gotham Award for the Best Film Not Playing at a Theater Near You. His short film Whiplash, a precursor to tonight's winner, won at last year's Sundance Film Festival.
Meanwhile in the World Cinema competitions — in which nearly all the narrative winners seemed to have disappeared to their respective homelands to accept their awards via recorded video message with their young children in tow — Alejandro Fernández Almendras' To Kill a Man took home the Grand Jury Prize in World Dramatic while Zeresenay Berhane Mehari's Difret received the World Cinema Dramatic Audience Award.
In the U.S. Documentary category, 2013 25 New Face Andrew Droz Palermo and his directing partner Tracy Droz Tragos took home the top prize in U.S. Documentary for Rich Hill. Michael Rossato-Bennett won the Audience Award in U.S. Documentary for Alive Inside. Among the World Cinema Documentaries, Nadiv Schirman's The Green Prince won the World Cinema Audience Award in Documentary, and the Grand Jury Prize in that category went to Talal Derki for Return to Homs.
A full list of winners is below:
Grand Jury Prize, Dramatic: Whiplash, directed by Damien Chazelle
Grand Jury Prize, Documentary: Rich Hill, directed by Tracy Droz Tragos and Andrew Droz Palermo
World Cinema Jury Prize, Dramatic: To Kill a Man, directed by Alejandro Fernández Almendras
World Cinema Jury Prize, Documentary: Return to Homs, directed by Talal Derki
Dramatic Audience Award: Whiplash, directed by Damien Chazelle
Documentary Audience Award: Alive Inside, directed by Michael Rossato-Bennett
World Cinema Dramatic Audience Award: Difret, directed by Zeresenay Berhane Mehari
World Cinema Documentary Audience Award: The Green Prince, directed by Nadav Schirman
The Best of NEXT Audience Award: Imperial Dreams, directed by Malik Vitthal
Directing Award, Dramatic: Fishing Without Nets, directed by Cutter Hodierne
Directing Award, Documentary: The Case Against 8, directed by Ben Cotner and Ryan White
World Cinema Directing Award, Dramatic: 52 Tuesdays, directed by Sophie Hyde
World Cinema Directing Award, Documentary: 20, 000 Days on Earth, directed by Iain Forsyth
Waldo Scott Screenwriting Award: The Skeletons Twins, written by Craig Johnson and Mark Heyman
World Cinema Screenwriting Award: Blind, written by Eskil Vogt
Documentary Editing Award: Watchers in the Sky, edited by Jenny Golden and Karen Sim
World Cinema Documentary Editing Award: 20, 000 Days on Earth, edited by Jonathan Amos
Excellence in Cinematography Award, Dramatic: Low Down, shot by Christopher Blauvelt
Excellence in Cinematography Award, Documentary: E-Team, shot by Rachel Beth Anderson and Ross Kauffman
World Cinema Cinematography Award, Dramatic: Lilting, shot by Ula Pontiklos
World Cinema Cinematography Award, Documentary: Happiness, shot by Thomas Balmes and Nina Bernfeld
US Dramatic Special Jury Prize for Breakthrough Talent: Dear White People writer-director Justin Simien
US Dramatic Special Jury Award for Musical Score: Kumiko, the Treasure Hunter
Special Jury Prize, Documentary: The Overnighters, directed by Jesse Moss
US Documentary Special Jury Award for Use of Animation: Watchers of the Sky
World Cinema Special Jury Prize, Documentary: We Come As Friends, directed by Hubert Sauper
World Cinema Special Jury Prize, Dramatic: God Help the Girl, directed by Stuart Murdoch
Alfred P. Sloan Prize: I Origins, directed by Mike Cahill
The Short Film Audience Award: Chapel Perilous, directed by Matthew Lessner