Back to selection
Rendez-Vous With French Cinema 2014: Age Of Panic and Others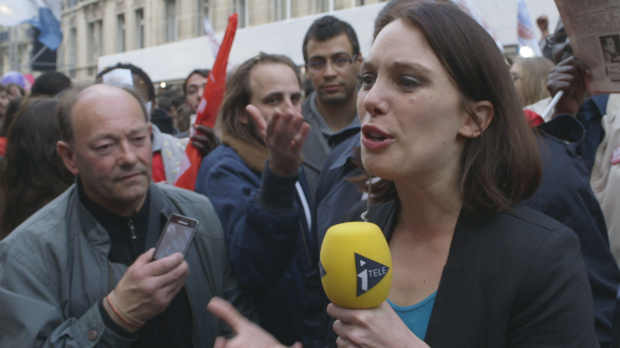 Justine Triet's Age Of Panic
Let's start with the most urgent recommendation and work down: out of the eight films I sampled from this year's installment of Lincoln Center's self-explanatorily-titled annual series "Rendez-vous with French Cinema," Justine Triet's currently undistributed Age Of Panic is the big must-see. That (English only) title's no joke: Triet's first feature builds on her documentary background, embedding a palpitation-inducing family drama within the real street gatherings and celebrations on the day of François Hollande's election to presidential office. TV reporter Laetitia (Laetitia Dosch) has to cover the man-on-the-street reactions on Rue de Solférino; babysitter (Marc-Antoine Vaugeois) is forced to join her when violent ex-husband Vincent (Vincent Macaigne) shows up at her apartment, demanding to see his kids while their mother isn't there.
Triet starts by cutting between interior apartment child-care chaos and exterior political clashes (cries of "socialist scum" vs. a lefty telling a rightwinger that he should be deported for being a xenophobe). Merging the two strands in chaotic on-the-ground and overhead shots is a potentially disastrous, successfully executed Medium Cool-esque second act gambit. Walking home after her exhausting day, simultaneously eluding Vincent and watching late-night celebrations turn into minor clashes with the police, Laetitia's told by an acquaintance that "your imagination should serve as a vehicle to steer you away from violent spaces." No such possibility indoors or outside, though; in the remarkable final act, Vincent and an almost-lawyer friend show up, demanding late-night visitation rights.
The constant verbal battles include Vincent — previously the violent, disturbing and altogether unnerving presence Laetitia describes him as — sensibly pointing out that it's a shame that his ex's TV reportage is possibly the deciding factor in getting a weak-minded electorate to decide how to cast their vote. Triet yokes good points to a reprehensible person, and throughout her characters are unstable amalgams of good intentions and empathy-killing weaknesses, co-existing with their immediate political context without meaningfully interacting with it. It's hard to find a stable emotional POV to view this drama from, and that's a good thing.
A theater director, screenwriter and something of a multi-hyphenate rising force, Macaigne takes the lead in Sébastien Betbeder's 2 Autumns 3 Winters, a slight if effectively melancholy early thirtysomething coming-of-resigned-age drama. Arman (Macaigne) meets Amelie (Maud Wyler) while jogging; his pal Benjamin (Bastien Bouillion) has a slightly grimmer meet-cute, falling for his physical therapist Katia (Audrey Bastien) after a stroke. Their relationship ups and downs are about it for plot, as recapped in many monologues told against fuzzy, apposite green-screen backgrounds and jagged flashbacks.
Light on insight but commendably detailed about its milieu, 2 Autumns gets points for an inclusive cinephilia equally enthused about Judd Apatow's Funny People and Eugène Green's The Living World. There's one very funny stab at apartment seduction ("Do you want to sit on the couch? It might be softer"), proof that life in some respects is virtually the same for all first world thirtysomethings with laptops (Maud kills time by downloading Mad Men and The Walking Dead so that she'll "stop thinking"), and the kind of wearily pragmatic romantic resolution that's lazily deemed "so French" but could merely be labeled accurate: "If we needed each other now, it was out of habit, out of weakness, out of fear of being alone." That's one sad but valid basis for a relationship, and characters who in their early thirties find themselves in a bar delivering "a quick and inglorious update on the last ten years" to a former university friend have no motivation or reason to expect better. These details make the lightly likable film sound more emotionally substantive than it is; gutpunch poignance eludes it.
Veteran Mathieu Amalric also gets two showcases, the more ambitious of which is the Larrieu brothers' Love Is The Perfect Crime. Writing professor Marc (Amalric) sleeps with so many of his students he can't remember who he's trying to wake up at film's start ("Nadja? Lydia? Emma"). An inveterate smoker who resorts to e-cigarettes within university confines, his addiction's so repeatedly, glaringly stressed in scene after scene you wonder if there's some kind of punchline coming. And there is, but only in service of a finale that's as clever as it is conventional, an ending presumably taken from the Philippe Djian novel being adapted and whose rationality presumably helped bankroll the plentiful weirdness preceding it. The noir trappings are executed thoroughly (we know Marc's sleepwalking and memory gaps can only be bad news), but they also enable weird, plentiful, invigorating disruptions small (a mailbox labeled "Godard/Straub") and large (a digression on 3D televisions, scorn for the "Anglo-Saxon narrative register" of conventional screenwriting).
Still, I preferred Sophie Fillières' more conventional, far less unwieldy If You Don't, I Will, a dissolving relationship dramedy reteaming Amalric with regular romantic sparring partner Emmanuelle Devos. Their default combustible pairing (repeatedly for Arnaud Desplechin in Kings And Queen et al.) is enough to power the tale of Pierre and Pomme in what might be their last days. "What have we become?" asks Pomme (Devos) after their first fight in the film. "Your parents," Pierre (Amalric) disgustedly responds, setting the sour tone of their partnership seven years in. They can't even go tramping through the woods without a big fight ("You see why I don't want to talk to people," Amalric fumes after an encounter with disgusting fellow hikers), and the attempt ends with Pomme demanding to be left in the forest. Pierre frets ineffectually at home while Pomme gamely survives in the quasi-wild, rescuing baby chamois' when they fall into a pit and learning to sleep on piles of wood. Their long-perfected sparring is a pleasure to watch, and separately Devos' inimitable looks of wide-eyed panic remain delightful.
Further down on the success scale there's Katell Quillévéré's Suzanne, which is less pointlessly unpleasant than her girl-coming-of-age debut Love Like Poison and immaculately structured. First seen on stage in a school musical revue number, adolescent Suzanne's face falls from a public smile into a more worried look. The same facial expression transition's made the last time we see grown Suzanne (Sara Forestier) at film's end; she's got a lifelong instinct to seek out trouble, and even when happiness finds her she drives herself into another bad situation. The movie offers up the hint of a pretty conventional psychological explanation for why this is (her mother died young, truck driver dad wasn't around often enough), which isn't very enlightening. Quillévéré swiftly covers some 20 years in Suzanne's life, her ellipses built for speed rather than mystery. Some people always find trouble, and that doesn't mean we shouldn't love them or stop being their friends, but Suzanne remains enigmatically sullen, her endless downward spiral seen without being felt. Recreating the '90s solely with flannel shirts and Hole cues is a neat trick, but Quillévéré never seems to figure out the point of everything she's filming.
I'm normally a fan of Jacques Doillon's twitchy relationship power struggles, but I'm not big on confrontation for its own sake and couldn't get on the wavelength of S&M-as-flirtation drama Love Battles, which pits Forestier against James Thiérrée. After some typical endearments (she's "a public menace," he's "pathetically judgmental"), they embark on a series of consensual, half-assed wrestling matches, although she cheats sometimes and just kicks him in the testicles. (At one point, Thiérrée just rolls her up in a rug.) The performances are the most physically committed you'll see all year. All this exhausting struggle because Forestier wants "to understand my sadness" and reconcile herself to being super-sexually driven; it ends in mud-wrestling and head slamming. To what extent this is meant to be funny is unclear, though perhaps the bookending use of Debussy's sprightly "Golliwog's Cake Walk" is a tip I should've felt freer to laugh.