Back to selection
SXSW Dispatch: She's Lost Control, Wetlands, Frank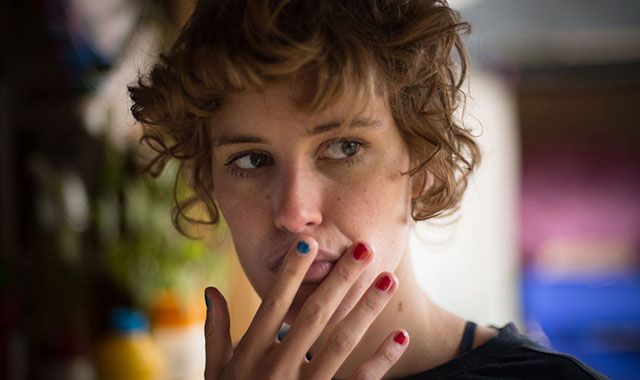 Wetlands
"I thought I was really onto something," smiled director Anja Marquardt during the Q&A for She's Lost Control. "I'd never even heard of The Sessions." Peculiar profession aside, Marquardt can rest easy: the two films have little to nothing in common. Much more than a narrative quirk, Marquardt uses the untraditional avenue of sex surrogacy to explore the contradiction at the crux of her character study. Our subject here is not John Hawkes in an iron lung, but Ronah, a woman, a graduate student and a sex surrogate on the verge, played with disquieting charisma by high-waisted pant aficionado Brooke Bloom.
More alone than the very patients who pay a pretty penny to lie beside her and imbibe a dose of affected emotional support, Ronah maintains a clinically sedate lifestyle. She studies, she runs, she cooks, she cleans her dark Manhattan apartment, she gives herself a hormone shot, she goes to bed. Unlike the rest of the tenants in her building, Ronah enjoys a live-in washer-dryer set to rid herself of the lingering desperation that clings to her body at the end of a day's work. Her fragile, air-tight routine is nonetheless upended by the arrival of a brutish client named Johnny (Marc Menchaca), who operates in stark contrast to the weepy men she regularly sees. Where they come from a place of crippling insecurity, Johnny seems to be born out of anger.
Though it is Ronah's job to improve upon the men's intimacy issues, she is clearly in need of a little work herself. Virtually void of human interactions outside the workplace, Ronah apathetically ignores her brother's Skype pleas to track down their missing mother — a put-upon sub-plot in need of casting aside or flushing out.
Maybe it's fixing, or the challenge, but Ronah sees something in Johnny that tests the boundaries of her professionalism, as she allows herself to form those dreaded feelings she so regularly wards off. She's Lost Control opens with Ronah bearing into the camera, informing Johnny that "you pay me for my time, but you can't control how I feel." Until, he can.
Boiled down to its bare bones, Wetlands' conceit is amusingly transparent: take a relentlessly charming and attractive spectacle and have her test your gag reflex till you cry "mercy." But also, be generous about it; barter with your audience. Watching Helen (Carla Juri) pull a used, homemade tampon out of her best friend's vagina with her father's grilling tongs got you a little queasy? Then try this sequence of the sexual deviant performing a water-logged "vegetable test" — that's German for masturbating with the entire contents of Mr. McGregor's garden.
But David Wnendt's fourth feature, based on the novel by Charlotte Roche, is more than sum of its shock value. Wetlands follows a complex and fractured narrative structure that kicks into overdrive once Helen is hospitalized for (yup) an anal fissure as the result of some aggressive shaving. A fundamentally unhappy young woman, Helen is haunted by her parents' divorce, a dangerously harsh upbringing at the hands of her mother and her father's selfish indifference. An early flashback shows a young Helen, leaping from a ledge towards her mother, who steps aside before her daughter can reach her arms. "Don't trust anyone," she tells Helen. "Not even your own parents." In her pre- and post-operative delirium, Helen begs her love interest, a nurse named Robin (Christoph Letkowski), to call her parents to her bedside so they may reunite. "Like all children of divorce," she says, "I want my parents to get back together."
Thankfully, Wnendt does not finger this familial strife as the source of Helen's obsession with all things sex and bodily fluids. She's not "acting out" – she's curious, and she has the conviction to act upon it. All the boys go to the whorehouse for their 18th birthday, she narrates, so why not me? Interesting still, for all her action in the region, Helen claims to have sterilized herself. "No more miserable first-borns," she says, referring to the lineage begat by her grandmother. This is a woman who has sex for that reason alone.
A large part of what makes Wetlands such a delight is that its style and form perfectly compliment its protagonist. This is the only film Helen herself would be interested in watching, and, moreover, making. The way the camera zips in tune with her razor, up and down her body, would enthrall Helen in its detail. But you wouldn't want to get her started on the credit sequence that takes place inside a rogue pubic hair, perched on a toilet seat, in a filthy Berlin public restroom.
"I've found my abusive childhood," blogs Jon Burroughs (Domhnall Gleeson) from the Irish lakeside cabin where he is finally recording tracks after a year-long gestation period. "That which pushes me." He is speaking of the working conditions within the motliest crew that ever crewed: a proto-electronic band so far underground they may as well not exist, fronted by an inscrutable man who views the world from inside a paper mache head. Part visual gag and sardonic nod to the vanity of pop-culture figures like Daft Punk and deadmau5, the cumbersome head worn by the titular Frank elicits far fewer reactions amongst the bandmates than the charming mug of the eager Mr. Burroughs. Perhaps because the latter is wholly unwelcome.
After the band's keyboardist unsuccessfully tries to drown himself, Frank enlists Jon, much to the chagrin of the fastidious Clara (Maggie Gyllenhaal) and her tight-lipped minions. The clan retreats to a log cabin beyond their means to record a new album, a process so lengthy it causes Jon to shell out his entire nest egg. For reasons beyond his explanation, Jon still sees enormous potential in the mess of a band and a particular genius in Frank.
The brilliance of Lenny Abrahamson's film, which was inspired by an actual Manchester musician who performed inside a head other than his own, lies in its ability to harmonize tones. Ostensibly a black comedy, there is an incredible melancholy in the characters' disconnect from one another and reality at large. Treated as an alternative right, Frank's inability to remove the head points towards a damaging sense of discomfort, even when he is cracking jokes about why we should never "cover anything up." The talentless but well-meaning Jon enthusiastically shares the inner workings of the band on his fledging Twitter and blog accounts, thinking he is cultivating an audience of fans, not hecklers.
During the Q&A, Abrahamson explained that the film is about projections, in the same way that a movie star (i.e. the actor who plays Frank) must constantly juggle their public persona and their actual personality. Most unsettling is Frank's non-existent reason for this projection. As his mother tells the ever-inquisitive Jon when he arrives at their Kansas abode, looking for answers, "Nothing happened to Frank." Just as Ronah was born resolve her internal issues through external clients and Helen was born to seek not emotional, but tangible satisfaction, Frank was born to be someone other than himself.