Back to selection
Why You Should Apply to the IFP Narrative Lab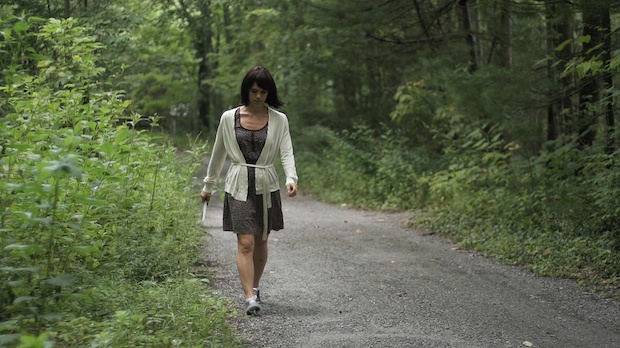 Something, Anything
The deadline to apply for the 2014 IFP Narrative Lab, April 4, is coming soon, and in advance of that deadline, I thought I'd write some words about my debut feature Something, Anything being selected for last year's Lab, what happens in the first week of the Lab, and things to consider if you plan on applying.
And let's be clear: If you're working on your first feature you should apply.
* * *
In Spring 2012, producer Ashley Maynor and I set our sights on applying to the IFP Lab when we were halfway through shooting Something, Anything, which was filmed over the course of a year. Filmmaker friends like David Lowery (St. Nick) and Tom Quinn (The New Year Parade) had gone through the Lab before, and they had benefitted from the experience. Applying was a given, as far as we were concerned.
Even though we had not shot half the film, I edited what we had shot into a rough cut for the application. For a movie that had been cut in two weeks and was missing an entire first act (literally), I was pleased with what we submitted. Ashley handled the written part of the application and we crossed our fingers.
In May 2012 we received a very personalized email from Amy Dotson of IFP notifying us that Something, Anything hadn't been selected. Disappointed, we moved on.
We shot the rest of the film sporadically through the year then began editing the new material and integrating it into what had been cut for the Lab submission.
By February 2013 we were near locking picture when Dan Schoenbrun at IFP asked where we were with the film and, if it wasn't complete, if we'd thought about re-applying to the Lab. We hadn't planned on doing so, thinking we were probably too far along with our cut. After exchanging a few emails with IFP we realized the Lab could still offer us a lot. We applied and, happily, the film was accepted this time.
By doing this we knew we were opening ourselves up to feedback on the cut. That's not something that everyone at near-picture-lock is willing to do. There was the risk that we could hear feedback that would make us re-evaluate all the work we'd done, something few filmmakers want to hear at that point. And, whatever that risk, we definitely knew we'd be extending our timeline for completing the film.
For us, though, the risk and delay were worth it. We wanted to make the strongest film possible, so we were excited to attend the Lab.
At the Labs
On the first day of the Lab in New York, we met all the other filmmakers and saw selections from the films. In the 2013 class, over half the filmmakers came from outside N.Y. and California. It was especially exciting for Ashley and me to meet filmmakers who were, like us, working "regionally" since we feel somewhat isolated at times making films in Tennessee.
One thing that was immediately apparent was what a diverse slate IFP had picked. Along with Something, Anything, there were projects like Garrett Bradley's Below Dreams, a neo-realist cinepoem about New Orleans, and Gary Huggins' KC-based Kick Me, an nightmarish action-comedy, to name just two. Our ten films, when released, would all occupy very different spaces in the marketplace, figuratively and literally, so there was no reason to feel competitive. The variety made it really easy to become invested each others' success.
The stages of the selected projects ranged from a film that was about 1/2 shot to a film that was picture locked and had a marketing plan assembled. Most of us were done with production and somewhere in post.
The rest of the first week of the Lab roughly breaks down as follows:
Day Two was spent on the editing workshops, along with two talks on post-production (budgeting for post and finishing, respectively).
Day Three was spent discussing sound design, working with composers, music rights, and deliverables.
Days Four and Five were began the discussion of audience and distribution strategies that would continue on through the September and December Labs.
I confess that I was a little nervous on the second day. Esteemed editors (in our case, Craig McKay) were assigned to visit and critique our films. It was just like an old-school art crit — you sit at the front of the room and hear what everyone (the editor, but also the Lab advisors) has to say. I hadn't received an out-and-out crit like this since film school days, and I was anxious as it approached. The feedback we received, though, was very positive, and we received some laser-sharp advice in ways we might trim the film and amplify some of its dramatic moments, two things I'd been looking to do.
(For more on Craig McKay's wisdom, see this write-up from last summer.)
It's worth noting here that every Lab project is also assigned two mentors with whom you connect outside of the Lab. Ours were James Ponsoldt and Dan Carbone (both great filmmakers and generous souls), and each gave us feedback that helped us strengthen the finished film.
To me the greatest benefit of the Lab was how it encouraged me to try out new ideas. For example, I have often resisted working with a lot of music, especially underscore, but after Peter Nashel's talk on working with a composer, I began considering what that might mean for Something, Anything. This ultimately led to me working with composer Eric V. Hachikian to score a few key moments in the film, something I now can't imagine the film without. So that's just one way the Lab got me out of my comfort zone, and where the experience helped me develop as a filmmaker.
The Labs held in September (on Marketing) and December (on Distribution) were beneficial, and the Film Week meetings with programmers were essential. But hopefully this gives you enough insight into the Labs to know whether they're right for you.
Some Thoughts on Applying
Below are some thoughts on making a strong application for the Lab with the caveat that this is my opinion and no one else's (e.g., IFP staff or the other filmmakers who attended).
I think being somewhere between a late rough cut and before picture lock is the sweet spot in terms of maximizing the benefit of the Labs. And if you're at (or think you're at) picture lock, I would only encourage you to apply if you're truly open to hearing feedback. Assuming you are, definitely state this in your application. I can't emphasize that enough.
The most important aspect of the application is the film submission itself. The projects are selected, first, because Lab staff and advisors have responded to your story and the way it is told. So, hopefully you're making a great film already.
Also, as mentioned above, IFP really tries to pick a diverse slate of films, and here "diverse" is meant in many ways — diversity of story, and also the diversity (race/ethnicity, gender, sexual orientation, geography, etc.) of the filmmakers. The bottom line is, they don't want ten projects by white males, ten projects made in Brooklyn, or ten romantic comedies. Nor should they.
Who you are, where you live, what your story is — these things are out of your hands at this point (or were never in your hands to begin with). Just do everything you can to make the strongest and most original film possible. You should always and already be doing that, though.
As for the written part of your application, IFP set these Labs up to try to help projects, so be sure to do two things:
First, talk passionately about why this film matters to you. For us, that was easy.
Second, be nakedly honest when expressing the problems you're facing, and the questions and the concerns you have about your film.
I can't emphasize this enough because it goes against so much advice filmmakers hear. We are always told to speak confidently about our work, but in this case expressing fears and doubts is a strength. The Labs exist to help you work through those issues in a confidential and artistically safe space, so the Lab advisors need to know how they can support you. Even if you're not selected for the Lab, this honest self-assessment of your film will benefit you.
In the end, the feedback we received at the Lab led me to create a film that's more focused, features new compositions, new credits, and some other changes (which I probably shouldn't reveal).
The film feels closer to my vision than it did before it went through the Lab. What filmmaker, particularly one making her or his debut feature, wouldn't want that experience?
The IFP Narrative Lab deadline is April 4. For more information, visit IFP. IFP is the publisher of Filmmaker.