Back to selection
10 Lessons for Filmmakers from the IFP Narrative Labs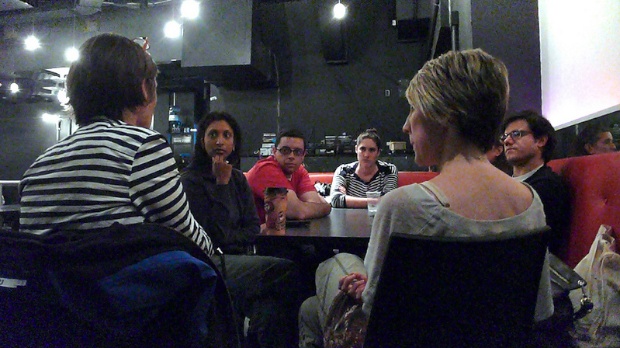 A breakout session at the IFP Narrative Lab.
Still the only lab focusing entirely on what happens after rough cut —- from locking picture to devising a distribution strategy — the IFP Narrative Lab concluded its ninth edition last month. When I created the Lab with the IFP almost a decade ago, the idea was simple. A successful career in film is partly based around making mistakes — and then not making those same mistakes again. But first-time filmmakers don't have prior experience to draw upon, and in today's hyper-competitive, content-swamped environment, failure is a luxury many of them can't afford —— especially when that failure is made in public, at a festival premiere.
Think of the IFP Narrative Lab as a crash course in best practices — the best process by which to lock picture, to work with sound designers and composers, to make your DCP. And to submit to festivals, work with marketing teams, and develop a social media strategy. And, finally, I hope, to birth a long-term vision of yourself as a creative artist, so that you are able to grow and sustain yourself — creatively and financially — while making work you care about.
Over last month's five days, a number of advisors came in to spin their wisdom to ten filmmaking teams. Jon Reiss, Susan Stover and I were mentors, and the Lab was run by the IFP's Amy Dotson, Rose Vincelli and Dan Schoenbrun, who have expanded and deepened the curriculum in the years since the Lab's inception. Below are ten lessons for filmmakers from last week's IFP Narrative Lab.
Know the calendar. Filmmakers don't need to know all the ins and outs of the business, but they should know enough to know the calendar. That was the message of sales agent/producers rep Josh Braun of Submarine. In his presentation he walked filmmakers through the calendar of film events and festivals that distributors and buyers regularly attend. The ability to close deals depends on knowing when business types are back at their desks. And the ability to get business types to look at your film is knowing when they have the time to do that. In other words, don't send your film to a sales rep in the lead-up to Cannes or Sundance — unless your film happens to be premiering in one of those festivals.
Each film has its own path. In addition to presentations and Q&A's with guest speakers, the Lab has breakout sessions, where the filmmakers split into small groups and discuss their projects specifically with the group leaders. The four films I focused on were all incredibly different, ranging from a doc-fiction hybrid using real people as actors to an anarchic, B-movie styled Latino martial arts comedy. And what I said after the audience-building sessions was that each of these films would have its own path. Some should finesse their cuts as best as they can and then go straight to the festivals. Others should start seeding their press right now, placing preview features in websites and publications read by their target audience so as to solidify their cred early on. Others should explore screening and audience possibilities within the regions of their makings. In other words, one size does not fit all.
Say, "That's what happened." That's from filmmaker Ira Sachs, who is one of the most hands-on directors around when it comes to the production and distribution of his films. For Keep the Lights On, he created a website chock full of content appealing to all the various niche audiences who might be attracted to his film. But, he told the IFP Lab filmmakers, there comes a time on every project, after the film has made its way through the festival circuit, gotten its reviews and opened in theaters, that he says to himself, "That's what happened." In other words, what's done is done and move on.
"It's not networking, it's community building." Thats another one from Sachs. He told the filmmakers that from the very beginning of his career he's made a point to develop friendships with fellow filmmakers, producers, agents, managers, actors and financiers. And the community he immersed himself in is the community that has sustained him over the years. The cynical way to look at this type of work is "networking," he says. But it's really community-building — a long-term endeavor that brings both tangible and intangible benefits.
Don't cut for comedy. This comes from filmmaker Afia Nathaniel, at the Lab with her film Dukhtar:
One of the most fun sessions at the labs were the editing feedback sessions. Every film is different yet in the re-edit it comes down to two important things you initially began with at the writing stage: story and characters. Craig McKay shared some great insights. While commenting about the approach to cutting a comedy he said, "Don't treat a comedy like a comedy. The moment you do, you're dead." It was a short sound byte but one loaded with years of experience – the genre should serve your edit and not let the story or characters become subservient to it. So don't forget that in your re-edit.
Figure out who makes the deal. Here's another one from Braun: before you head to your film festival premiere, decide among your team who will make financial decisions and how they will be made. Often this is decided at the financing stage, but sometimes it's not. And even when it is nailed down contractually, conflicts can emerge between directors, producers and financiers when, for example, the director realizes that his or her financiers are set to take a deal from a distributor offering a more minimal release but a higher advance. That these conflicts exist and arise is something many teams don't even begin to understand until late in the game. After all, don't you just take the highest offer? Well, someones no. Braun recommended that filmmakers and their team discuss these issues early on and game out various scenarios in advance. And to be clear with their reps about who among their team has the authority to agree to a deal.
Know your sub-genre. Ask most filmmakers and they'll tell you their film is a drama, comedy, horror film, thriller, dramedy, etc. But there are sub-genres, and being able to identify the specific type of story your film is can help in both its final edit and its marketing. After viewing one lab film, editor McKay succinctly said, "It's a 'first step movie.'" Meaning, the story dramatizes a character's "first step" from a situation that is ensnaring her into a new mode of living. Once a film is identified like that, useful reference points more easily appear.
Identify your transmedia form. A highlight for me at the Labs was listening to Murmur Company's Mike Knowlton's short presentation on getting started in transmedia. With more and more films having interactive and transmedia components — whether those are primarily marketing-focused or, hopefully, creative extensions of their film's story worlds — many filmmakers are beginning to plan for more than just their feature films. But just as films have forms, so too do transmedia works. A transmedia extension of a feature film requires a reimagining of the expression of its content, and that reimagining can employ different models. At the Lab, Knowlton identified five predominant models for interactive, online and transmedia production today.
1. Crowdsourced. Examples: Life in a Day, Psych Slumber Party.

2. Real-time Conversations. YouTube Stars.

3. "Design With." Johnny Cash Project, Star Wars Uncut.

4. Non-linear. Choose Your Own Adventure, Alma.

5. Personalized. Take this Lollipop, Wilderness Downtown.
(If you're interested in this subject but aren't making the connections above, Google the pieces cited, check them out, and then figure out how they fit into their respective category models.)
Live during production. That's another from Knowlton, who described a model for transmedia production that borrows a page from the iterative design of software. "It's a radically different model," he said. "It's about releasing stuff that's kind of imperfect, but you want it to be imperfect so you can iterate and make it better. It's about being live when you're in beta."
"Consider how you can create scarcity around your work." Finally, here's one from Jon Reiss, who discussed how, in an age of content abundance and instant access, filmmakers can differentiate and add value to their work by limited its availability. Yes, I know, that's the opposite problem of most independents who just want someone, anyone to watch their work. But, echoing a topic Lance Weiler has written about here, by making scarcity part of your release plan, you can paradoxically get more people to watch your work. "For instance," said Reiss, "make events one of a kind experiences that have to be experienced live."