Back to selection
NAB 2014: The Year of Unusual Cameras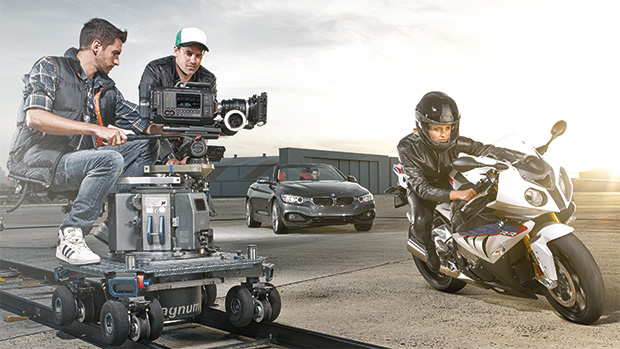 It was clear that this would be the year of 4K, but perhaps more surprising is who plans to ship 4K cameras this year.
Sony, who actually bought out two new 4K cameras last year – the F5 and F55 – clearly decided they didn't need to roll out new cameras this year. Instead, they announced ProRes and DNXHD recording options, and a new ENG-style base for these cameras. They also announced that the F5 will be upgradeable to the F55.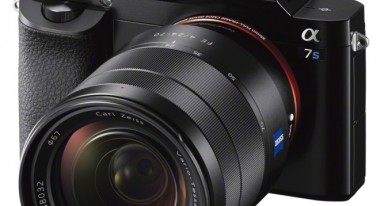 Perhaps feeling they needed to show something new, Sony invited their consumer camera unit on stage to show off the upcoming A7s. This is a mirror-less still camera body that captures 4K video BUT you will have to attach an external recorder through HDMI to record 4K; it can only do HDMI internally. It is a full-frame sensor with a low pixel count sensor that promises less moiré and improved low-light performance. Sony claims 409,600 ISO.
The A7s could make for interesting competition with the Panasonic GH4; the GH4 will record 4K internally, but has a smaller sensor. With its large sensor and low-light sensitivity, it might be the Canon 5D Mark III that has to worry the most about the A7s.
Panasonic announced the VariCam 35 4K camera more than a week before the show, and they have now announced expected delivery dates – Fall 2014 – and prices: the VariCam 35 will have a suggested list price "under" $60,000, including EVF, and it\s high-speed HD brother, the VariCam HS will have a suggested list price under $55,000, including EVF and shoulder mount module.
RED announced new color science with DRAGONcolor and REDgamma4, as well as a DRAGON sensor equipped version of the Scarlet which will cost $14,500 and may ship in June. The only downside of this 6K camera is that it will only record at 12 fps in 6K. It will do 48fps in 5K. RED also announced that the Monochrome Epic-M will cost $31,500 when it ships at the end of April.
Wrapping up the large camera companies, Canon offered no new 4K camera for the show, while JVC is only showing prototypes of 4K camera bodies.
But it's two smaller companies that have made the most unexpected announcements of the show.
Blackmagic URSA
In 2012 Blackmagic shocked everyone with their original Blackmagic Cinema Camera. And though they've had some technical issues and problems meeting their projected delivery dates, they have so far managed to ship three camera models. They already have a 4K Production camera that uses the same case as the original Cinema Camera, but now they're announced a "serious" production camera: URSA.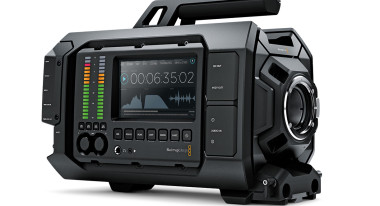 While Blackmagic's original model posed some usability problems for users with its unorthodox shape and control placement, the URSA resembles existing cameras like the ARRI Alexa and Sony F5/F55. Unlike those cameras, it adds lots of very large displays on both sides of the camera. This, in theory, will make it easy for the DP to operate it on one side, while the sound guy works on the other – if that's the way you want to work. How well it would work as a one-person rig may be in question.
The specs are impressive. It has a Super35 sensor, global shutter, 12 stops of dynamic range, up to 60fps recording, 12G-SDI and XLR connections, and genlock. The camera also includes dual RAW and ProRes recorders. Available with either PL ($6,500) or EF ($6,000) mount, there will also be a version without a sensor and mount which they suggest can be used as a recorder for another device (like the Sony A7s perhaps?) They also say that you'll be able to upgrade the sensor in the future.
The URSA supports the UHD 4K resolution of 3840 x 2160 and is expected to ship in July.
Blackmagic also has a new Studio camera series. This is an HD camera and has a Micro Four-Thirds lens mount, a 10-inch viewfinder, tally lights, mic and headphones for talkback and LANC control for remote operation of iris and focus. While somewhat similar in shape to their original camera model, these cameras have no internal recording capability.
AJA CION
Since Blackmagic already paved the way, it was probably less of a surprise that AJA has announced their own 4K pro camera, the CION.
The CION is also very similar in shape to the URSA, though AJA said that one of the reasons they entered the camera market was because they felt that other companies weren't making very ergonomic cameras.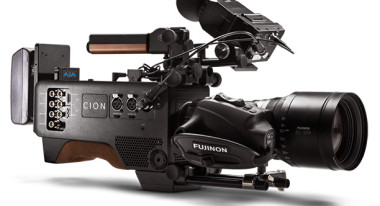 AJA is known for their digital recorders, so it's not a surprise that this camera includes ProRes encoding and can record ProRes 4:4:4: at 30fps, or at 4:2:2 it can go to 60fps. It will also be able to output an AJA RAW format through the Thunderbolt port at 30 fps, or 120fps through 3G-SDI. Interestingly, the camera will only be available with a PL mount.
The camera has an APS-C sized sensor and supports DCI 4K resolution (4096 x 2160) as well as UHD, and is expected to ship in the summer with a price of $9,000.