Back to selection
Cannes Adds Six Films to Official Selection, Announces First Ever 35mm-Free Classics Selection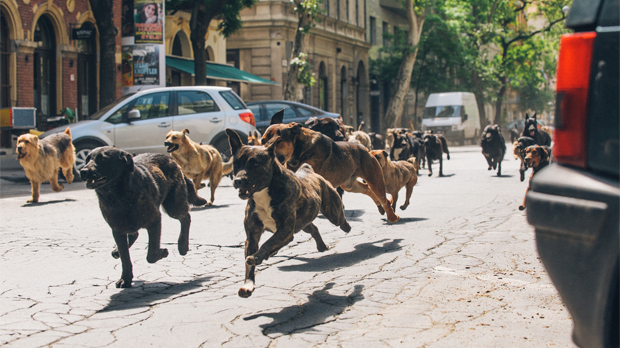 Kornél Mundruczó's White God
In addition to the previously announced Official Selection lineup, Cannes has now added six films, though none in competition:
• André Téchiné's In The Name Of My Daughter marks the veteran director's latest appearance at the festival after his last film, 2011's Unforgivable, premiered in the Director's Fortnight. Téchiné won Best Director at the festival for 1985's Rendez-Vous. Like 2009's The Girl On The Train, Daughter is based on a true story, with sales agent Elle Driver describing the story of the 1977 disappearance of Agnès Le Roux as "the most famous alleged murder case of the French Riviera."
• Kornél Mundruczó's White God is the sixth directorial feature for the Hungarian actor. While previous features have been marked by general bleakness (his last, Tender Son: The Frankenstein Project, was about a young man who kills his entire family), White Dog is Mundruczó's deliberate attempt "to touch a broader audience" with a "sentimental adventure film." A girl is separated from her dog by her dad and runs away to be reunited with her pet; according to a report from last year, 200 dog extras were used.
• As with the other three films listed below, documentarian Laurent Bécue-Renard's Of Men And War has been added as a Special Screening and is almost certainly the same film presented as The Betrayal Of Our Fathers at IDFA last year. Tracking soldiers returning home from Iraq and Afghanistan as they reconnect with their families and struggle through therapy sessions, it's debuting as a movie before being expanded to a 6-part TV series in 2015. The logline is dramatic: "Home from Mesopotamia, twelve irascible soldiers wrestle with wars within, lashing out at wives and bewildered children. Will a Homeric shrink redeem these modern Ulysses on their paths to Ithaca?"
• Pablo Fendrik's The Ardor is the Argentinian's third feature; his debut, 2007's The Mugger, played in the Critics Fortnight. Gael García Bernal stars as a shaman who rescues farmer's daughter Alicia Braga after she's been kidnapped by mercenaries. It's the first film from Participant Media's Participant PanAmerica initiative, which aims to co-produce films with production companies in Mexico, Chile and Brazil.
• Tony Gatlif's Géronimo has the Romani director again examining the role of gypsies in French society, this team with a narrative about a teacher trying to make the peace between gypsies and Turkish communities in the south of France. Gatlif won Best Director at the festival for 2004's Exiles.
• Adilkhan Yerzhanov's The Owners is the latest feature from the Kazakhstani director. From last year's Karlovy Vary, we have a work-in-progress description: "A young man tries to protect his ill little sister while the authorities try to take away the family's house."
A full lineup for the Cannes Classics sidebar of newly restored films can be found here. In announcing that this section of the festival would for the first time include no 35mm prints whatsoever, the festival refused to take any rhetorical sides in the ongoing furious debate about whether digital restorations are better or worse for presentation of classic films, simply noting that the 35mm-less lineup was presented "with regret for some or with celebration for others."