Back to selection
2014 Cannes Lineup Announced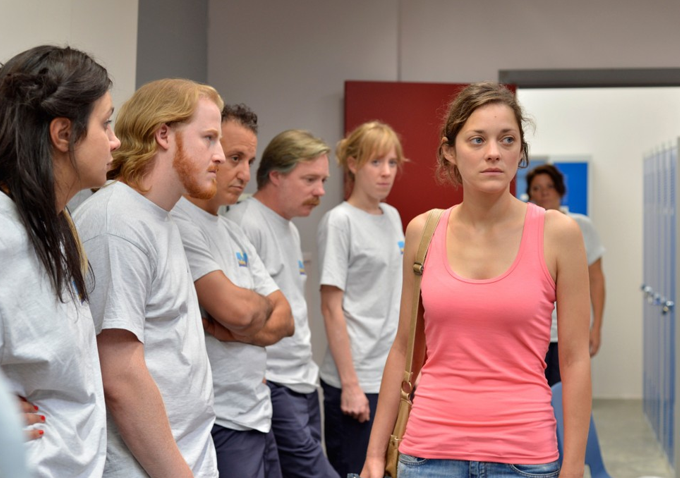 Two Days, One Night
There were few surprises to be had at this morning's announcement of the Competition, Un Certain Regard and Special Screenings sections for the 2014 Cannes Film Festival — perhaps barring Fremaux's proud, misleading assurance that a whopping 15 female directors were included in the lineup, which is evidently French for eight.
Familiar faces returning to the Croisette include Assayas, Cronenberg, Zvyaginstev, Bilge Ceylan, Hazanavicius, Egoyan, Loach, Leigh and the Dardennes, whose Two Days, One Night may prove to be Marion Cotillard's successful shot at the Best Actress title, after snubs for Rust and Bone and The Immigrant. The two American titles in Competition are Bennett Miller's Foxcatcher and the somewhat peculiar selection of The Homesman from Tommy Lee Jones.
Xavier Dolan enjoys his long awaited promotion to the main slate with Mommy, while Mathieu Amalric, whose On Tour won him Best Director in 2010, is relegated to Un Certain Regard. Expect a few last minute additions to the Competition, including the Closing Night selection, but for now, the lineup is below.
COMPETITION
Winter Sleep, dir: Nuri Bilge Ceylan
Clouds Of Sils Maria, dir: Olivier Assayas
Saint Laurent, dir: Bertrand Bonello
Maps To The Stars, dir: David Cronenberg
Two Days, One Night, dirs: Jean-Pierre and Luc Dardenne
Mommy, dir: Xavier Dolan
Captives, dir: Atom Egoyan
Goodbye To Language, dir: Jean-Luc Godard
The Search, dir: Michel Hazanavicius
Jimmy's Hall, dir: Ken Loach
The Homesman, dir: Tommy Lee Jones
Futatsume No Mado, dir: Naomi Kawase
Mr Turner, dir: Mike Leigh
Foxcatcher, dir: Bennett Miller
Leviathan, dir: Andrey Zvyaginstev
Wild Tales, dir: Damian Szifron
Le Meraviglie, dir: Alice Rohrwacher
Timbuktu, Abderrahmane Sissako
Opening Film: Grace Of Monaco, dir: Olivier Dahan, Out of Competition
Closing Film: To be announced
UN CERTAIN REGARD
Opening Film: Party Girl*, dirs: Marie Amachoukeli, Claire Burger, Samuel Theis
Untitled, dir: Lisandro Alonso
La Chambre Bleue, dir: Mathieu Amalric
L'Incompresa, dir: Asia Argento
Lost River*, dir: Ryan Gosling
Amour Fou, dir: Jessica Hausner
Titli*, dir: Kanu Behl
Charlie's Country, dir: Rolf de Heer
Bird People, dir: Pascale Ferran
Eleanor Rigby, dir: Ned Benson
Snow In Paradise*, dir: Andrew Hulme
A Girl At My Door*, dir: July Jung
Xenia, dir: Panos Koutras
Run, dir: Philippe Lacôte
Hermosa Juventud, dir: Jaime Rosales
Turist, dir: Ruben Ostlund
The Salt Of The Earth, dirs: Wim Wenders, Juliano Ribeiro Salgado
Fantasia, dir: Wang Chao
Harcheck Mi Headro, dir: Keren Yedaya
OUT OF COMPETITION
How To Train Your Dragon 2, dir: Dean DeBlois
Coming Home, dir: Zhang Yimou
MIDNIGHT SCREENINGS
The Target, dir: Chang
The Salvation, dir: Kristian Levring
The Rover, dir: David Michöd
SPECIAL SCREENINGS
Eau Argentée, dir: Mohammed Ossama
Maidan, dir: Sergei Loznitsa
Red Army, dir: Polsky Gabe
Caricaturistes – Fantassins De La Démocratie, dir: Stéphanie Valloatto
The Bridges Of Sarajevo, dirs: Aida Begic, Leonardo Di Costanzo, Jean-Luc Godard, Kamen Kalev, isild Le Besco, Sergei Loznitsa, Vincenzo Marra, Ursula Meier, Vladimir Perisic, Cristi Puiu, Marc Recha, Angela Schanelec, Teresa Villaverde
* Denotes first feature, eligible for the Camera d'Or